Boost Mobile Launches 14-Day Free Trial Offer With 30GB Of 5G Data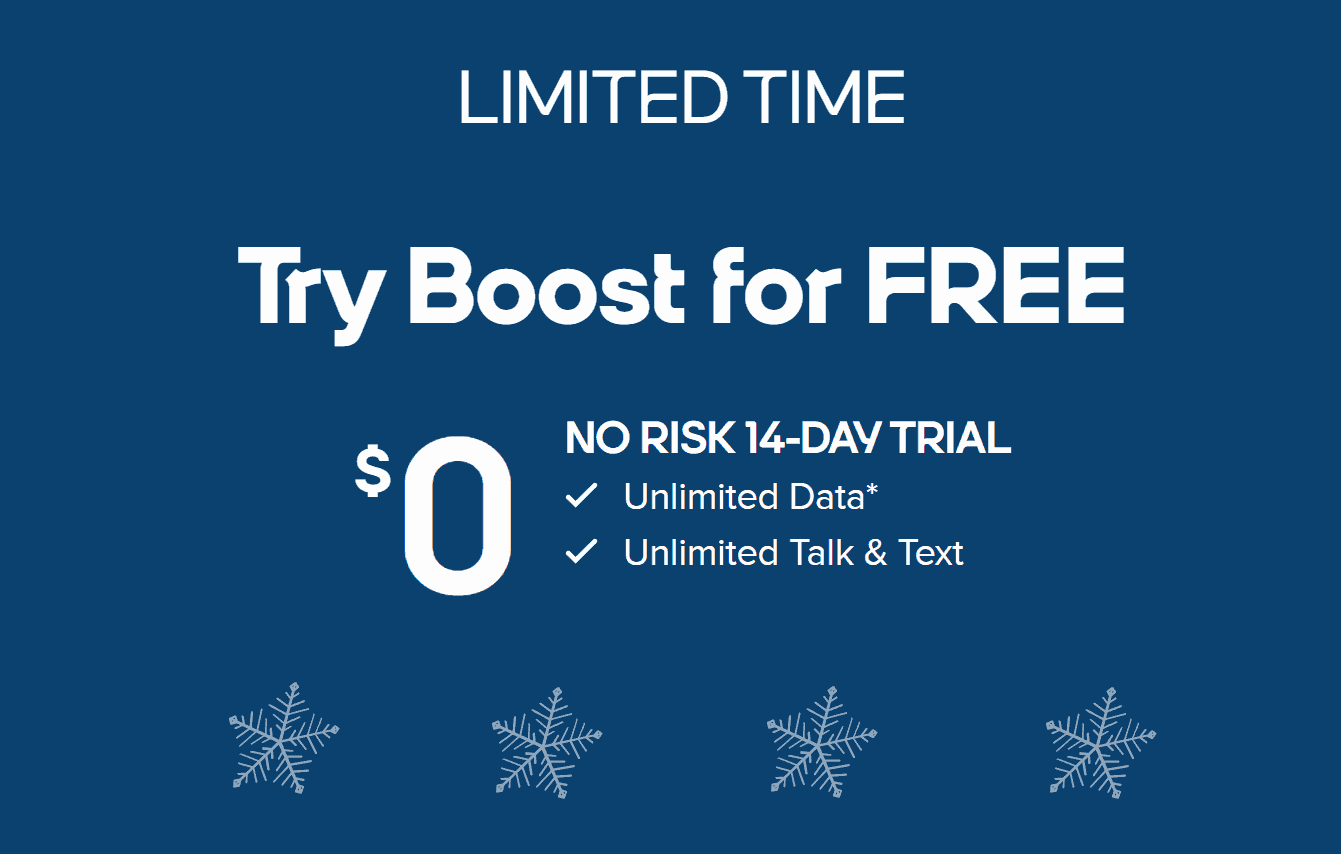 Following the popularity of Boost Mobile's 10GB for $5 trial offer, Boost has decided to up the ante by releasing a free trial offer. New customers can now get a 14-day "free" trial with 30GB of high-speed data. The offer is being promoted by Boost Mobile on social media platforms. A screenshot (pictured below) of one of the ads was shared with BestMVNO by @actuallyryan of Twitter.
Boost Mobile's Free Trial Offer Details
This offer doesn't have a ton of fine print but it isn't exactly free as Boost Mobile proclaims. Boost Mobile is charging $5 for two-day shipping on SIM cards and advertising that it normally costs $10. Aside from the shipping charge, the "free" trial offer has no other fees.
Boost's 14-day free trial comes with unlimited talk, text, and data with the first 30GB available at up to 5G data speeds before throttling to 512Kbps. It also includes 50 domestic voice roaming minutes on select devices. Boost Mobile makes no mention of if hotspot is included with the plan or not. In some places on Boost's website, the $25 plan is shown as having 12GB of hotspot and in other places, it is not.
Signing up for the free trial does require customers to enable Autopay billing. After the 14-day trial period is up, Boost will automatically bill you $25/month to renew the plan unless you log into your account and cancel it. If you have an iPhone, iOS version 15.2 or higher is required for the service to work.
Don't Miss Out On More Deals Like This!
Get the next deal delivered to your inbox as soon as it's announced!
No end date for this offer has been specified.
Boost Mobile is running several other online offers during the holiday season. An offer for a $9.99 Samsung Galaxy A23 5G with the purchase of Boost's $40 unlimited plan has been available for several weeks. There are also offers for a $99.99 Samsung Galaxy A53 5G, and a $349.99 Samsung Galaxy S22 in place among others. The phone deals are scheduled to end on December 8, but I imagine at least some of them get extended. You can check those offers out here.
---
---