Boost Mobile Offering Free 43″ TV With Purchase Of 4 LG Stylo 5 Phones For $9.99 Each, iPhone 7 Is Now $49.99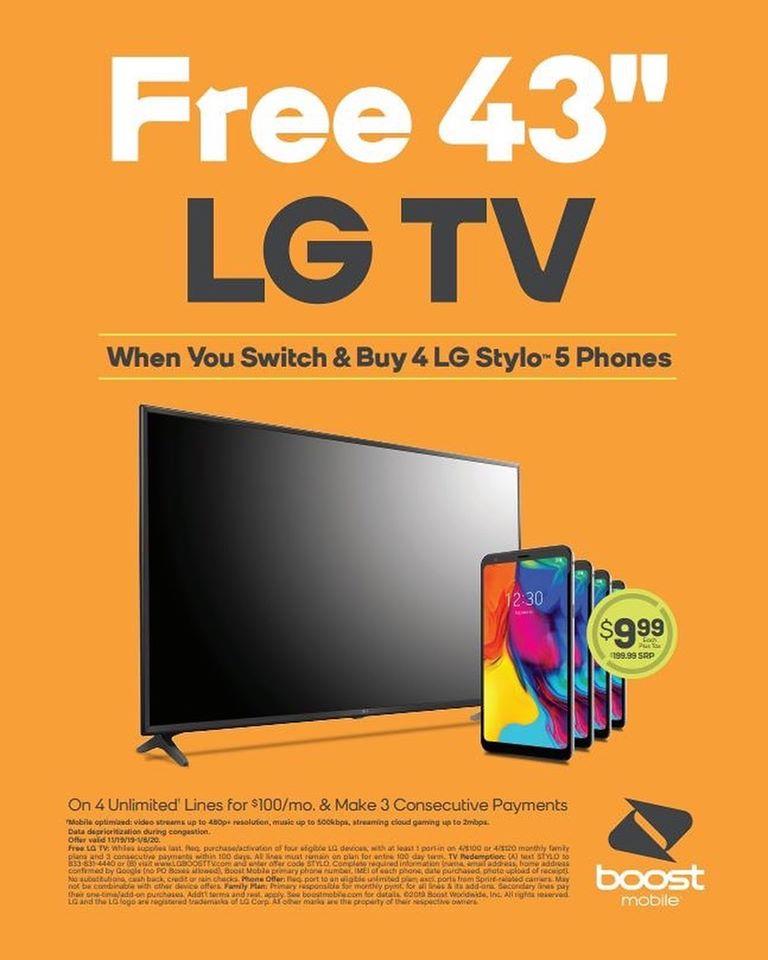 Boost Mobile has some new holiday offers out.  Subscribers looking to port to Boost Mobile with 4 lines can pick up 4 LG Stylo 5's for $9.99 each while also scoring a brand new free 43" LG TV.  Additionally, Boost Mobile now has the iPhone 7 available for $49.99.
Boost Mobile's Free LG TV And $9.99 LG Stylo 5 Offer Details
Boost Mobile's free 43" LG TV offer is available in stores only and will be available until 1/6/20.  In order to qualify for the offer, customers will need to signup 4 new lines with a Boost Mobile unlimited plan priced at either 4 lines for $100 or 4 for $120.  A total of 4 LG Stylo 5's must also be bought priced at $9.99 each.  Alternatively, customers can also buy LG Stylo 4's or 4+'s.  At least one number must be a port-in, and the offer is not available to those porting in from a Sprint related carrier.  Customers will also be required to make 3 consecutive payments on their phone plan within 100 days.  All lines must stay on the same plan for the entire 100 day term.  Customers who meet and complete the eligibility requirements can then visit https://lgboosttv.com to put a claim in for the free TV.  Alternatively, subscribers can text the word STYLO to 833-831-4440 to make their claim.
Customers wishing to claim the free TV offer must do so by 2/6/20.  Once claimed, it may take an additional 100 days for Boost and LG to verify that all conditions have been met for the free TV offer.  LG has set up a huge question and answer webpage detailing all the additional fine print.  From what I gather from the fine print, it may take customers 240+ days to receive their TV counting from the date they first subscribed to Boost.
Boost Mobile's iPhone 7 For $49.99 Offer
This offer is much more simple and straight forward compared to the free TV offer.  It is available in-store only, and requires subscribers to port to an unlimited plan priced $50 or higher.  Those porting from a Sprint-related carrier are not eligible for the promotional pricing.  It will be available until 1/6/20 and there is a limit of 1 device allowed per line.  Customers will be responsible for paying sales tax on the device.
Boost continues to run several other offers.  The iPhone 6s is available for $24.99 and the Samsung Galaxy A20 is available for free to switchers.
---
---