Boost Mobile Black Friday Deals Include $200 Gift Card, $9.99 Galaxy A23 5G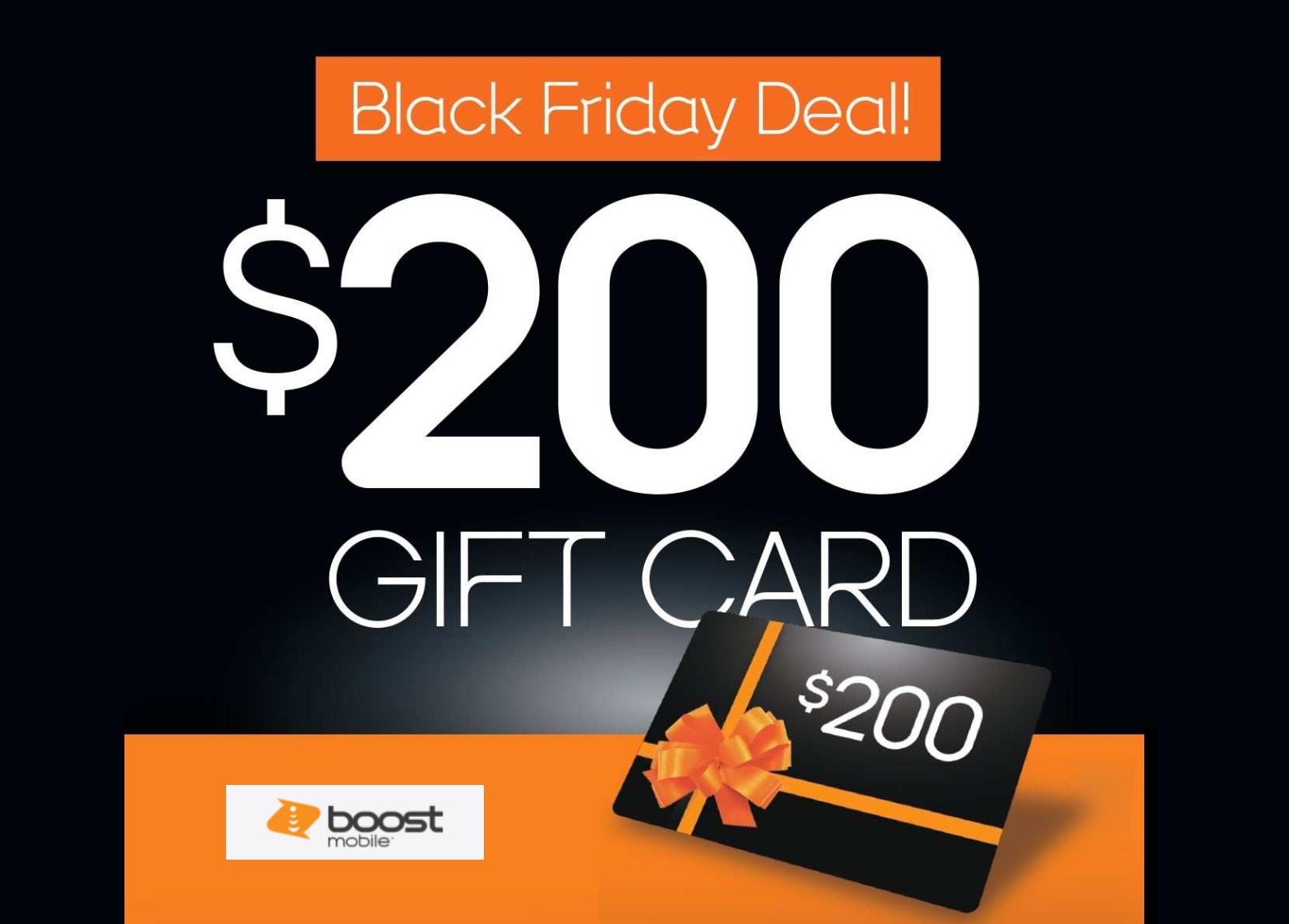 Boost Mobile has launched early Black Friday holiday shopping deals. One very limited time offer is a $200 gift card for those that activate a line with Boost. Another featured deal is an online only offer for a $9.99 Samsung Galaxy A23 5G. The phone is available for free in stores.
Boost Mobile $200 Gift Card Offer Details
Boost Mobile's $200 gift card offer is an in-store-only deal for new customers. In order to claim the offer you must either bring your own phone to Boost or purchase a new or renewed phone from Boost and activate it in-store. Activation must be on Boost's $50 or $60 unlimited plan. The offer is available to both new lines and those that port a number in. Customers that have multiple lines on a family plan can only claim one gift card per account.
A valid email address is required at signup and you must submit a gift card redemption form.
If you meet the above qualifications, you'll receive a virtual prepaid card after your third monthly payment with Boost. The third monthly payment must be made by 2/28/23. It will take up to 6-8 weeks after the third payment to receive the virtual gift card.
The $200 gift card offer will be available until 11/28/23. 
UPDATE: The gift card offer end date has been extended by one week and will end on 12/5/22.
$9.99 Samsung Galaxy A23 5G Offer Details
Boost Mobile's $9.99 Samsung Galaxy A23 5G offer is an online-only deal. It has a list price of $299.99 but does seem to often be available for $99.99.
In order to get the $9.99 deal you'll have to pay for Boost's $40 unlimited plan at the same time you buy the phone. So the total upfront price for this deal is $49.99. After the first month of service, Boost will actually renew the unlimited plan for $25/month.
Boost's $40/$25 unlimited plan includes unlimited talk, text, and data with the first 35GB of data available each month at up to 5G data speeds before data speeds are throttled to 512Kbps. The plan also comes with 12GB of mobile hotspot that draws from the plan's 35GB high-speed data allotment. There is a limit of one offer allowed per customer.
An end date for this deal has not been specified.
As an alternative to the $9.99 Samsung Galaxy A23 5G offer, customers can get it for free by going to their local Boost Mobile dealer. However, port-in is required to get the in-store deal, and taxes on the device will be extra. The purchase of a $50 or higher unlimited plan may also be required.
Boost is also offering the iPhone SE 2020 and Moto G 5G among other phones for free in stores. The iPhone SE 2020 is also available online for $89.99 for Black Friday.
---
---