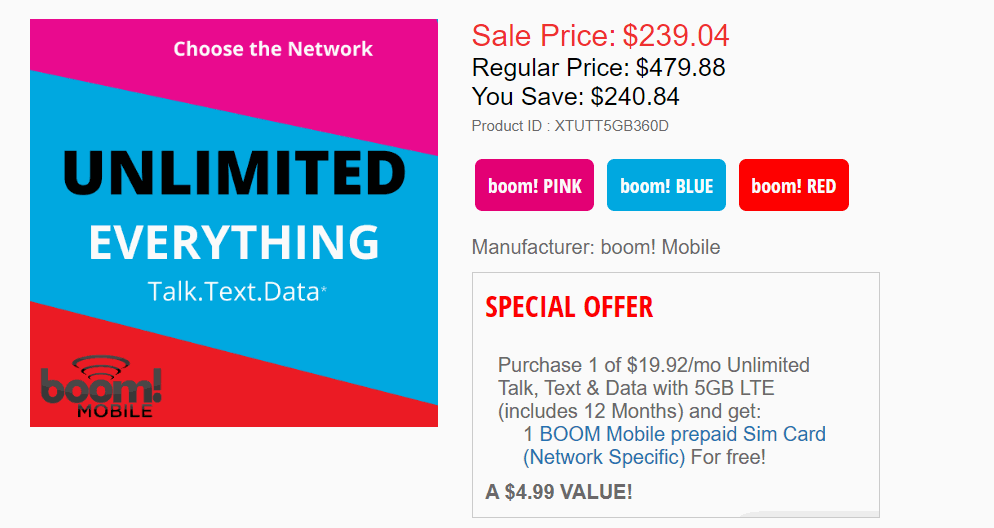 ---
Just days after announcing a new free trial plan, Boom! Mobile is back with another new plan.  This time it's an annual plan.  Boom! Mobile's new annual plan is an unlimited everything plan with the first 5GB of data each month at 4G LTE data speeds for $239.04 annually or $19.92/month.
Boom! Mobile Annual Plan Explained
Boom! Mobile currently operates on three networks, T-Mobile, AT&T and Verizon.  For contractual reasons, Boom! Mobile is not allowed to disclose the networks that it operates on so it refers to each of those networks respectively as boom! PINK, boom! BLU, and boom! RED.  This new annual plan, called the Xtreme Plan can be used on the customer's choice of any of those three networks.
Be informed of the latest deals, plans and promotions from Verizon and every one of its MVNO's when you subscribe to the Verizon weekly newsletter. No spam and you can unsubscribe at any time!
The Xtreme Plan is valid for 12 months of service.  Boom! Mobile considers 12 months to be equal to 30 days.  So the annual plan is good for 360 days in total.
This prepaid plan includes unlimited talk, text, and data, however if more than 5GB of data gets used during a 30 day billing cycle, speeds slow down to 2G data speeds or about 64-128Kbps.  The plan is available for new numbers and port-ins only.  Taxes and fees are included in the price.
Boom! Mobile advertises that the plan also includes:
HD Voice calling (VoLTE)
WiFi calling on all networks except Verizon
Visual Voicemail
Free activation
Customers who wish to purchase the plan will need a compatible phone.  Nearly all AT&T, T-Mobile, and Verizon compatible phones will work with Boom! Mobile as long as the phones are not under contract with the customer's previous carrier and are in good financial standing with that previous carrier.
SIM cards are free and ship free with plan purchase.  Customers that need expediated shipping can elect to do so.  In my area expediated shipping started at $8.73 for USPS 1-3 days shipping.
The plan is only available and sold direct from Boom! Mobile.
---
---