Boom Mobile Updates Plans, Get 10GB Data For $29.99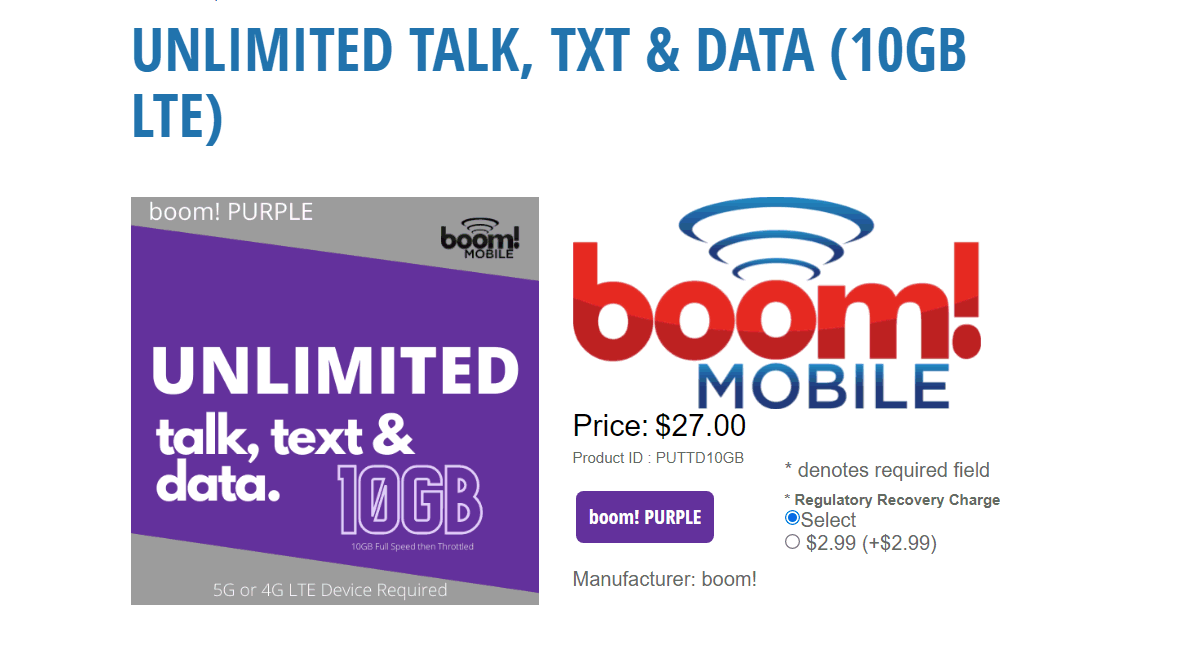 ---
Did you know BestMVNO is available to follow for free in Google News? Follow BestMVNO in your Google News app and keep up to date on wireless.
Follow BestMVNO In Google News
---
---
Boom Mobile provides service on all three major networks in the USA. The MVNO offers over 40 phone plans. Dennis Bournique of Prepaid Compare just noted a multitude of mostly positive changes from the company. Many Boom Mobile phone plans got price cuts with data increases. However, a "free" trial plan, minus shipping charges, that offered up to 450 minutes, text messages, or MB of data has been eliminated.
One featured and positive change was with Boom's $31.99 plan. Previously it included 5GB of high-speed data before throttling to 2G data speeds. The price of the plan has been dropped to $29.99 and it now includes 10GB of high-speed data before throttling. It uses the T-Mobile network for coverage. It should be noted that Boom Mobile advertises plans on its website without highlighting an additional $2.99 regulatory recovery fee charge. Unless noted otherwise, the prices shown in this article do include the additional recovery fee charge added in. So as an example, Boom is advertising the updated plan just described above as costing $27 on its website but after applying the regulatory fee charge it's actually $29.99. There are no other additional taxes or fees charged aside from that.
Boom Mobile's Other Major Plan Changes Highlighted
Boom Mobile is contractually not allowed to disclose which networks each of its plans operate on. The company uses a naming scheme around colors to classify it's individual network plans by denoting them as Boom Blue, Boom Red, and Boom Purple. Blue is used to represent plans that use the AT&T network for coverage, Purple for T-Mobile and Red for Verizon. With that in mind, here is a summary of Boom's updated "Purple" and "Red" plans. The "Blue" plans appear to be unchanged.
Boom Mobile's Red Plan Updates
$12.99 - 1200 minutes, unlimited texts 1GB of high-speed data, previously was 250 minutes, 250 MB for $15.98.
$21.99 -  2GB of high-speed data, previously was 1GB for $24.98
$24.99 - 3GB of high-speed data, previously was 2GB for $29.98
$34.99 - 10GB of high-speed data, previously was 4GB for $38.98 or 7GB for $42.98
$44.99 - 22GB of high-speed data, previously was 10GB for $49.99
$59.99 - 40GB of high-speed data, previously was 20GB for $62.98
Boom Mobile's Purple Plan Updates
$12.99 - 1200 minutes, unlimited texts, 1GB of high-speed data, previously was 250 minutes, 250MB for $15.98
$19.99 - 4GB of high-speed data, was 1GB for $21.99
$29.99 - 10GB of high-speed data, previously was 5GB for $31.99
$39.99 - 30GB of high-speed data, previously was 15GB for $41.99 or 30GB for $51.99
Unless stated otherwise, all plans include unlimited talk, text and data with the specified amount of data available at high-speeds before throttling to 2G data speeds. Previously the "Red" plans included hard-capped data, so if you ran out of data that was it for the month. Those plans have been improved to include unlimited 2G data after the high-speed allotment has been consumed.
Be informed of the latest deals, plans and promotions from Verizon and every one of its MVNO's when you subscribe to the Verizon weekly newsletter. No spam and you can unsubscribe at any time!
The purple plans include 5G coverage on T-Mobile's network. It's unclear if the Red plans include 5G network coverage. The Red plans may also no longer include hotspot usage. I've reached out to Boom Mobile for clarification but had not gotten a response at press time. I'll update the article when one is received. Update 5/21/21 - Boom Mobile tells me hotspot is still included with the Red plans and 5G network access should launch soon.
One other notable change with Boom Mobile's plans is that their "Flex" pay as your go plans have been eliminated. Flex plans came with "units" that could be used for talk, text, or data. For instance there was a 14-day plan for $12.99 that included 900 units. The units could be used to send up to 900 text messages, to talk for up to 900 minutes or use up to 900 MB of data or any combination of the three that totaled 900. Pay as you go plans like these seem to have fallen out of favor with providers as prices for low-usage monthly plans have come down over the years. However, online forums seem to suggest that there are still at least a small number of consumers out there that are interested in a type of plan like this.
---
Be sure to follow BestMVNO on Twitter for additional wireless coverage, deals, insights, and even debates!
Follow @BestMVNO Twitter
---
---