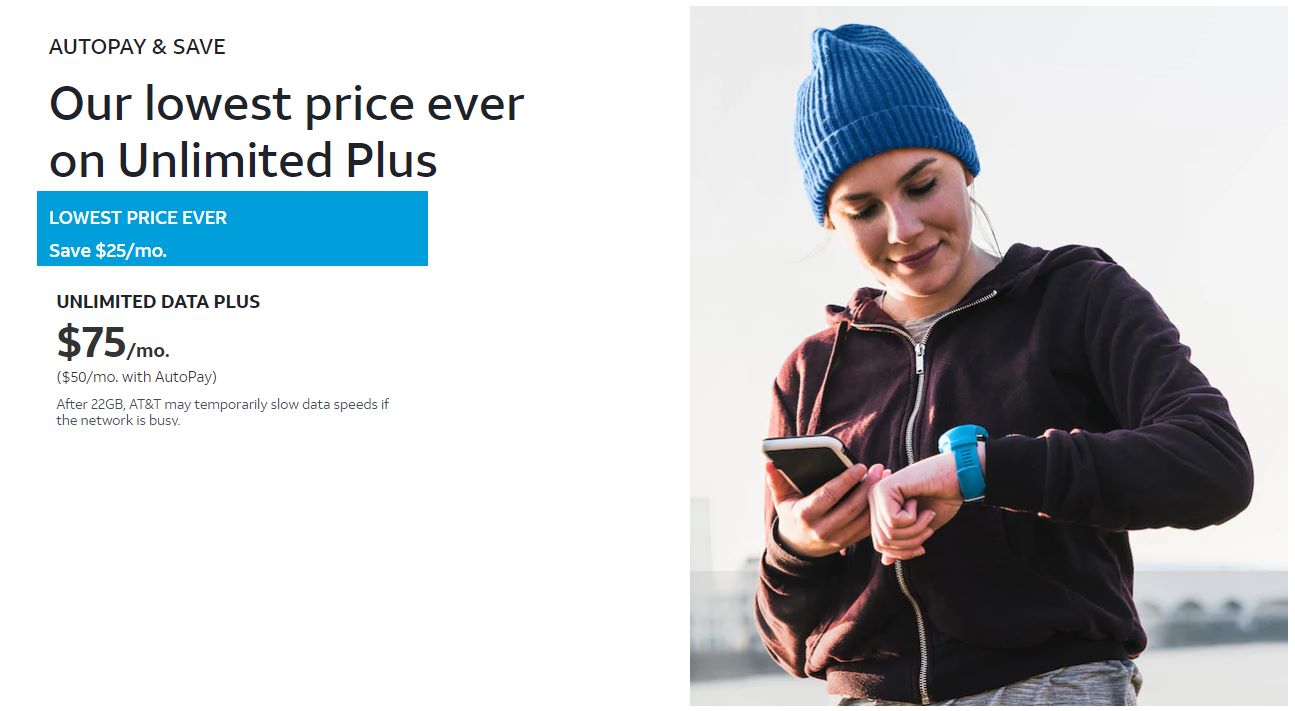 ---
AT&T has some new prepaid wireless offers out.  Customers who refer a friend to A&T Prepaid will receive a $25 account credit while their friend will receive a $75 account credit.  AT&T Prepaid's $75 top unlimited data plan is also discounted by its largest amount ever when auto-pay billing is enabled. The plan is just $50 for life with autopay billing enabled. Customers with multiple lines can save even more.
AT&T Prepaid $75 Plan $25 Autopay Discount Details
AT&T is offering a $25 autopay discount on the $75 plan lowering the price to $50/month. The discount is available to new customers only.  The offer is scheduled to be available until 10/29/2020.  Customers who signup for the plan will receive the $25 autopay discount for life. However, if the customer decides to switch plans and later come back to it, they will lose the additional autopay discount savings and only the standard autopay discount rate of $10 off per month will apply.
Be informed of the latest deals, plans and promotions from AT&T and every one of its MVNO's when you subscribe to the AT&T weekly newsletter. No spam and you can unsubscribe at any time!
Taxes and fees cost extra.  AT&T also charges a $15/line activation fee for customers that activate in-store and for those that need in-home expert activation.
AT&T $75 Plan Details
This plan includes unlimited talk, text, and LTE data.  However, if a customer uses more than 22GB of data during a billing cycle, data speeds may be temporarily slowed during times of network congestion.  Unlimited calling and texting to and from Canada and Mexico are also included as is unlimited texting to over 100 countries.  Customers also get unlimited high-speed data usage while traveling in Canada and Mexico.  In some areas, international data roaming may be reduced to 2G data speeds.
AT&T Prepaid's $75 plan also includes 10GB of mobile hotspot at 4G LTE data speeds, after which speeds get reduced to 128Kbps.  As part of AT&T's COVID-19 response, customers who signup for the plan by April 26th will receive an extra 10GB of hotspot data to use each month for 60 days.
The plan comes with Stream Saver which can be disabled at any time.  Stream Saver reduces video streams to a resolution of about 480p.  Customers that tether two or more devices to their phone at the same time may have video streaming data speeds slowed to 1.5Mbps or about 750Kbps per tethered device.  The speed may be reduced further depending on how many devices are tethered.  Customers that disable Stream Saver won't have those tethering limitations.
Multi-line discounts
Those who want to pick up the plan and add multiple unlimited lines to it will receive multi-line discounts.  Pricing for multiple lines with autopay enabled is as follows:
2 lines - $90
3 lines - $130
4 lines - $160
5 lines - $190
AT&T Prepaid's Refer A Friend Program Details
Through April 30, 2020, AT&T Prepaid is offering subscribers that refer a friend a $25 account credit while their friend will receive a $75 account credit.  Customers can refer a friend by sharing a unique code with them that can be found in their online account dashboards.
To claim the account credit, the individual signing up for a plan must first activate a new line of service on a monthly plan and pay for the first month.  After subscribing, the individual must head over to https://att.com/myprepaid and enter the referral code that was received from a friend. Credits will then be issued to the accounts within 30 days of redemption.
AT&T has put a limit on the number of referrals that can be claimed.  A maximum of 10 is allowed.
---
---