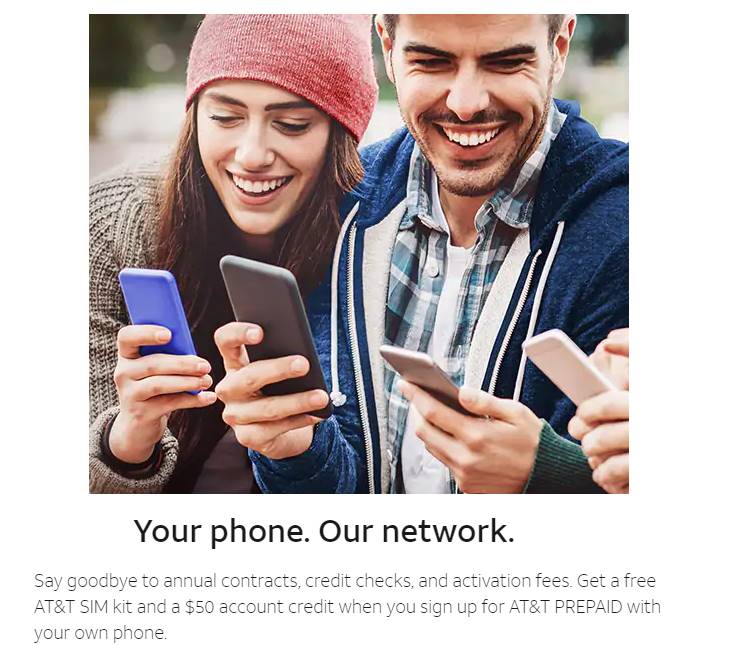 ---
AT&T Prepaid has launched a promotion geared towards customers who already own a phone.  Those who bring their own device to the network can now get a SIM kit for free and a $50 account credit.  Depending on the plan that the customer subscribes to, the account credit may be the equivalent of getting a free month of service.
Offer Fine Print
This offer is currently available online only. It is scheduled to last until 11/5/19.  To qualify for the offer, customers must first order a free SIM kit, and then select a prepaid plan priced $35 or higher and pay for it.  The plan must then be activated on an unlocked and compatible device.  Most unlocked phones should be compatible with AT&T Prepaid.  Out of contract phones that were previously used with an AT&T postpaid account and plan are also compatible.
Be informed of the latest deals, plans and promotions from AT&T and every one of its MVNO's when you subscribe to the AT&T weekly newsletter. No spam and you can unsubscribe at any time!
Once the qualifications have been met, AT&T will apply a $50 account credit to the customer's account within 3-5 days of activating service.  There is a limit of 1 promotional credit allowed per transaction.  One particular and unusual fine print detail to pay attention to is that once the phone gets activated, it is restricted to AT&T's Prepaid service until 6 months after activation.  That means it cannot be used with an AT&T Postpaid plan until after the restrictive time period expires, however, it will still be eligible to be used elsewhere and with another provider.
Eligible AT&T Prepaid Plans
There are 4 prepaid wireless plans that customers can subscribe to if they would like to take advantage of this promotional offer.  The 4 eligible plans are as follows:
All plans described include unlimited talk, text, and data with the specified amount of data at 4G LTE data speeds before throttling to 2G data speeds or about 128kbps. All plans unless specified also include mobile hotspot usage
$35/month ($30 with autopay) - 1GB LTE data
The plans below also include talk, text and data usage at no extra cost while traveling in Mexico or Canada plus unlimited texting to over 100 countries.
$50/month ($40 with autopay) - 8GB LTE data
$65/month (limited time offer of $50/month with autopay) - unlimited LTE data with video streaming limited to 1.5Mbps or a resolution of about 480p.  Any time network is congested users may temporarily experience slower data speeds.  No mobile hotspot allowed.
$85/month (limited time offer $70/month with autopay billing) - unlimited LTE data, plus limited time offer of a free subscription to WatchTV for 12 months. Includes 10GB of mobile hotspot at 4G LTE data speeds.  Hotspot can only be used in the USA.  Customers who consume more than 22GB of data in a month may have their data speeds temporarily slowed during times of heavy network congestion. Videos stream at a resolution of up to 1080p.
Taxes and fees cost extra and are not included in the prices shown.  Unfortunately, a support specialist I spoke with said  AT&T Prepaid's annual promo plan that includes 8GB of data for $300 or an average cost of $25/month plus taxes and fees is not eligible for this promotional offer.  However, when I attempted to buy the the plan on my mobile phone, AT&T's system told me I was eligible to receive the $50 account credit and free SIM.
This latest offer from AT&T Prepaid is in direct competition with a similar offer from Metro-By-T-Mobile.  Metro-By-T-Mobile is also offering bring your own phone customers $50.  However, the Metro offer gives customers a $50 virtual Visa prepaid card instead of an account credit.
---
---