AT&T Prepaid Updates "Unlimited Max" Plan With More Priority Data & Hotspot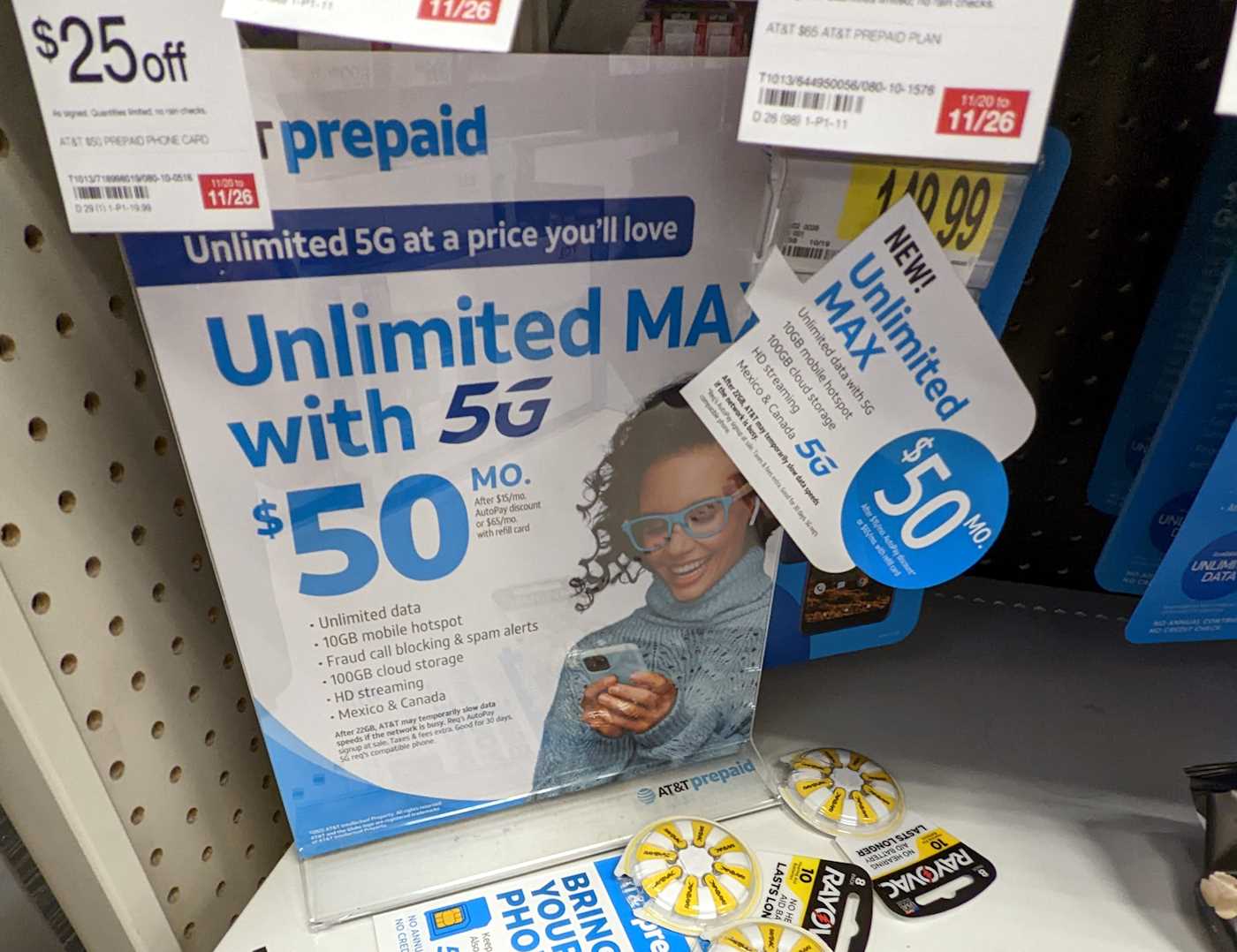 AT&T Prepaid has made some changes to its unlimited plans. The most significant changes come with its $65/month flagship plan, Unlimited Max. The plan has been updated to include 50GB of priority data, an increase from 22GB. This means if a subscriber uses more than 50GB of data in a billing cycle, their data speeds may be temporarily slowed down compared to other customers during times of network congestion. The Unlimited Max plan also now includes 25GB of mobile hotspot data before throttling to 128Kbps. The previously allocated allotment was 10GB. Like before, hotspot data can only be used domestically. The plan updates bring AT&T Prepaid's Unlimited Max plan more in line with Verizon Prepaid's flagship unlimited plan which costs $70/month but also offers 50GB of premium data and 25GB of premium hotspot.
Unfortunately, all the changes made to AT&T Prepaid's Unlimited Max plan have not been for the better. Previously, unlimited high-speed data usage was allowed in Mexico and Canada. But AT&T Prepaid has updated the terms on this plan to only allow 25GB of monthly high-speed data usage in either country before throttling data speeds to 512Kbps. 5G data access is only available in the USA. It's unclear if this is also a change, previously AT&T Prepaid described Canada and Mexico usage as being available with "unlimited high-speed data."
Finally, the plan seems to have gotten a price increase. An AT&T Prepaid flyer (graphic below) lists the plan as coming with a $10 AutoPay discount. When the plan first launched in January of 2022, it was available at Walmart for as low as $45/month with AutoPay billing before being updated to $50/month without the need for AutoPay billing. At Target it became available for $50/month with a $15 AutoPay billing discount. It is unclear if any additional Walmart exclusive discounts or features will be offered with the plan update. Unlimited Max is only available to new AT&T Prepaid customers through Walmart and Target.
AT&T Prepaid has also made a couple of changes to its base unlimited plan. The base plan is available directly through AT&T for $50/month with AutoPay billing or $65 without. It can be found in stores for $50/month without a need for AutoPay billing. This plan has been updated to include 5GB of mobile hotspot. AT&T Prepaid had for months been advertising the plan as coming with 5GB of hotspot data only has a limited time offer, instead of it not coming with any hotspot data. This plan also now has a 25GB high-speed data limit usage in Canada and Mexico. Other features of the plan remain the same. Data is unlimited at up to 5G data speeds, but data prioritization is always on. So any time the network gets congested, data speeds may be temporarily slowed down.
Lastly, AT&T Prepaid's 16GB $25/month annual plan has been updated. It now includes unlimited throttled data at 1.5Mbps. However, Canada and Mexico data usage has been removed. Calling and texting in either country is still available at no extra cost.
---
---