Xfinity Mobile Offering Motorola One Ace 5G For Free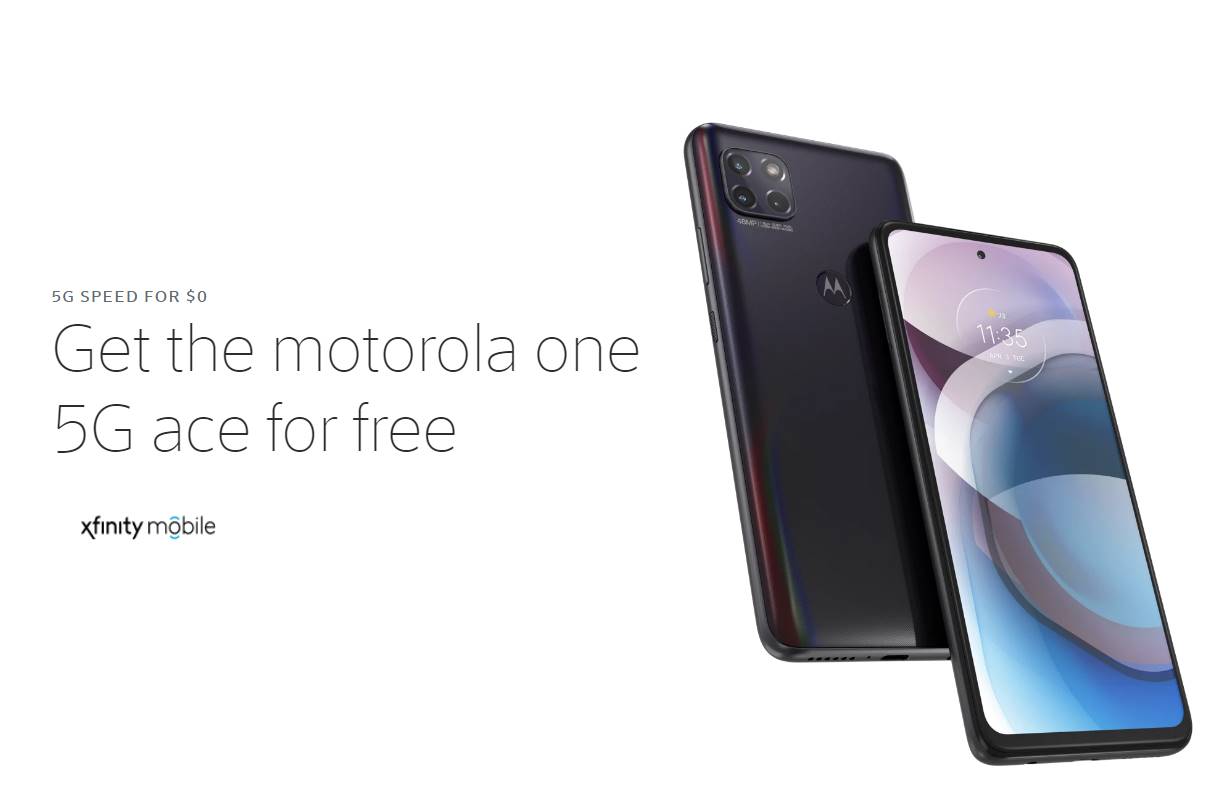 ---
Did you know BestMVNO is available to follow for free in Google News? Follow BestMVNO in your Google News app and keep up to date on wireless.
Follow BestMVNO In Google News
---
---
Xfinity Mobile has launched a limited-time offer revolving around the Motorola One 5G Ace. Switchers can get the device for free. It has a suggested retail price of $299.99.
Xfinity Mobile is also offering $100 BYOD credits. Select iPhones continue to be $400 off. All offers of course have their own fine print to dive into. So let's have a look.
Free Motorola One Ace 5G Offer Fine Print
This offer is currently scheduled to be available until 2/21/22 or while supplies last. The Motorola One 5G Ace must be purchased on a 24-month device payment plan. It's for new lines only and subscribers must port their number in from another carrier within 30 days of purchasing the phone. The phone will be made free by way of 24 monthly device credits. Customers who try and accelerate device payments to pay it off sooner will forfeit their remaining monthly credits. You must be an Xfinity Internet customer to signup for Xfinity Mobile and take advantage of the offer.
The free phone deal appears to be available with both types of Xfinity Mobile phone plans, its "By the Gig" shared data plans and its "Unlimited" plan.
Don't Miss Out On More Deals Like This!
Get the next deal delivered to your inbox as soon as it's announced!
Xfinity's Unlimited plan starts at $45/month for a single line and drops down to $30/line with 4-lines. The Unlimited plan doesn't necessarily mean truly unlimited data though. Xfinity Mobile is powered by the Verizon network. Subscribers that consume more than 20GB of high-speed data during a billing cycle will have their data speeds reduced to a maximum of 1.5Mbps download and 750Kbps upload. For the time being, customers in a service area powered by Verizon's C-Band and mmWave Ultra-Wideband data networks will not have their data usage count towards the 20GB cap.
The plan is hotspot capable. When connected to a 4G LTE data network hotspot speeds will be limited to 600Kbps and video streaming will be limited to a resolution of 480p. Xfinity says that 5G capable devices that are connected to the 5G network will have the highest possible video resolution and fastest possible hotspot speeds. Unfortunately, the MVNO does not make it abundantly clear if that means the 480p streaming resolution and 600Kbps hotspot speed limitations are not applicable on 5G.
Xfinity offers three By the Gig shared data plans priced as follows:
$15/mo - 1GB
$30/mo - 3GB
$60/mo - 10GB
Customers that go over their chosen data amounts will be billed at a rate of $15/GB.
Motorola One 5G Ace Features
The Motorola One 5G Ace has the following specifications:
6.7" 2400 x 1080p display
5000mAh battery
64GB internal storage expandable with a microSD card
4GB RAM
Snapdragon 750G 5G processor
Triple camera, 48MP main camera sensor with an ultra-wide lens and an additional macro lens
Android 10
Support for the following network bands:
5G NR: n2/n5/n66
LTE: B1/B2/B3/B4/B5/B7/B13/B40/B66;UMTS: B1/B2/B4/B5/B8; GSM: B2/B3/B5/B8
Xfinity $400 Off iPhones Offers
Xfinity continues to run its offer of $400 off select iPhones. It will run until at least 2/15/22. It has all the same fine print as just described for the free Moto One 5G Ace offer. Discounted iPhones include the following:
iPhone 13 Pro Max - $29.17/mo, reg $45.83/mo
iPhone 13 Pro - $25/mo, reg $41.66/mo
iPhone 13 - $17.92/mo, reg $34.58/mo
iPhone 13 mini - $13.75/mo, reg $30.41/mo
iPhone 12 mini - $9.58/mo, reg $26.24/mo
$100 BYOD Offer
Customers that switch to Xfinity Mobile and bring their own compatible phone to the network will receive a $100 prepaid card. This offer is scheduled to be available until at least 3/7. It is a downgrade from an offer that was available during the holiday shopping season ending in early January that gave BYOD customers a $200 prepaid card.
In order to fully qualify for the credit, customers must transfer a phone number from another carrier within 30 days of line activation. They must then maintain their line in good standing for a period of 90 days. A Visa Prepaid Card will then be sent to the primary Xfinity account holder within 16-18 weeks of activation. The card expires after 180 days. A maximum of $1000 in prepaid cards is allowed per customer/account.
---
Be sure to follow BestMVNO on Twitter for additional wireless coverage, deals, insights, and even debates!
Follow @BestMVNO Twitter
---
---