Samsung Galaxy A53 5G Is Now Free At Xfinity Mobile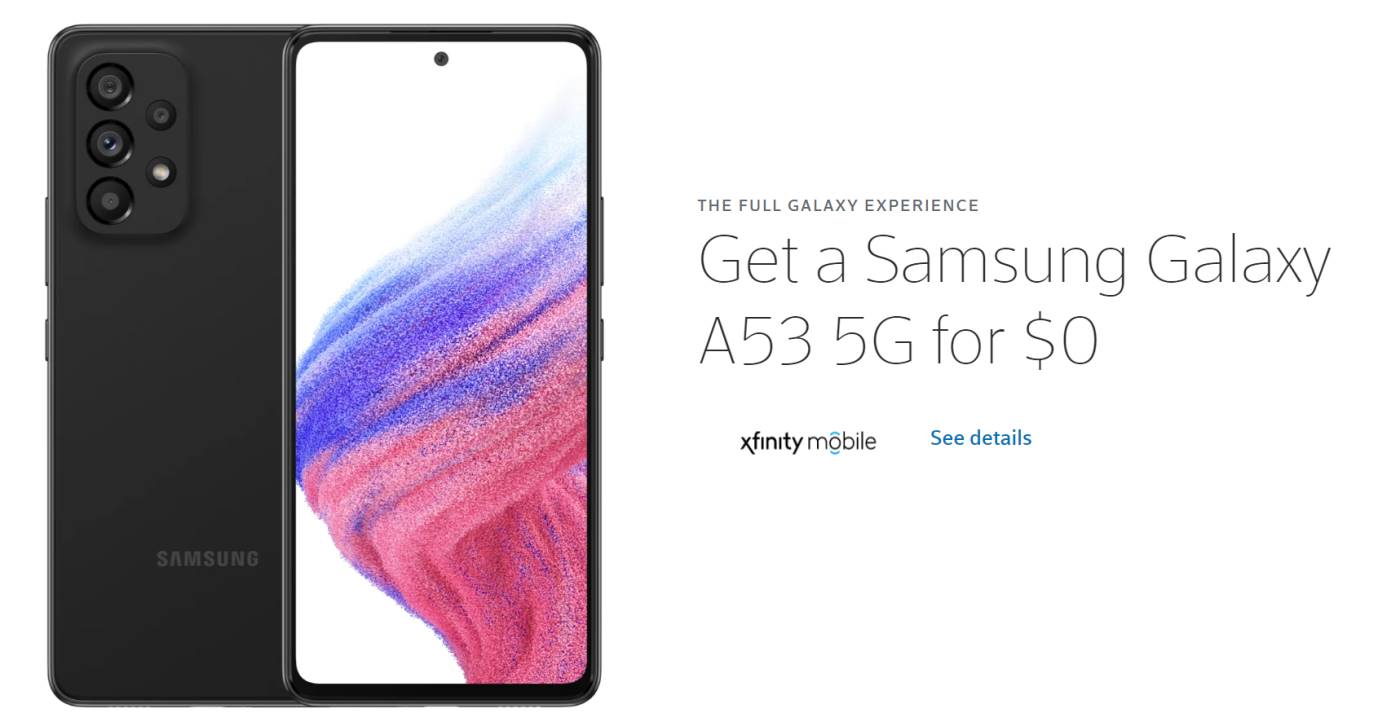 The Samsung Galaxy A53 5G is now free at Xfinity Mobile. Samsung's mid-ranger hit the market a few months ago and is sold by most providers. It has a list price of $449.99. In order to get it for free at Xfinity Mobile, you'll have to fulfill quite a few requirements. Let's take a look at what those are.
Xfinity Mobile's Free Samsung Galaxy A53 5G Deal Fine Print
In order to claim a free Samsung Galaxy A53 5G from Xfinity you first also need to be a postpaid Xfinity Internet subscriber. Xfinity does offer prepaid internet service, but it's not compatible with this deal.
This is a deal for new lines only and requires subscribers to port their number from another carrier within 30 days of purchasing the phone. The Samsung Galaxy A53 5G must also be purchased on a 24-month Xfinity Mobile device payment plan. The phone will be made free by way of 24 monthly account credits. If you try to pay off the device sooner by accelerating payments, cancel the line, or have it canceled on you, all remaining device credits will be forfeited.
The offer seems to be valid with Xfinity's "By the Gig" and "Unlimited" plans. Xfinity's By the Gig plans include shared data billed at rates of $15 for 1GB, 3GB for $30, and 10GB for $60/mo. Xfinity does not charge extra for multiple lines on By the Gig. So you can have 2 lines+ on the 3GB plan for $30/month total or 1-line for the same $30/month.
Don't Miss Out On More Deals Like This!
Get the next deal delivered to your inbox as soon as it's announced!
Xfinity Mobile's Unlimited plan costs $45/mo for a single line and drops down to $30/mo per line with 4-lines and goes down to as little as $24/month with a maximum of 10 lines allowed on an account. Xfinity's unlimited plan doesn't include unlimited high-speed data. Customers on a line that use over 20GB of data during a billing cycle will have their speeds reduced to a maximum of 1.5Mbps download and 750Kbps upload. However, when connected to C-Band or Ultra-Wideband 5G, data usage may not count towards the 20GB cap. Xfinity Mobile uses the Verizon network for coverage. Hotspot is included and unlimited, but data speeds are limited to 600Kbps.
The free Samsung Galaxy A53 5G offer is scheduled to be available at least until 7/12/22.
Get A Free Samsung Galaxy A53 5G
---
---