Walmart Adds More Data to its Family Mobile Plans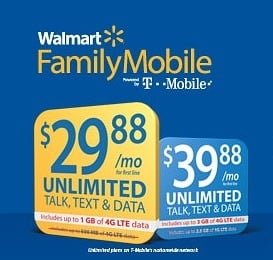 Walmart Family Mobile offers 3 cell phone plans that operate on the T-Mobile network.  Plans are priced at $24.88, $29.88 and $39.88.  Each plan includes unlimited talk and text, with off network voice and sms roaming but no data roaming.  The two most expensive plans got their monthly 4G LTE data allotments increased today while the $24.88 plan does not include data.  The changes in data are as follows:
The $29.88 plan got a bump up from 500 MB to 1 GB of 4G LTE data.
The $39.88 plan went from 2.5 GB to 3 GB.
Both of these plans included unlimited data although speeds are throttled to 2G 64-128 kbps once high speed allotments are used up.
Being called Family Mobile, Walmart allows you to have up to 5 lines on one account.  Rates above don't include the $0.97 per line/month "Regulatory Program Fee," or 6%-28% in taxes that they bill you for depending on where you live.
These data hikes come as no surprise as it has been an industry trend as of late.  They also allow the plans to differentiate themselves a bit from the Total Wireless plans that Walmart is also selling albeit at slightly different rates and through the Verizon network as opposed to T-Mobile's.
---
---