Visible Unlimited Plans Up To $10/Month Off, Get One For $25/Month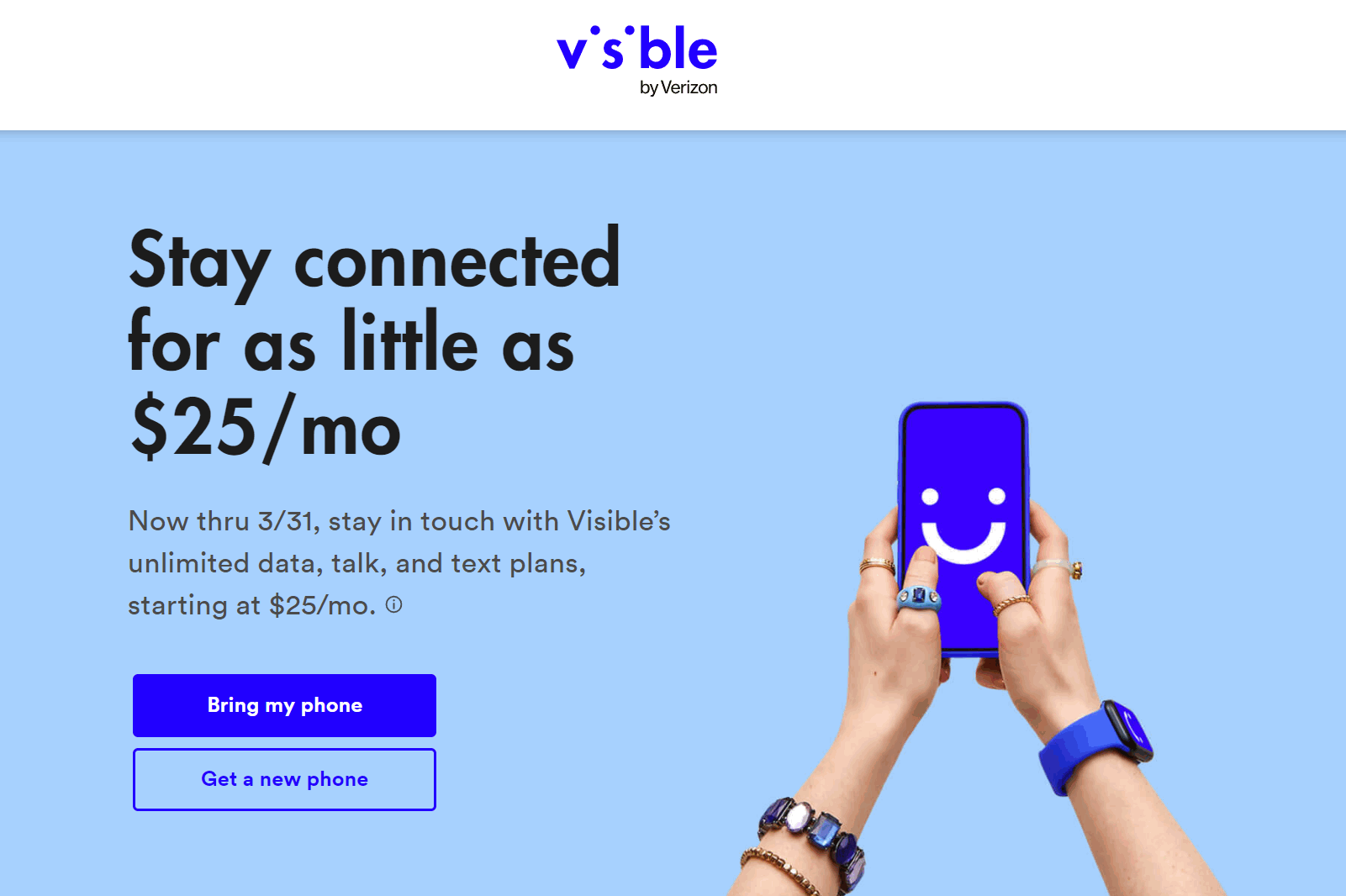 Visible by Verizon has launched a new promotion valid for the entire month of March. Customers can get up to $10/month off a Visible unlimited plan indefinitely, more on this in a bit. Through the promo offer, Visible's cheapest unlimited plan is now $25/month. This offer comes with just a small amount of fine print.
Offer Details And Fine Print
The Visible offer launched today and ends on 3/31/23. It's targeted toward new customers and subscribers on Visible's legacy plan. If you're a new customer or want to upgrade from Visible's legacy unlimited plan you can get Visible's new base unlimited plan for $25/month or their flagship unlimited plan for $35/month. The plans are regularly priced at $30/month and $45/month respectively.
The promotional pricing may not be for the lifetime of the subscriber. On one part of Visible's website the terms of the promo state "Member must maintain service on the Visible+ Plan or Visible Plan to maintain promotion; no value will be provided to the member if an account is terminated or migrates to an ineligible plan." Elsewhere on the Visible website, the terms state "Discounted rate will continue so long as member maintains service on the Visible+ Plan or Visible Plan or until such time as Visible provides notice that the discounted rate has been discontinued."
The Visible plan is the base unlimited plan priced at $25/month during the promo, while the Visible+ plan is the one priced at $35/month.
The offer is valid for subscribers that bring their own device to the network or purchase or upgrade their phone through Visible. It's stackable with discounted phone offers and Visible's gift card offers. Currently Visible is not offering any big discounts on its phones and does not appear to be offering any gift cards with the purchase of a phone. However, expect that to change during the month. Visible practically runs a gift card promo continuously, generally offering customers a gift card of up to $200 when they purchase a device. So it's reasonable to expect that offer to come back soon. Current Visible customers who have phones they purchased from Visible with financing and wish to upgrade can have Visible pay off the last 50% owed on their devices when they upgrade and trade in their old phones.
If you are on Visible's old legacy $25/month plan (with Party Pay discount applied), this could be the best upgrade deal you're going to get before Visible shuts down its legacy network and forces you to leave the plan. Although no formal timeline for a shutdown has been given, Visible is not going to keep its legacy (and inferior) network running forever. However, Visible's Chief Commercial Officer, Jeremy Bolton, told Michael Timmermann in an interview that legacy customers would never have to pay more than the $25/month they currently pay. However, the terms and conditions outlined for the promo highlighted in this article seem to be contradictory to the statements Bolton previously made.
---
---