Visible Black Friday Deals Include Save $15/Mo With Visible+ Unlimited & $250 Gift Card Offer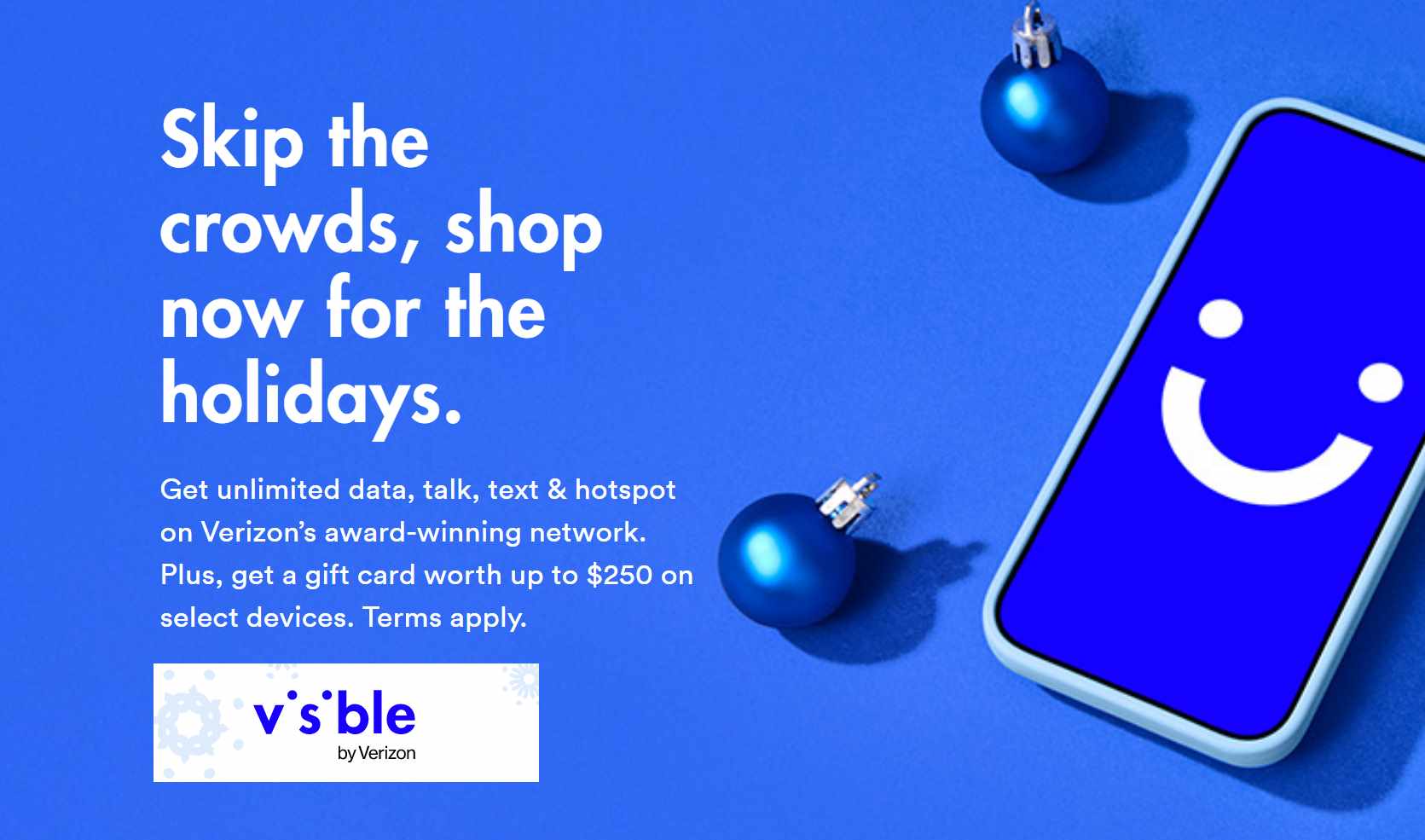 ---
Did you know BestMVNO is available to follow for free in Google News? Follow BestMVNO in your Google News app and keep up to date on wireless.
Follow BestMVNO In Google News
---
---
Visible by Verizon has launched some of its Black Friday holiday shopping season deals. One offer will get you $15/month off Visible's flagship Visible+ unlimited plan. Visible has also increased the gift card amounts included with select phones. You can now get up to a $250 gift card and free Beats Studio Buds when you purchase a phone from the Verizon powered prepaid brand. Other deals include a Moto G Pure for $100 with a $100 gift card and an iPhone SE 2020 for $299 with a $250 gift card.
Save $15/Month On Visible+ Plan Terms & Conditions
In order to save $15/month on the Visible+ unlimited plan you'll have to use a coupon code at checkout. With code 15OFF applied at checkout you'll get your first three months of Visible+ for $30/month. After three months, the plan will go back to its regular rate of $45/month.
Visible's $45 plan includes unlimited talk, text, high-speed data, and mobile hotspot. Mobile hotspot data speeds are limited to a maximum of 5Mbps and you can only connect to one device at a time. Service is provided over Verizon's 5G Nationwide, 5G Ultra-Wideband, and 4G LTE networks. The plan includes 50GB of premium data when connected to the 5G Nationwide and 4G LTE networks and unlimited premium data when connected to Ultra-Wideband. With premium data, data speeds don't slow down compared to other customers on the Verizon network during times the network is congested. The plan also comes with unlimited calling to Mexico and Canada and full service roaming in both countries. It also has unlimited international calling to over 30 countries and international texting to over 200 countries.
The $15/month discount offer is for new customers only that bring their own phones over to the network. This offer is scheduled to last at least until 11/29/22.
Subscribe to BestMVNO and always be informed of the latest deals, plans and carrier promotions!
Visible Phone Deals With Up To A $250 Gift Card And Free Pair Of Beats Studio Buds
If you want a free pair of Beats Studio Buds and a $250 gift card from Visible you'll have to purchase a current-generation iPhone. Here are the iPhones available from Visible that include the gift card and ear buds:
iPhone 14 - $829 or $34.54/mo
iPhone 14 Pro - $999 or $41.63/mo
iPhone 14 Pro Max - $1099 or $30.53/mo
iPhone 14 Plus - $929 or $38.71/mo
In order to qualify for both the gift card and Beats Studio Buds you'll have to port your number into Visible from an eligible carrier and keep your service active for three full months. Both items will be redeemable via a promo code that will be sent to you after you fulfill those qualifications.
Here are the other phones that Visible is currently offering a $250 gift card with.
Google Pixel 6 - $600 or $25/mo
Google Pixel 6 Pro - $888 or $37/mo
Google Pixel 7 Pro - $899 or $37.46/mo
Google Pixel 7 - $599 or $24.96/mo
Google Pixel 6a - $449 or $18.71/mo
Samsung Galaxy S22 - 816 or $34/mo
Samsung Galaxy S22 Ultra - $1200 or $33.33/mo
Samsung Galaxy S22+ - $1008 or $28/mo
Samsung Galaxy Z Flip4 - $1000 or $27.78/mo
Apple iPhone SE 2022 - $429 or $17.87/mo
Apple iPhone SE 2020 - $299 or $24.92/mo
Apple iPhone 13 mini - $599 or $24.96/mo
Apple iPhone 13 - $699 or $29.13/mo
Apple iPhone 13 Pro Max - $980 or $40.83/mo
Apple iPhone 13 Pro  - $884 or $36.83/mo
Motorola edge 2022 - $504 or $21/mo
Motorola edge 5G UW - $480 or $20/mo
---
Be sure to follow BestMVNO on Twitter for additional wireless coverage, deals, insights, and even debates!
Follow @BestMVNO Twitter
---
---