Verizon's New $75 Unlimited Prepaid Plan Is Ultra Wideband Enabled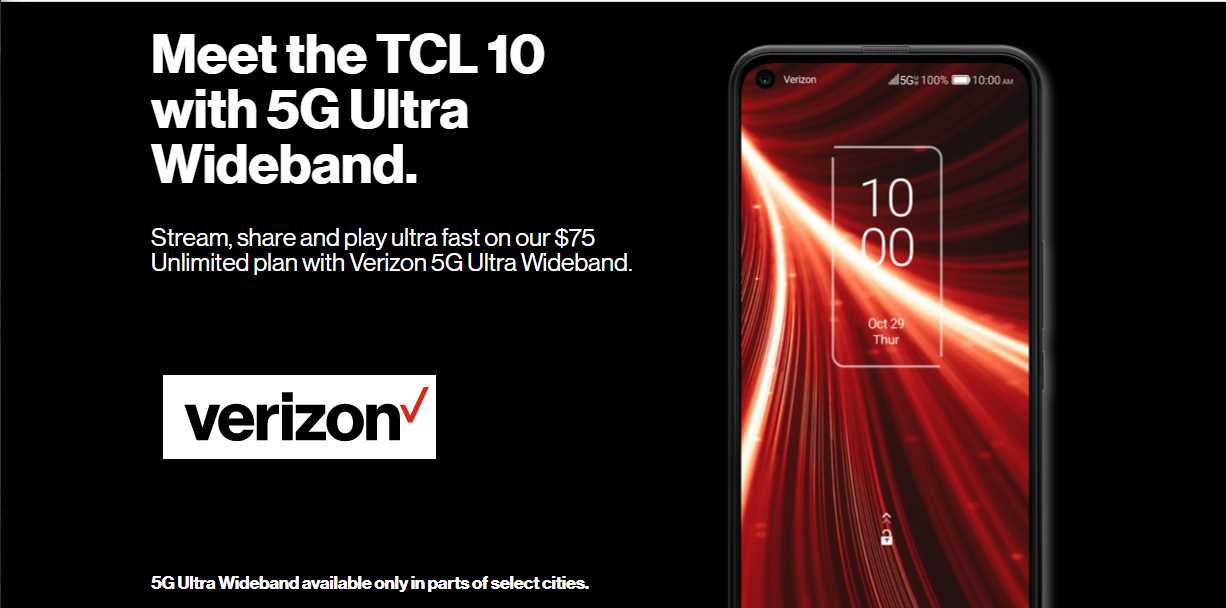 Verizon Prepaid has released a new unlimited data plan priced at $75/month plus taxes and fees. It is 5G ultra-wideband enabled and the only Verizon Prepaid plan to have that designation. With 5G ultra-wideband, data speeds are multiple times faster than LTE data speeds and can reach Gbps. That is in contrast to Verizon's more widely available low-band 5G network where data speeds aren't that much different than 4G LTE.
Verizon's $75 Unlimited Plan Supported Features
The new plan includes all the same basic features you would expect with an unlimited data plan, and then some. The plan includes unlimited talk and text, and free talk, text, and data roaming in Mexico and Canada. Data speeds while roaming internationally get reduced to 2G data speeds for the remainder of the day if a subscriber uses more than 0.5GB of data in a day. International texting to 200 international countries is supported at no extra cost. The plan also includes unlimited mobile hotspot usage but only when in an area supported by Verizon's ultra-wideband network. In all other areas, mobile hotspot is limited to 10GB at full speed before throttling to a maximum data speed of 600Kbps.
The new plan supports Verizon's customer loyalty discounts. For a customer's first month of service, they'll pay $75 for the plan. With autopay billing enabled in month two, the cost will drop down to $70. If they remain on the plan for 4-9 months with autopay the price of the plan gets further reduced to $65/month. And after 9 months, the price of the plan drops down to $60/month. Autopay adds a $5/month discount in all cases. So without autopay enabled after 9-months, the subscriber would pay $65/month.
Verizon's ultra-wideband network is currently available in more than 60 cities. Most locations are in major cities and metropolitan areas. You can see if it's available in your area by using Verizon's coverage map.
And of course, to access the 5G ultra-wideband network, you'll also need a phone that supports that network. Verizon Prepaid is pushing its recently launched TCL 10 5G UW phone as a relatively low-cost phone to get subscribers up and running on the network. It's available for $399.99 and has the following specifications:
Snapdragon 765 octa-core processor
6.53" FHD+ IPS display (1080 x 2340)
6GB RAM
128GB internal storage expandable with a micro-SD card
Triple rear cameras with dual-LED flash featuring 48MP (main) + 8MP (super wide-angle) + 5MP (macro) lenses. OIS not included, instead uses EIS
16MP selfie-camera
4500 mAh battery
Fingerprint sensor and face unlock
Android 10
Supports the following LTE bands:
2/4/5/12/13/46/48/66 with roaming on bands 3/7/20/28
Supports the following 5G bands:
n5/n2/n66/n260/n261
Bluetooth 5.0
NFC
Keep in mind, Verizon Prepaid phones are locked to the network until 60-days after activation. Once unlocked, they can be used on another network.
If you already have a 5G ultra-wideband compatible phone or any other phone to bring over to the network, Verizon Prepaid is offering a $60 account credit to customers that bring their own devices to the network on plans priced $50 or higher before any discounts are applied.
---
---