Verizon Prepaid Samsung Galaxy A03s Is Free At Walmart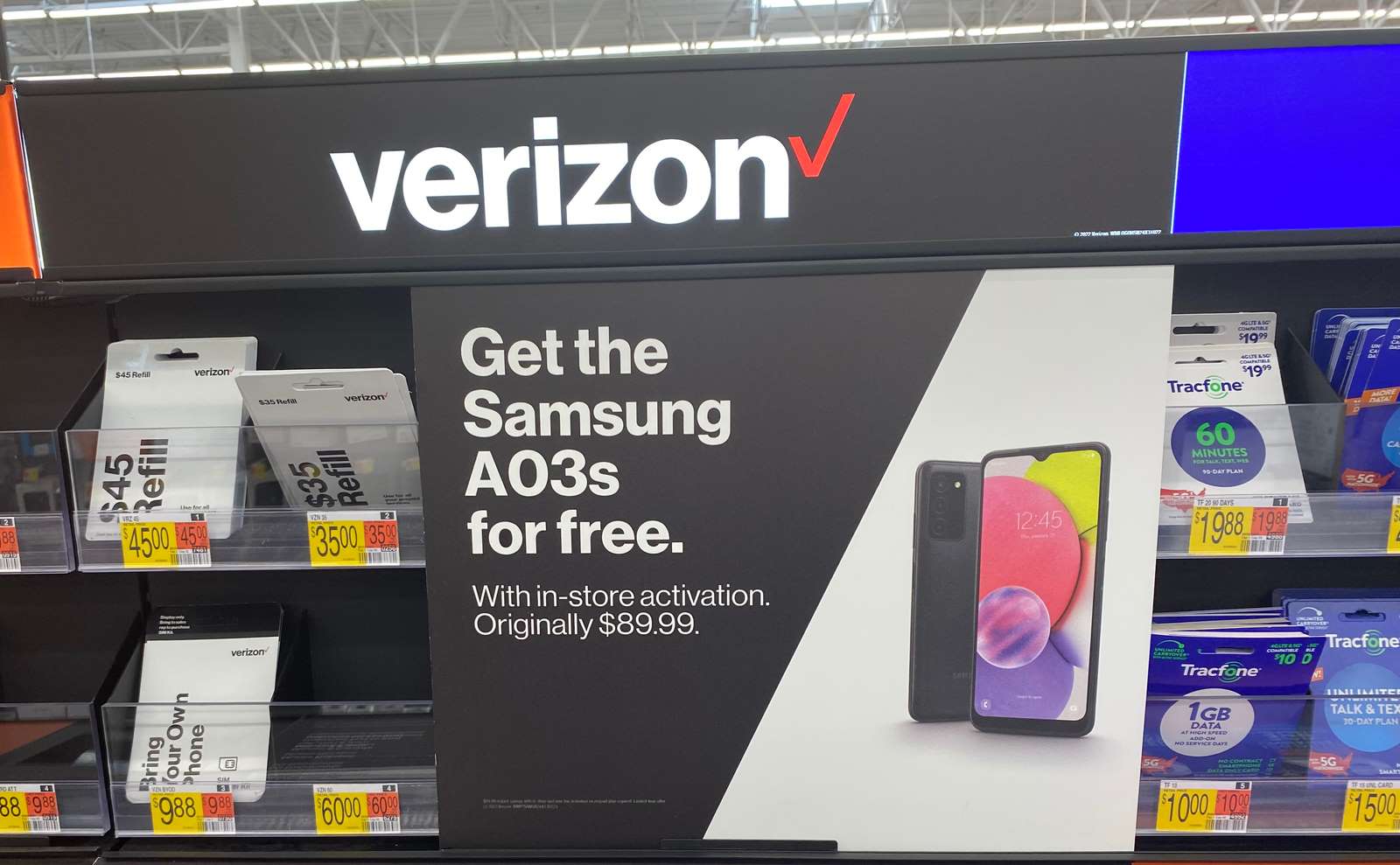 The Verizon Prepaid Samsung Galaxy A03s is now free at Walmart with in-store activation. The firm Wave7 Research noted in its latest prepaid report that the offer is highlighted on store displays. Online, the phone has a list price of $119 but is marked down to $89.88. The online Walmart product page for the Samsung Galaxy A03s highlights the offer and it does come with a small amount of fine print.
Offer Fine Print
The free phone deal is scheduled to be in place until 6/15/23. It requires the activation of a new line of service on any Verizon Prepaid plan priced at $45 or higher (before any discounts are applied). Number porting does not appear to be required. The phone will be made free by way of an instant discount of $89.99.
The Samsung Galaxy A03s is a budget-oriented device with the specs to match. It's got a 6.5" HD+ display, 32GB of internal storage expandable with a microSD card, 3GB RAM, 5000mAh battery, MediaTek Helio p35 Octa-core processor, and a 13MP main camera flanked by 2MP depth and macro lenses.
Eligible plans include the following:
$45 - 15GB high-speed data, all data can be used for mobile hotspot
$60 - unlimited high-speed data, 5GB hotspot at full speed then unlimited at 600Kbps
$70 - 5G Ultra-Wideband network access, unlimited high-speed data, 25GB hotspot at full speed then unlimited at 3Mbps on Ultra-wideband or 600Kbps on the 4G LTE/5G Nationwide networks, 50GB of premium priority data on the 4G LTE/5G Nationwide networks, unlimited on 5G Ultra-Wideband
All plans include talk, text, and data usage in Mexico and Canada at no extra charge. All plans are $10/month cheaper with autopay billing enabled, or after 9 months without autopay billing enabled. The $45 and $60 plans do not include access to Verizon's 5G Ultra-Wideband network and will not get the fastest speeds possible on Verizon.
The Samsung Galaxy A03s is also available for free directly through the Verizon Prepaid website, as is the Motorola Moto G Pure. However, they require the purchase of a plan priced at $60 or higher and the offers expire on 3/31/23.
Verizon Prepaid phones are locked to the network for 60 days before they can be used elsewhere.
Free Prepaid Phones At Walmart Not As Rare As They Used To Be
Free prepaid phones at Walmart have historically been a rarity, however, they have been sighted in the store with more frequency as of late most likely due to Metro by T-Mobile's arrival. In October of 2021, Metro by T-Mobile was relaunched in Walmart stores after being removed from the store several years prior.
Last fall, Metro offered 4 phones for free in Walmart stores and they continue to do so today albeit with different models available including the REVVL 6 5G, Samsung Galaxy A03s, Moto G Pure, and TCL IONx. Cricket Wireless also has a free in-store offering with the Moto G Pure.
"The good news is that prepaid competition is alive and well at Walmart, which traditionally has not had free phone offers.  Late last year, Metro by T-Mobile launched a bold offer of four devices free with in-store activation and now Verizon Prepaid has an offer of the Galaxy A03s as free and Cricket Wireless is offering the Moto G Pure as free also, all assuming in-store activation." – Jeff Moore, Principal of Wave7 Research
---
---