Tracfone Announces $50 Annual Plan Sold Exclusively Through Ebay, Features 3GB Data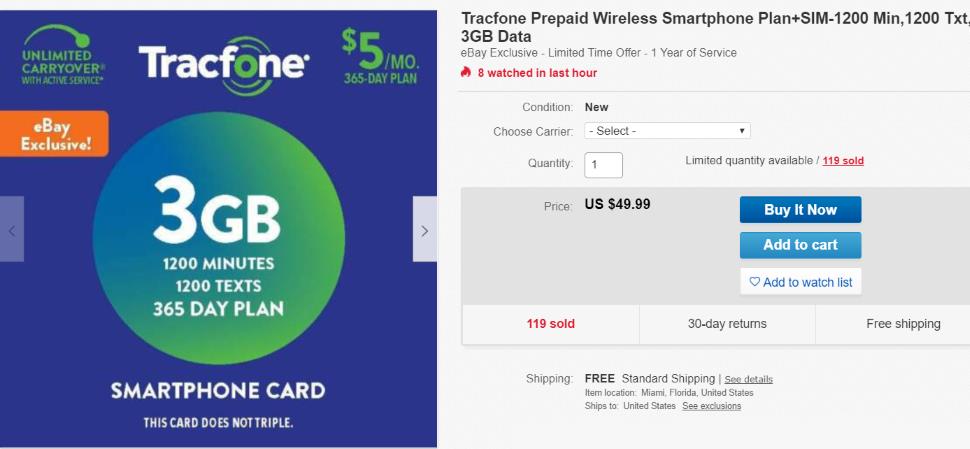 Tracfone has announced a new smartphone plan that is being sold exclusively through the company's eBay store.  It's a 365-day annual plan that includes 1,200 minutes, 1,200 text messages and 3GB of 4G LTE data for $49.99.  That works out to an average cost of $4.17/month. Unlike some other annual plans on the market, the service allotments do not renew every month. They are allocations that are meant to last for an entire year.  Of course, if you do run out of talk, text or data you can always purchase an add-on card.  Available add-on cards include 500 minutes for $10, 1GB of additional data for $10, 1,000 additional text messages for $5 and a $10 global calling card.  The add-on cards don't expire and rollover month to month with active service.
Tracfone provides service on the AT&T, T-Mobile, and Verizon networks.  Customers can choose which Tracfone network partner they'd like to use their service with when they purchase the plan.
How The Plan Stacks Up
This eBay exclusive plan is a much better offering compared to the annual plan that Tracfone sells directly on its website.  The one on the Tracfone website includes 1,500 minutes, 1,500 text messages and only 1.5GB of data for $125 or $118.75 with auto-refill enabled.  Customers can save $15 on that plan through May 31, 2019, when they use the promo code 88804 at checkout.  Even with the promo code discount, the plan is still twice as expensive as the eBay plan for a similar amount of minutes yet only half the data.
This new Tracfone plan seems to compete most directly with an offering from Red Pocket Mobile.  Red Pocket Mobile operates on the customer's choice of either the AT&T, Sprint, T-Mobile or Verizon network.  For $60/year, customers get 30-day allotments of 100 minutes, 100 text messages and 500MB of LTE data.  Red Pocket Mobile's AT&T network plans don't come with support for MMS/picture messages on the iPhone.  The Tracfone plan does not have this issue.  The Red Pocket Mobile plan is also flat out more expensive and so by price is not quite as good of a deal as what Tracfone is offering on eBay.
Be informed of the latest deals, plans and promotions from Verizon and every one of its MVNO's when you subscribe to the Verizon weekly newsletter. No spam and you can unsubscribe at any time!
The Tracfone plan is currently being listed as a limited time offer.  It is not known how long it will be available for.
---
---