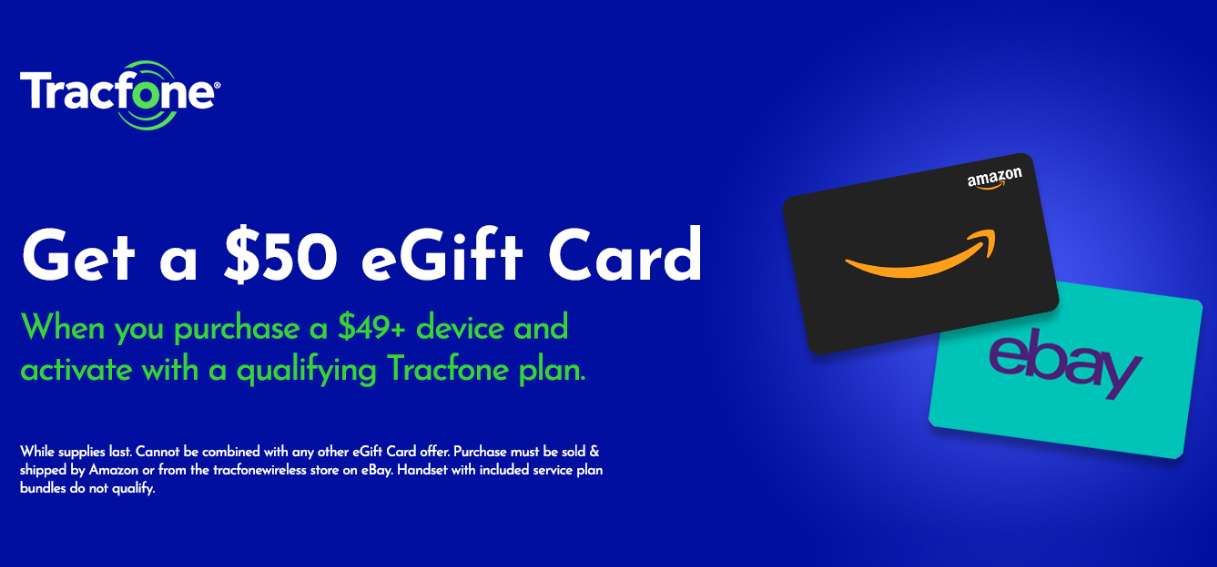 ---
Last month Tracfone and several of its associated brands began offering $25 Amazon and eBay eGift cards with the purchase of SIM kits and activation on qualifying plans.  Customers that purchased their SIM kit and plan from Amazon got the Amazon gift card and those who purchased from eBay got the eBay gift card.  That offer is scheduled to run until 4/30/2020.
Now Tracfone has launched a new offer to run alongside the one launched last month.  Customers who purchase a device priced $49 or higher and activate on a qualifying plan priced $15 or higher will receive either a $50 Amazon or eBay Gift card dependent on which online store the customer makes their purchase at.
Offer Fine Print
In order to qualify for the offer, customers must purchase a plan and a device in the same transaction from either Tracfone's official eBay storefront or shipped from and sold by Amazon.  There are third-party sellers on both platforms, and if you make your purchase through one of these third-party sellers, you will not qualify for the offer.
This offer is scheduled to run until 4/30/2020.  Unfortunately, it cannot be combined with the $25 eGift card offer that launched last month.
Those that qualify for the eGift card can claim it by heading on over to https://handsetrewardprogram.com/ and filling out the form embedded on that page by 11:59:59 PM on 5/31/2020.  Customers will need to have a copy of their order confirmation that shows the retailer name, date, time, purchase total and what the qualifying purchase was.  There is a limit of one submission allowed per customer.
Those that fill out the necessary form will receive an automated text message that will serve as an electronic signature allowing them to agree to the terms of the offer and to give electronic written consent to receive automated text messages.  It is not clear to me though what the fine print is referring to by "automated text messages."  So that may be something to be aware of.
Once service has been activated it may take up to 10 business days for processing.  Once the validation process is completed, qualified customers will automatically receive a promotional code by email that can be used to redeem their eGift card.  The fine print for the offer states that customers need to immediately download their Amazon or eBay eGift card immediately after redemption of their promotional code.  I imagine if they do not do so, they risk losing the eGift card offer.
There are currently 15 phones available for purchase on eBay that qualify for the offer. Phone pricing starts at $49.99 and there are several models available at that price including the Samsung Galaxy J2 and the Motorola E6.
On Amazon, there are several phone models available as well, but unfortunately, Tracfone's storefront isn't nearly as organized on Amazon and it is harder to find the available phones there.  From what I can tell, most of the phones are the same between the two stores.
If you are considering this offer, keep in mind, Tracfone phones are sold locked to the network and must be used with Tracfone for at least 12 consecutive months before they can be unlocked for use on another network.
---
---