Total Wireless Store Offers Feature $14.99 Samsung Galaxy A10e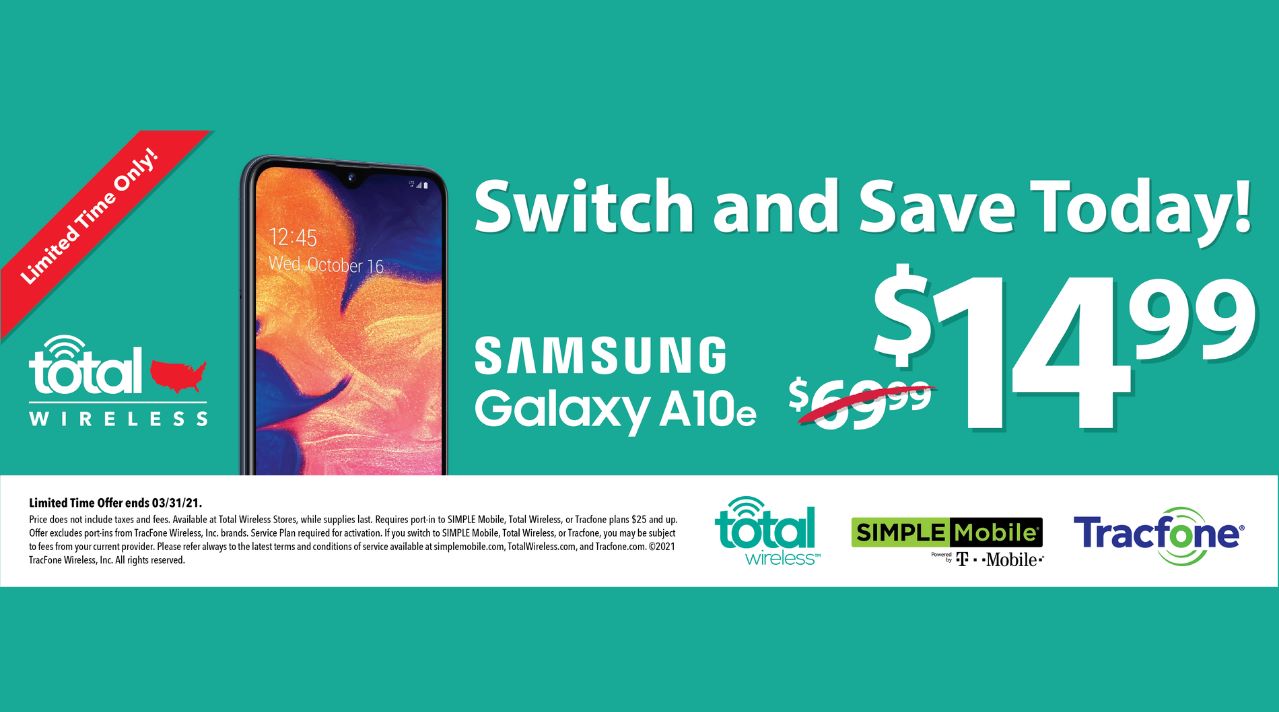 ---
Did you know BestMVNO is available to follow for free in Google News? Follow BestMVNO in your Google News app and keep up to date on wireless.
Follow BestMVNO In Google News
---
---
There are over 170 Total Wireless branded stores located across 20 states. The stores carry all the different Tracfone brands except for Straight Talk Wireless. This is because Straight Talk is sold exclusively in-stores at Walmart.
Total Wireless stores are currently running deals on a few different phones. If you are near one of them, you can pick up an Apple iPhone 11 for $499.99 (reg $599.99), a Samsung Galaxy A10e for $14.99 (reg $69.99), an LG Stylo 5 for $49.99 (reg $99.99), or a Motorola Moto G Power for $79.99 (reg $129.99).
Each phone deal offer has its own fine print. But the same basic fine print is applicable to all deals. The deals are limited-time offers that are scheduled to be available until 3/31/2021. They are switcher deals so you must port a number-in. Those porting from another Tracfone brand are not eligible for the deals. Switchers must also port to a plan priced at $25 or higher. The phone deals are not all available for the same Tracfone brand. Here's a list of what phones are discounted for each Tracfone brand:
Apple iPhone 11 for $499.99, deal for Simple Mobile only
Samsung Galaxy A10e for $14.99, available for Simple Mobile, Tracfone, and Total Wireless
LG Stylo 5 for $49.99, available for Simple Mobile and Total Wireless
Moto G Power for $79.99, available for Total Wireless only
If you are interested in one of the offers, keep in mind that the phone will be locked to whatever Tracfone brand you purchased it for. The lock period is 12-months. After having it on the network for 12-months you can request that it be unlocked so that you can use it with another provider.
Be informed of the latest deals, plans and promotions from Verizon and every one of its MVNO's when you subscribe to the Verizon weekly newsletter. No spam and you can unsubscribe at any time!
As an alternative to the phone deals, there are a couple of service plan deals that continue to be available through Amazon. Those activating a new line of service on Simple Mobile's $50 unlimited data plan can get it for $45/month. Those who purchase their subscription through Amazon will also get a $50 Amazon gift card.
Amazon also continues to run a Tracfone offer. Shoppers can get Tracfone's $20 unlimited talk and text plan with 1GB of monthly data for just $15. The deal also includes a $20 Amazon gift card, and 10% off monthly renewals. The Simple Mobile and Tracfone Amazon offers are scheduled to be available until 4/15/2021.
---
Be sure to follow BestMVNO on Twitter for additional wireless coverage, deals, insights, and even debates!
Follow @BestMVNO Twitter
---
---