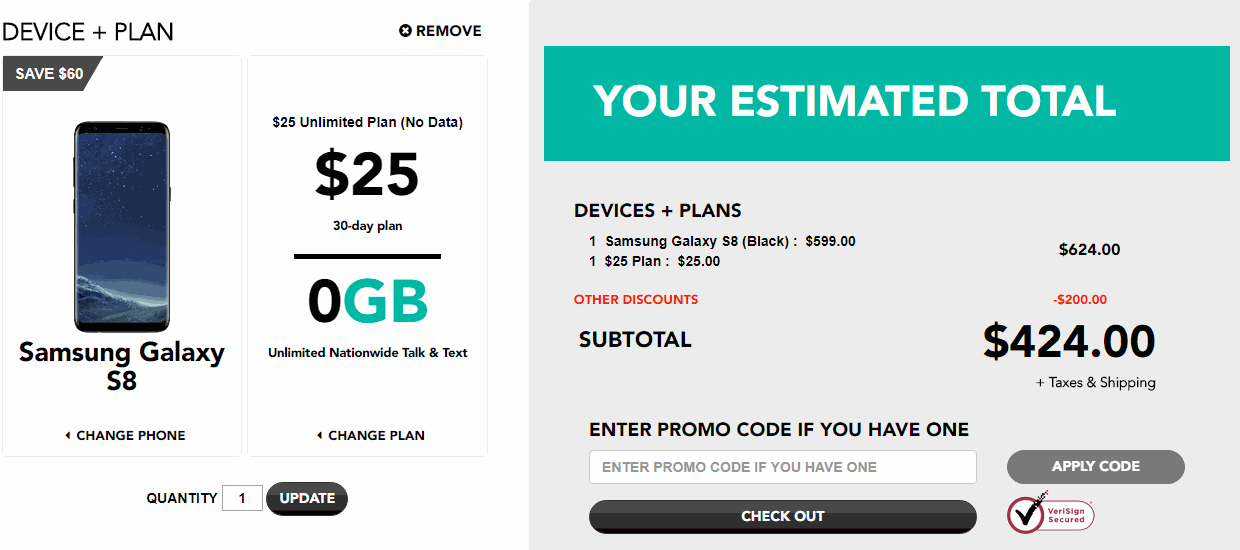 ---
Verizon powered Total Wireless is currently offering the Samsung Galaxy S8 for $200 off when you purchase a plan to go along with it. The phone is regularly sold for $599 but with the discount it is available for just $399. This is one of the best prices available on the S8.
Offer Fine Print
Fortunately this offer doesn't really have much fine print to be aware of, other than Total Wireless's device unlocking policy.  If you are thinking of buying this device to take elsewhere, you need to be aware that Total Wireless will not unlock it for you unless it has been used on the network for at least 12 months.
Specifically, the company says unlocking eligibility requires that:
Customers must have had their locked device activated on TracFone service (TracFone owns Total Wireless) for no fewer than 12 months, redeemed air time cards in no fewer than 12 months, and not have had their telephone number recycled or ported.
Any Total Wireless phone plan can be purchased to get the $200 off the Galaxy S8. Plan prices start at just $25/month for unlimited talk and text with no data. Device financing is also available starting at just $20/month.
Full plan details include:
Eligible Total Wireless Phone Plans
All plans include unlimited talk and text. When data is available, it is hard capped. Total Wireless sells additional data add on cards priced at $10 for 5GB with carry over data that never expires as long as your service remains active.
$25/month ($23.70 with auto pay AP) - unlimited talk and text only
$35/month ($33.20 with AP) - includes 5GB of 4G LTE data
$60/month ($57 with AP)- includes 15GB of shareable data that can be used with a maximum of 2 lines
$85/month ($80.70 with AP) - includes 20GB of shareable data that can be used with  up to 3 lines
$100/month ($95 with AP) - includes 25GB of shareable data that can be used with up to 3 lines
A global calling add on card is also available priced at $10 with unlimited carryover. International calling rates are billed by the minute and start at 1¢/min for calls to Canada.
Taxes and fees cost extra and are not included in the prices shown.
Tethering/mobile hotspot is prohibited on all plans.
---
---