---
Over the summer, DISH made a move to acquire Ting Mobile assets from Tucows. That gave DISH about 150,000 new wireless accounts and over 200,000 subscribers effective August 1, 2020. A press release at the time stated that "most" Ting Mobile customers became DISH customers on that day. DISH, under its Boost Mobile brand, utilizes the T-Mobile and legacy Sprint network to provide service to its customers. Ting also utilizes both networks and earlier this year added Verizon. A statement from a firm representing Ting told BestMVNO at the time that the acquisition will allow for a "renewed ability for Ting Mobile to innovate on price, staying true to its roots." Well, it took a couple of months until after the acquisition, but Ting and DISH have stayed true to their words. Today, Ting issued plan updates that should benefit a majority of its subscribers.  And "this is BIG," at least according to the email that Ting sent out to its followers and subscribers to notify them of the change. Ting is also using a new marketing slogan with the plan updates, "Choose Smarter," and has installed a new senior vice president in Robert Currie.
A Look At Ting Mobile's Plan Updates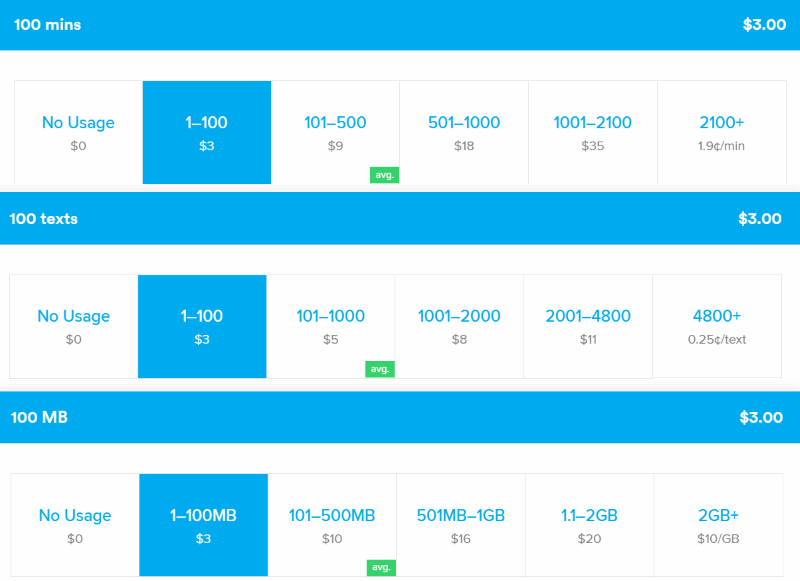 Ting has always been a provider that didn't really offer true and set wireless plans. Instead, they sold service in the form of "usage buckets." Depending on how many minutes, text messages, or MB of data you used during a billing cycle you could be paying a different price for your wireless service every month. Subscribers could move up and down the usage bucket tiers with each cycle. As an example, during one month a customer may use 95 minutes and 95MB of data and have to pay $6 for their service plus a $6 line access fee. The next month they could go on to use 500 minutes and 500MB of data and they'd be bumped up to the next talk and data bucket tiers and have to pay $19 for their service. The pay per use model was not an efficient one for subscribers that don't like to micromanage their accounts. But with the plan updates announced today, Ting will operate in a way that is more in-line with traditional carriers, however, they will still retain elements of their previous pricing model. Here is a deep dive into what was announced today.
Flex Plan
Ting is now offering a plan called "Flex." This is Ting's base plan and it carries over an element of its previous pricing model. The plan costs $10 to start and customers get billed per usage for data at a rate of $5 per 1GB. So subscribers could pay a different amount for their plan every month depending on how much data they use each month. Data on the plan is shared between lines. Additional lines cost $10 per line and there is no limit on the number of lines that can be added to an account.
Update: Customers can also use mobile hotspot with the Flex plan. This comes from a Ting Mobile social support representative on Reddit.
Set 5 Plan
Ting has also released a plan called Set 5. It's pretty simple and it basically mirror's Boost Mobile's $25 plan and T-Mobile's $25 Connect prepaid plan. It includes unlimited talk and text with a fixed amount of hard capped data. Data is capped at 5GB and subscribers can use all their data for hotspot if they so choose.
Update: A Ting Mobile representative confirmed to BestMVNO that this plan does actually include unlimited 2G data once the plan's high-speed allotment gets consumed.
Unlimited Plans
There are two unlimited plans being offered. Both unlimited plans include a fixed amount of high-speed data with data speeds throttled to 2G once the high-speed allotment gets used up. The two unlimited plans are as follows:
$45/month - 22GB high-speed data and up to 12GB can be used for mobile hotspot
$60/month - Unlimited Pro plan featuring 35GB of high-speed data and up to 30GB can be used for mobile hotspot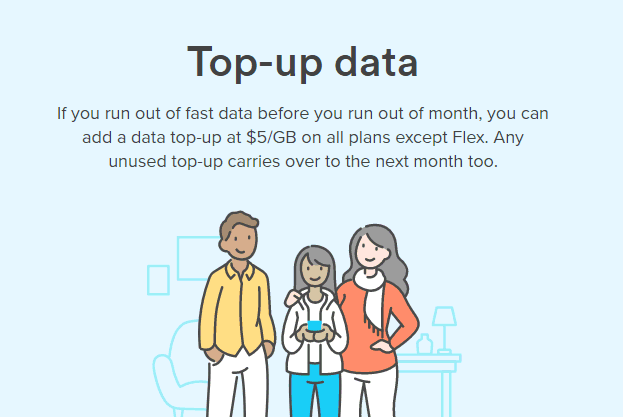 For all plans, excluding Flex, customers can add more high-speed data to their plans if they run out billed at a rate of $5/GB. Data top-ups carryover for one billing cycle. All plans include unlimited talk and text.
Taxes and fees cost extra with each plan. The plans include 4G LTE and 5G network access and are available for use on either the T-Mobile or Verizon networks. 5G access at the moment may be limited to the T-Mobile network. Those using Ting right now with a Sprint SIM will need a new SIM if they'd like to transition to a new plan.
There Is No Mix And Match
There is a downside to the new plans. Customers will not be able to mix and match plans. All subscribers managed under one account must be subscribed to the same wireless plan.
Update: According to a Ting representative on Reddit, international calling will eventually be supported on the new plans. However, international calling support will take about two months to implement. Customers on an old legacy Ting rate plan with international calling may want to wait until then to switch over to a new plan. The same goes for domestic roaming. Domestic talk, text, and 100MB of data roaming will be available in about 2 months as well.
Update 2, 11/20/2020: A Ting Mobile representative confirmed to BestMVNO that all plans will allow for video streaming at a resolution of 1080p. This is a defining and differentiating feature compared to many other MVNOs and providers on the market.
Update 3 - domestic roaming is available now, international roaming will take about 2-months to implement.
What Will Happen To Legacy Customers
Ting Mobile customers still using Ting's bucket based plans can keep them if they wish. However, for the overwhelming majority, these new rate plans should be cheaper and offer much better value. Customers that do switch to a new Ting plan will not be able to go back to their old plan.
Ting put also put out a video to announce the plan changes which you can view below.
More Than A Plan Shakeup, There's Also A New VP
A press release issued by DISH today announced that Robert Currie will now serve as the senior vice president at Ting Mobile. Currie recently led two TELUS Communications' brands, Koodo Mobile and Public Mobile. Both are wireless providers that serve Canadian markets. Ting's former parent company, Tucows INC, is headquartered in Canada.
Currie's duty as vice president will be to lead the Ting Mobile business and DISH's MVNO platform strategy and operations units which will be important areas for Currie to handle. DISH's Ting Mobile asset acquisition was more about DISH acquiring Ting's MVNO software provisioning, marketing, and billing platforms than acquiring the actual subscribers. Currie will have to work to oversee the integration of those platforms into Boost Mobile.
Jeff Moore, Principal of Wave7 Research commented to BestMVNO about the changeup at Ting:
"It is interesting that Dish Network is giving this much love to Ting -- revising plans and hiring a veteran executive to run Ting Mobile and announcing that publicly. Ting has little in the way of distribution or advertising, apart from SIM sales at Best Buy, so changes need to be made if Dish want to build the Ting business."
Editor's Take
Ting is now providing a much better value to its subscribers. And this is because of DISH's influence. DISH has moved to better serve budget-oriented consumers and this is made clear by the changes that DISH recently made to both Boost Mobile and Ting. But there is now a little bit of overlap between the two brands. Ting and Boost are both now offering a $25 plan with 5GB of data and a $60 plan with 35GB of high-speed data. The brands diverge through Ting's Flex plan and Boost Mobile's Shrink-it plan where subscribers get rewarded with a cheaper wireless plan the longer they stay subscribed to Boost.
If you're interested in trying Ting out, for a limited time you can get a $25 account credit through the link below.
---
---