Tello Mobile Now Offering 50% Off 3-Months Of Service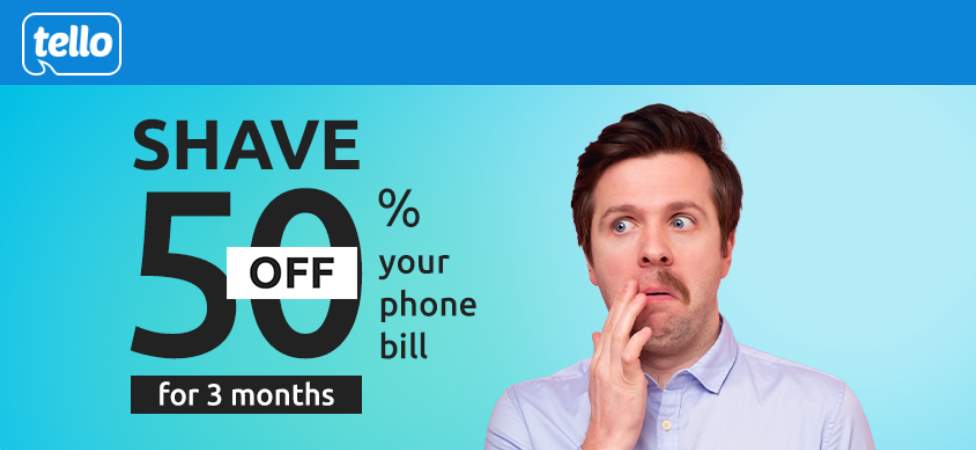 ---
Did you know BestMVNO is available to follow for free in Google News? Follow BestMVNO in your Google News app and keep up to date on wireless.
Follow BestMVNO In Google News
---
---
Tello Mobile has launched a new promotional offer of 50% off for 3-months of service. It is a deal for new lines of service only. Existing customers adding a line to their accounts can take advantage of the offer. It is scheduled to be available until February 28, 2021. Update: The offer has been extended until 3/15/21.
Last month Tello announced that it had finally begun to offer service on the T-Mobile network. The 50% off deal is the first promo to be available under their new network partner. Free SIM cards are also included with the offer.
Tello's phone plans are competitively priced. They offer some of the cheapest single month plans around. This new promotion makes them even better.
Tello customers can custom-build their own phone plans and get a data-only plan if they'd like. All plans with talk include free calling to Canada, Mexico, China, and Romania at no extra cost. If you are interested in taking advantage of this offer, here are some popular Tello phone plans with unlimited talk and text that you may want to consider. The half-off pricing is highlighted.
$5/month - 1GB high-speed data, after 3-months $10/month
$7/month - 2GB high-speed data, after 3-months $14/month
$9.50/month - 4GB high-speed data, after 3-months $19/month
$12/month - 6GB high-speed data, after 3-months $24/month
$14.50/month - 8GB high-speed data, after 3-months $29/month
$19.50/month - 25GB high-speed data, after 3-months $39/month
Mobile hotspot is included with each data containing plan. After the plan's high-speed data allotment is reached, data speeds are reduced to 2G for the rest of the billing cycle. High-speed data is provided at up to 5G data speeds.
Tello does not offer multi-line discounts. So current customers adding a line do not get additional savings, but they can still take advantage of this deal. A maximum of 10 lines is allowed under one Tello Mobile account.
---
Be sure to follow BestMVNO on Twitter for additional wireless coverage, deals, insights, and even debates!
Follow @BestMVNO Twitter
---
---