Build Your Own Cell Phone Plan With Tello And Get Calling To Mexico And Canada Free Of Charge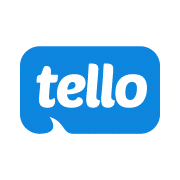 Tello, the Sprint MVNO that allows you to custom build your own cell phone plan recently added international calling to Mexico and Canada to every plan free of charge.
Tello says that the change was made because a large part of their subscriber base regularly calls both Mexico and Canada and this will help those subscribers save money.
Tello also offers international calling to many other destinations for those that desire it through the purchase of a pay as you go credit.  The pay as you go credit comes with a balance that never expires, meaning any unused credit that you have in your account will rollover month after month.  Other popular calling options include calls to China billed at rate of 1.2¢/min and India billed at 1.8¢/min.
As always, Tello's wireless plans include "no fees whatsoever,"  which means no signup fees or taxes.  There are also no contracts or commitments.  Tello's fully customizable build your own plan options also all include the ability to share data with other devices or friends free of charge via tethering.  Customers can also upgrade or downgrade their plan at anytime without penalty.
Interested parties can signup with Tello for just $5/month for a plan that includes 100 minutes and 200 texts.
For more information, or to signup for a plan, visit Tello.com.
---
---