Deal Extended! T-Mobile Launches BOGO Deals On The Samsung Galaxy S8, S8+ And LG G6, V20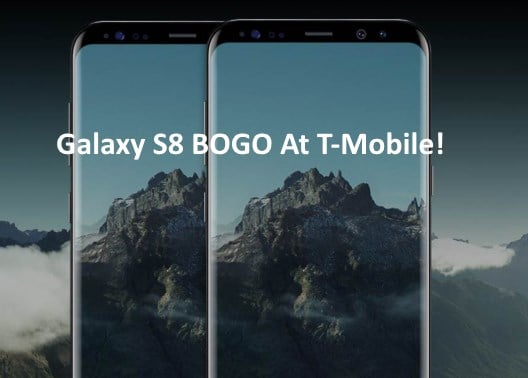 (Updated 06/23/2017:  Offers now available through 7/17/2017).  T-Mobile has launched a few new deals on select devices just in time for Father's day.  The deals are for buy one get one free with the purchase of either a Samsung Galaxy S8 or S8+, or an LG G6 or LG V20.
In order to qualify for the BOGO offer, current T-Mobile customers must add a new line of service and at least one line must be on T-Mobile ONE, which is T-Mobile's unlimited LTE data plan.  New subscribers however must activate both lines of service on T-Mobile ONE.  All customers must also choose a 24 month equipment installment plan (phone financing plan) during signup as well, although customers can choose to pay off their device at any time once signed up.
T-Mobile has priced the Samsung Galaxy S8 at $750 and with the equipment installment plan (EIP) it breaks down to $30/month for 24 months with a $30 down payment.  Similarly, the Galaxy S8+ is priced at $790 and with the EIP it will cost you a $70 down payment and $30/month for 24 months.
Don't Miss Out On More Deals Like This!
Get the next deal delivered to your inbox as soon as it's announced!
Those who want the LG G6 will find it priced on sale at $500 and with the EIP it will break down to a $20/month for 24 months with a $20 down payment.  The LG V20 is $480 and with the EIP it will cost you $20 per month for 24 months with no down payment required.
(Updated- Due to expire on 6/30/2017) T-Mobile is also offering the iPhone SE for free when you purchase one in conjunction with any other iPhone that T-Mobile is selling which includes the iPhone 7 and 7 Plus, as well as the 6s and SE.  The iPhone SE is selling for $399, and like all of T-Mobile's other BOGO offers, you'll get refunded the cost of the phone by way of a prepaid MasterCard.
You can take T-Mobile up on any of these offers by visiting your local store, shopping online at T-Mobile, or by giving them a call at +1(855)-408-7784.
---
---