T-Mobile's Un-carrier 9.0 is "Carrier Freedom," "The Un-contract," and Un-carrier for Businesses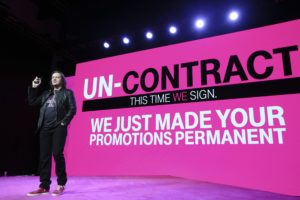 It seems that every few months
T-Mobile
has a new trick up its sleeve with an Un-carrier event.  Today the company had several new tricks up its sleeve and they were announced with the unveiling of
Un-carrier 9.0
.  For the first time ever, an Un-carrier event was mainly focused on businesses
Un-Carrier for Businesses
"We're going to do for businesses, what we've already been doing for consumers," exclaimed T-Mobile CEO and president John Legere.  The goal of Un-carrier for Businesses is to change how businesses buy wireless by offering "transparent pricing, the best rates, business family discounts, and more."
Legere went on to explain how every year carriers take in $80+ billion in revenues from US businesses which amounts to half of a carriers total revenues.  He also mentioned how businesses typically have to haggle and negotiate pricing for service with a particular carrier, so with today's Un-carrier unveiling that need for negotiating for a best price has been eliminated.  From now on, pricing and service for businesses will be as follows:
Every line will include unlimited talk and text, and up to 1 GB of 4G LTE data
No more hidden discounts to negotiate for
10 lines for $160, $16/line for lines 11-19
$15/line for lines 20-1000, beyond 1,000 lines pricing drops to $10/line
Extra data can be added for per line costs of $10 for 2GB of 4G LTE or $30 for unlimited 4G LTE
Pooled/shared data pricing also offered
100 GB minimum for $4.75/GB, 500 GB minimum $4.50/GB, 1 TB minimum $4.25/GB
T-Mobile is also offering a "Business Family Discount," meaning that your business paid line can count as the first line in your family plan which will help you save more money with Simple Choice family plans. Another perk for businesses is that T-Mobile has partnered with GoDaddy to offer a free .com domain and website to business customers on the new plan that have at least one line with additional paid data. Free custom .com email addresses are also included via Microsoft Office 365.  One business email will be allowed for every business line with additional paid data.
The Un-contract
T-Mobile today also offered some new perks for consumers.  With the Un-contract T-Mobile has promised that for all of it's customers prices won't go up after a promotional offer is no longer offered.  That means that all of you who have signed up for the 4 lines for $100 with 10 GB of 4G LTE data, will get to continue with that plan indefinitely so as long you remain a T-Mobile customer.  If you have an unlimited 4G LTE plan, your rates are locked in for a minimum of two years.  These new policies go into effect starting on March 22nd.
Carrier Freedom
With Carrier Freedom, T-Mobile has offered to cover payments for customers who bought devices through programs such as AT&T Next, or Verizon Edge or even other carrier equipment installation or leasing plans.  This means T-Mobile is now offering to essentially buy out all types of contracts.  This is a pretty aggressive move on their part to try and attract more customers.
To take advantage of this offer, a customer must port their number to one of T-Mobile's Simple Choice plans, trade in their smartphone or tablet and buy a new smartphone.  You'll be given the trade-in value right away, and a prepaid card to cover the costs of additional outstanding phone payments when you submit your previous carrier's bill to T-Mobile.  Reimbursements will cover up to $650 per line and up to 10 lines total.  Businesses can also get in on the deal, and if you have more than 10 lines you can get up to $100 per line credit after the 10th line.
---
---