T-Mobile's 100 Voice, Unlimited Text and Data With 5GB LTE $30 Prepaid Wireless Plan Now on Sale
---
Did you know BestMVNO is available to follow for free in Google News? Follow BestMVNO in your Google News app and keep up to date on wireless.
Follow BestMVNO In Google News
---
---
(This post contains affiliate links where I may receive compensation if a purchase is made)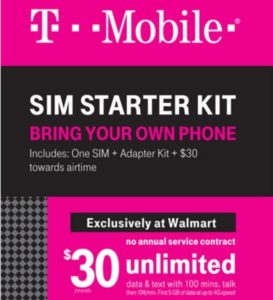 A recent site reader, "salocin411" tried to purchase T-Mobile's $30 prepaid wireless sim starter kit when he ran into a problem I had never seen before, the kit was currently listed as unavailable.  After a brief scare that the plan may have been eliminated and a little bit of digging, I uncovered that Wal-Mart simply has a new product number for that plan.  On top of that, the new sim starter kit is currently on sale at the lowest price I have ever seen.  While the old kit usually listed at between $36-$40, this new kit has a regular price of $39.88.  Currently though it is being offered for $29.82!  What makes this interesting is that the kit comes with one month of service like the previous one did,  however, this kit is actually a few cents cheaper than one month of service alone is.  For those of you not familiar with this particular plan, it is a Wal-Mart exclusive plan (only sold at Walmart, but users may also activate devices via T-Mobile online) and it is the service I have been subscribed to for that past couple of years.  Plan highlights include:
100 minutes of talk, 10c a minute thereafter
unlimited text and data with the first 5GB being unthrottled 4G LTE
unlimited international texting from the USA to almost anywhere.  T-Mobile doesn't specify exactly what everywhere means here.
no roaming.  This plan does not include T-Mobile's roaming agreements with AT&T and so coverage is more limited compared to some of their other plans.
Music Freedom is Included (Updated: 3/9/2016 rumors are circulating that this may no longer be included)
Binge On Included
If you are interested in purchasing this plan you can pick up the $30 plan via Walmart's website.
---
Be sure to follow BestMVNO on Twitter for additional wireless coverage, deals, insights, and even debates!
Follow @BestMVNO Twitter
---
---