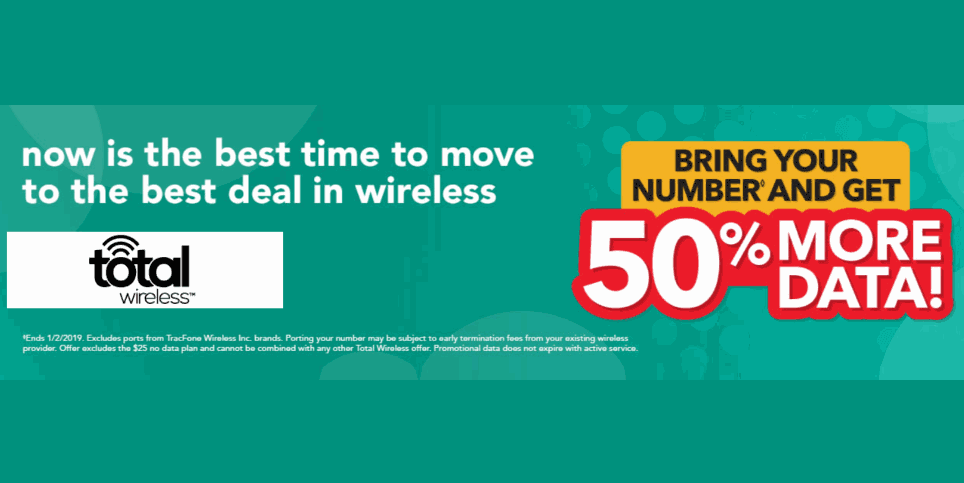 ---
Tracfone owned brands Total Wireless and Straight Talk are both offering 50% more data to select customers.  Total Wireless customers need to port-in to get the deal.  New Straight Talk Wireless customers get the deal by purchasing a phone.
Total Wireless 50% More Data Offer And Plans Explained
The Total Wireless offer is pretty straight forward.  Just port your number in from a provider that is not associated with Tracfone and you'll get the bonus data.  Total Wireless says that the bonus data does not expire with active service.  According to a representative I chatted online with, this means that you will get bonus data every month you renew your plan for as long as you stay a customer.  The representative also told me that if you later want to switch plans you'll still get bonus data for the new plan.
Be informed of the latest deals, plans and promotions from Verizon and every one of its MVNO's when you subscribe to the Verizon weekly newsletter. No spam and you can unsubscribe at any time!
Here is what the Total Wireless plans look like with the bonus data options highlighted and auto-pay (AP) discounts applied.
$33.20/month ($35 w/o AP) - 7.5GB, normally 5GB
$47.50/month ($50 w/o AP)- 22GB , normally 15GB
$57.00/month ($60 w/o AP)- 22GB of shared data for up to 2 lines, normally 15GB
$80.70/month ($85 w/o AP) - 30GB of shared data for up to 3 lines, normally 20GB
$95/month ($100 w/o AP)- 37.5GB of shared data for up to 4 lines, normally 25GB
All plans include unlimited talk and text, however, data is hard capped.  If you ever run out of data in a month, there is a data add-on card available priced at $10 for 5GB.  Add-on card data does not expire when added to your account.  Hotspot is technically not allowed, although some customers have been able to use it.
This offer ends on 1/2/2019.  (Update:  Offer has been extended until 3/31/2019.  Update 2, 4/2/2019 - offer is still valid with no end date specified.  Updated 3, an end date of 7/2/2019 has been specified).  Total Wireless is an MVNO that operates on the Verizon network.
Straight Talk Wireless 50% More Data Offer And Plans Explained
This is another offer with limited strings attached.  Simply purchase a phone from Straight Talk and your plan will get 50% bonus data.  I believe the bonus data is for life.  A Straight Talk representative I spoke to online said it will only last until 1/26/19 and then data will reset on the next billing cycle.  I think the support specialist got it wrong and that is only how long the offer will be available to.  The specialist seemed rather pushy and more concerned with trying to sell me a plan and phone rather than to answer my questions.
This offer is not available to current Straight Talk Wireless subscribers.
Straight Talk Wireless offers a variety of different phones at different price points available for purchase.  For instance the budget ZTE ZFive 2 is available for just $14.99.  There are some refurbished phones that are being given away for free that are also eligible for the bonus data.  Straight Talk Wireless also has higher end devices such as the Samsung Galaxy S9 for $699.99 and the iPhone XS for $999.00.  There are many other Samsung and Apple iPhone's priced in between.
A representative from Straight Talk confirmed to me that only two of its plans are available with bonus data when you buy a phone.  The two plans are priced as follows:
$35/month - 3GB data, normally includes 2GB
$45/month  - 15GB data, normally includes 10GB
Both plans include unlimited talk, text and data with the specified amount of data at 4G LTE data speeds before throttling to 2G speeds.  Taxes and fees are not included in the prices shown and do cost extra.  Mobile hotspot is not officially supported.
Straight Talk Wireless operates on all 4 major wireless carriers in the USA including AT&T, Sprint, T-Mobile and Verizon.
---
---