---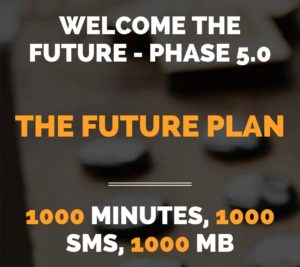 For a limited time RingPlus is offering yet another promotion dubbed "The Future Plan" which is currently running now through 8 PM Saturday October 3rd PST, before reopening from 9 AM to 10 PM PST on Sunday October 4th.
The promotion includes 1000 minutes of talk, 1000 text, and 1000 MB of data for free each month but it is limited to select customers.  To qualify for this special you must either be/have:
Any iPhone eligible under Bring Your Own Sprint Device BYOSD (check eligibility)
Any HTC Desire 510 eligible under BYOSD
Any BYOSD eligible phone with a number that's being ported over from T-Mobile or any T-Mobile MVNO.  Ringplus advises that porting can take up to 1-2 business days.
As part of the plan, an auto account top-up of $10 will be applied to your account when you activate your device to cover future overages which are 2¢ per minute, per text or MB of data, while MMS costs 4¢.  When your account balance reaches $0, you will automatically be billed again for a $10 top up.
Given that the title of this plan is called "The Future Plan," I have to imagine that at some point down the road this will become a regular RingPlus plan that will be openly available to all current and future RingPlus customers.
RingPlus currently has a thread open in their discourse discussing this promotion.
About Ringplus and its Free Plans
Ringplus is able to offer plans for free through the sale of "research" and ads.  Ads, news and music play while a subscriber is waiting for the other party to pick up their phone in place of a generic ringtone.  Ringplus subscribers have the ability to customize what they are listening to through their Ringplus dashboard.  Ringplus also offers its customers parental controls such as the ability to block data, texts, MMS, as well as to be able to blacklist and whitelist calls or to block them all by time.  The prepaid provider operates on the Sprint network and they have been in business since 2006.
---
---