Republic Wireless Announces "Clear Choice Plans," Featuring Unlimited Talk, Text And 1GB Data For $20/Month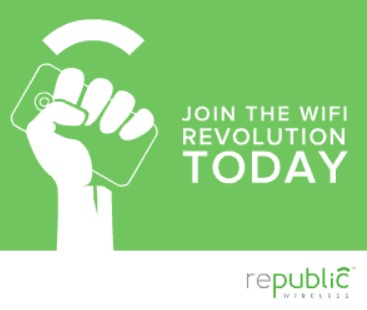 A week after announcing a new phone lineup, Republic Wireless has announced pricing and features for its new cell phone plans called "Clear Choice Plans."
The new Clear Choice Plans initially will only be available for use with the new phones. The plans and phones will operate using T-Mobile's network.
Republic Wireless is currently working with Sprint and hopes to have the phones and plans available for its Sprint network customers by the end of 2016.
The Clear Choice Plans are in my opinion a mixed bag.  Let's have a look at them though before we break them down.
Clear Choice Plans
All Clear Choice Plans include unlimited talk and text, so prices shown only include the amount of LTE data you get at each price point.  All plans are prepaid monthly.
$15, 0 GB of monthly data, data is Wi-Fi only
$20, 1 GB
$30, 2 GB
$45, 4 GB
$60, 6 GB
$90, 10 GB
Analysis
Right off the bat we can see the cost of Republic Wireless's base plan has gone up by $5/month.  Current Sprint network Republic Wireless customers pay $10/month for unlimited talk & text with no cellular data.
Sprint network users are also given the option to sign up for a plan with 500 MB of data for $17.50/month, which is a missing option in the new plans.
For $25/month you get 1 GB of data with the old plans, but only pay $20 with the new, so there is at least on the surface the ability to save there.  However, the new Clear Choice Plans do not offer a data refund for any leftover data you have in your account at the end of the month like the current Sprint based plans do.
As the data allotments go up between the old and new plans, I think customers will see more savings with the new plans.  For instance, $40 gets you 2 GB of data under the old plans, but with the new you only pay $30.  Likewise, $55 with the old plan gets you 3 GB of data which is very uncompetitive in the current marketplace, but with the Clear Choice Plan you pay $45 for 4 GB of data.
Even with the new 4 GB plan and price point, I hesitate to call it market competitive.  This is something that is still a little disheartening to me with the new plans.
Republic has always used a Wi-Fi first approach to send text messages and to place voice calls to save itself and theoretically its customers costs by bypassing Sprints network for those services whenever possible.  With that still being the case, I'd like to see some of their plans priced a little bit cheaper.
I'm not sure if Republic Wireless's new plans containing over 4 GB of data even make sense or are worth considering from a price stand point given the nature of the highly competitive prepaid market. BestMVNO readers however can decide that for themselves with the help of the BestMVNO plan comparison tool.  Here I've created a filter using that tool to show all the available cell phone plans that contain 4 GB of data or more.  Plans start at $30.
See All Republic Wireless Plans  
Now Republic does at least provide some options that not all of the other MVNO's and prepaid providers are able offer and that includes voice and text roaming, as well as tethering.  Even still, for me personally, those higher data containing plans are a hard sell.  What's your take?
---
---