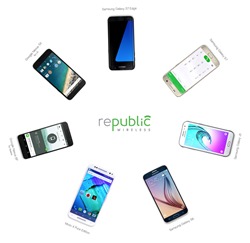 ---
Republic Wireless sent out a press release today that it has partnered with a new nationwide GSM carrier on the "fastest nationwide 4G LTE network."  The new carrier partner appears to be T-Mobile as that is their slogan, and according to CNET, there is crowd sourced data out there to back up that claim.
The new network partnership is expected to go live in July when Republic Wireless will release 7 new phones for use with that partner network.
Newly Supported Cell Phones
The new phone lineup will include a mix of mid tier and top of the line models.  The models include the following:
Moto X Pure Edition
Huawei Nexus 6P
LG Nexus 5X
Samsung Galaxy J3 2016
Samsung Galaxy S6
Samsung Galaxy S7
Samsung Galaxy S7 Edge
In a departure from their normal practice, Republic Wireless will allow its customers to bring their own device to their network as long as it is one of the above listed models.
Republic Wireless has not said how it will enable bring your own device customer phones to work on its network, although presumably this will happen through a firmware update.
Current Republic Wireless phones have specialized firmware embedded in them to allow the phones to work with the MVNO's proprietary hybrid Wi-Fi calling/Bonded Calling technology.
Additionally, the prepaid wireless provider plans to add more and lower priced phones to its lineup in the coming weeks.  All of the new phones will be able to be purchased through financing.
Updated Cell Phone Plans
In addition to the new phones and carrier partner, Republic Wireless will also be updating its plans for use with the new network.  Details have not been provided yet, but should be announced in the coming weeks.  For the moment, Republic Wireless is only saying that one plan will be priced at $20/month for unlimited talk, text and 1GB of high speed 4G LTE data. This will certainly improve Republic Wireless's market competitiveness, as you can see from BestMVNO.com's table of the cheapest cell phone plans.
The new phones, plans and carrier partner should help Republic Wireless compete much better with Google's Project Fi which at the moment is in many cases priced a little bit cheaper than Republic Wireless while offering a similar service.
Shop for cell phone plans at Republic Wireless.
---
---