Reach Mobile Now Offering 50% Off For Three Months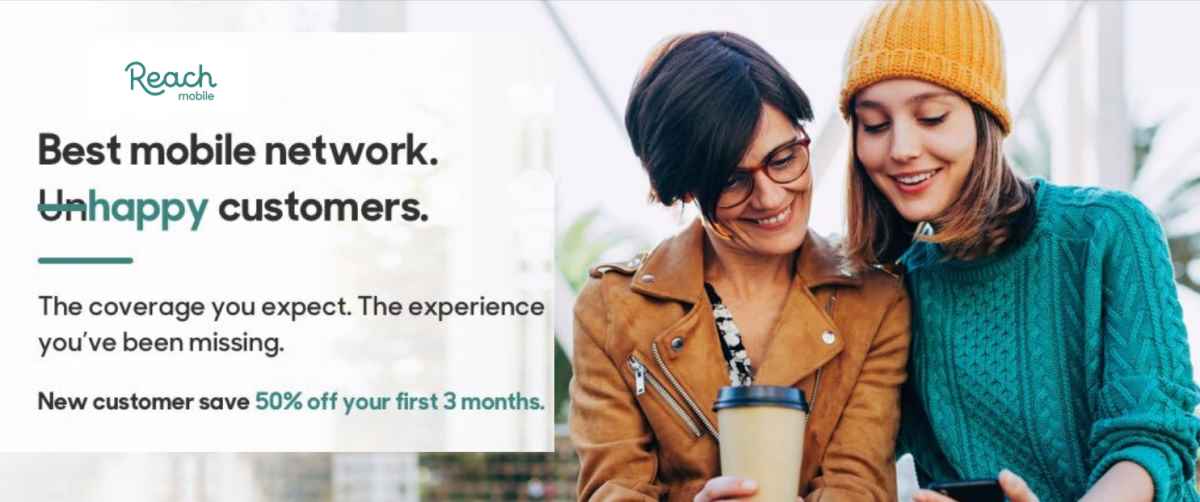 Reach Mobile has launched a new promotion available for the month of March only. New customers can now get 50% off any Reach Mobile plan for their first three months of wireless service.
How This Deal And Reach Mobile Plans Work
Simply signup as a new Reach Mobile customer by March 31st, 2021 (Update: The offer has been extended indefinitely), using the promo code BestMvno503 at check out and you'll get the 50% off deal. You can also click this link and have the promo code automatically applied to your shopping cart.
Reach Mobile offers 4 different phone plans. Here's how they look.
$30/month ($15 w. promo) - 3GB of shareable data
$45/month ($22.50 w. promo) - 8GB shareable data
$55/month ($27.50 w. promo) - 12GB shareable data
$65/month ($32.50 w. promo) - 20GB of data per line plus unlimited 2G data
There are also multi-line discounts available that are shown in the table below.
Subscribe to BestMVNO and always be informed of the latest deals, plans and carrier promotions!
Pricing is shown as the total cost for the multiple lines in an account.
| | | | | |
| --- | --- | --- | --- | --- |
| | 3GB | 8GB | 12GB | 20GB |
| 2-lines | $50 | $65 | $75 | $120 |
| 3-lines | $70 | $85 | $95 | $165 |
| 4-lines | $90 | $105 | $115 | $200 |
| 5-lines | $110 | $125 | $135 | N/A |
| 6-lines | $130 | $145 | $155 | N/A |
Taxes and fees cost extra. Multiple lines on a shareable data plan do not get their own separate allotments of shareable data. They all draw their data from the primary account holder. So as an example, the $70 3-line plan includes 3GB of data that must be shared between all 3-lines.
All plans are mobile hotspot enabled and include video streaming in HD. Reach Mobile's help guide actually suggests that streaming is available at a resolution of up to 4K, although I remain skeptical. Reach Mobile uses Verizon's network for coverage. I am not aware of any providers on the Verizon network with support for 4K streaming. In fact, Verizon's own wireless plans only support 4K if in ultra-wideband enabled areas and only on select plans.
More About Reach Mobile's Wireless Plans
Looking at the company's pricing structure, we can see that they are a bit more expensive compared to most MVNOs. A big reason why is that they operate as a crowdfunding charitable platform. When a subscriber purchases a plan from Reach Mobile, Reach Mobile matches and donates 10% of the amount of data contained in the plan to a shared data pool. So if a subscriber has a plan with 3GB of data, Reach Mobile will donate 0.3GB of data to the pool. The data pool is then used to provide connectivity to those in need around the world.
Thanks to Reach Mobile's Best Fit policy, subscribers may find out that they pay less for service on some months than the plan they signed up for. As an example, signup for their $55 plan with 12GB of data, but only use 2.8GB of data during a billing cycle and you'll be billed for the $30 plan that month.
---
---