Reach Mobile Adds International Roaming Data, Support For More Lines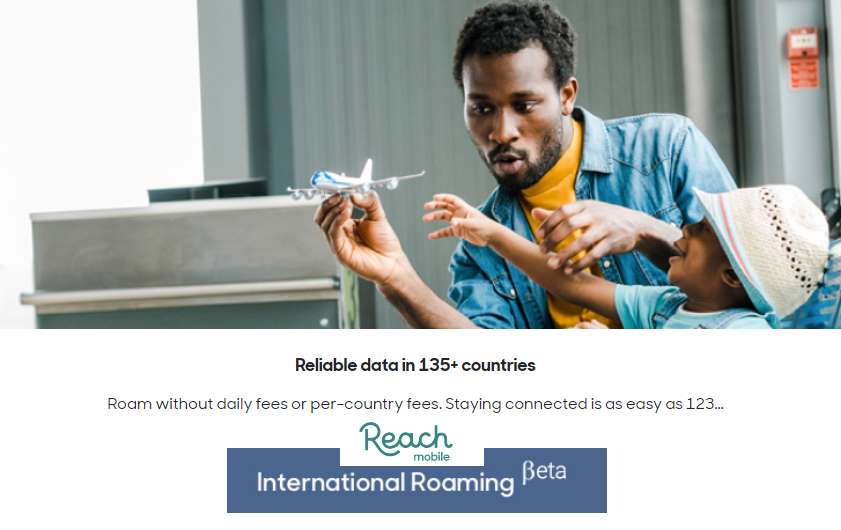 Reach Mobile, an MVNO that gives to charity, has announced a couple of plan enhancements.  Subscribers can now add international data roaming to their plans.  Rates vary by country, but a company spokesperson has told BestMVNO that data can usually be purchased in 0.5GB increments for $5.  In addition to the new international roaming benefit, Reach Mobile customers can now add more lines to their plans.  A maximum of 6 lines are allowed per plan, up from a maximum of 4.
Reach Mobile's International Roaming Benefits Explained
Reach Mobile's international data rates will come with the company's "Best Fit" benefit.  That means subscribers won't have to pay for data that they don't use to the nearest 0.5GB.  So if a subscriber adds 3GB of international roaming data to their plan but only uses 0.8GB they'll only have to pay for 1GB of data at their bills due date.  There are no daily usage rates.
Reach Mobile subscribers do not prepay for their phone service but rather pay for what they use on the 10th of every month.  Billing cycles close on the 6th of every month.
International data speeds will be the same as whatever is provided by the towers in the country that the subscriber is connected to.  Reach Mobile does not throttle speeds internationally.
International calling and texting are also available to over 135 countries.  Calling rates vary by country but messaging rates appear to be the same everywhere.  For example, voice calls made while roaming in Canada will cost 1¢ per minute, incoming SMS are charged at a rate of 5¢ per message, and outgoing messages are billed at a rate of 44¢ per message.  If a subscriber is in Australia, they'll be charged 11¢ per minute, but the same rates of 5¢ per message received, and 44¢ per message sent are in effect.
Reach Mobile Now Supports Up To 6 Lines On A Family Plan
Reach Mobile's phone plans remain the same as they were back in November with the only change being that more lines can now be added to a family plan.  Reach Mobile's plan lineup is detailed below.
$35/month - 3GB 4G LTE Data
$45/month - 5GB 4G LTE Data
$60/month - 10GB 4G LTE Data
$75/month - 20GB 4G LTE Data
The plans described include unlimited talk, text, and data with the specified amount of data at 4G LTE data speeds before throttling to 2G data speeds.  Mobile hotspot is available with each plan at no extra charge.  Taxes and fees are extra.  Customers can add additional lines to the $75 plan for $70/month.  Each customer on the $75 plan gets their own data allotment.  Additional lines can be added to all other plans for just $20/month but the additional lines on those plans do not get their own data allotments.  Instead, data from line 1 is shared with the additional lines.  More high-speed data can be added to any plan at any time billed at a rate of $10 per GB and the additional data comes with the benefit of Best Fit.
Reach Mobile uses Verizon's towers to provide service to its customers.  Credit checks are not required to signup with Reach Mobile.
---
---