Liberty Wireless eBay Exclusive Plans Start At $5/Month For Unlimited Talk & Text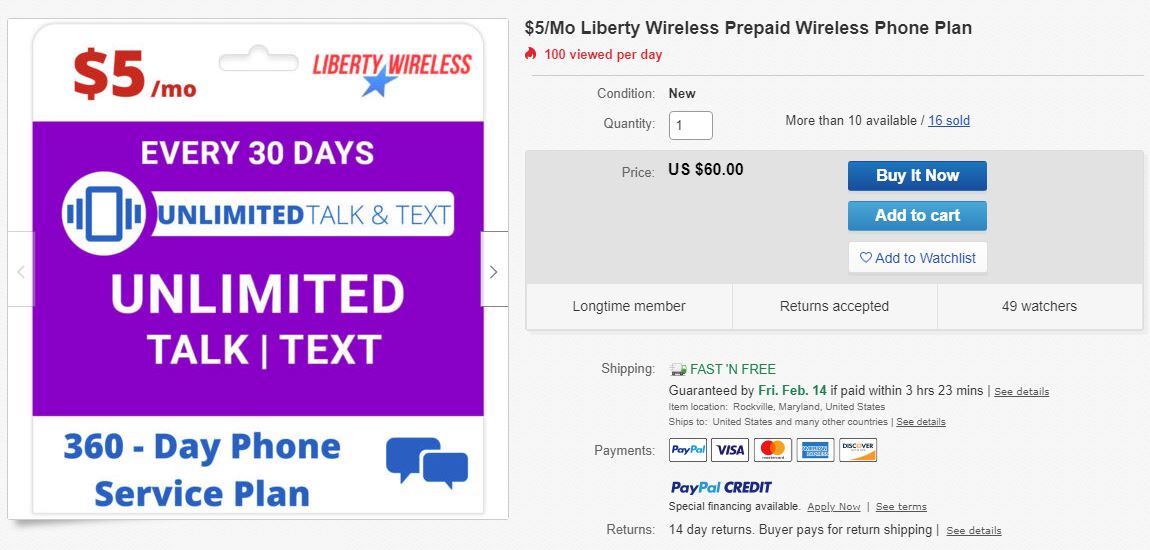 ---
Did you know BestMVNO is available to follow for free in Google News? Follow BestMVNO in your Google News app and keep up to date on wireless.
Follow BestMVNO In Google News
---
---
Liberty Wireless is a low key MVNO that operates on the T-Mobile network.  According to their website, they have been in business since 2009.  Liberty Wireless phone plans have generally not been priced well and they don't have much of a market presence.  Given those two factors, the brand hasn't really been covered at BestMVNO.  But that is changing.  Thanks to a reader tip, BestMVNO has learned that Liberty Wireless is now offering eBay exclusive annual plans that are competitively priced and operate on either T-Mobile or AT&T.  Pricing of the eBay exclusive plans starts at $5/month for unlimited talk and text.
Liberty Wireless eBay Exclusive Plans Explained
Those that are familiar with Red Pocket Mobile's eBay exclusive plans, may notice some similarities between the two brands.  The graphics used to showcase Liberty Wireless's eBay plans look almost exactly like the graphics that Red Pocket Mobile uses.  Furthermore, Liberty Wireless even states that one of its plans comes with a GSMA SIM card. Red Pocket Mobile uses the term GSMA to signify that the plan is for use on AT&T's network.  AT&T generally doesn't allow its MVNO partners to specify by name that they use their network to provide service so brands sometimes use revealing names like GSMA to get around that.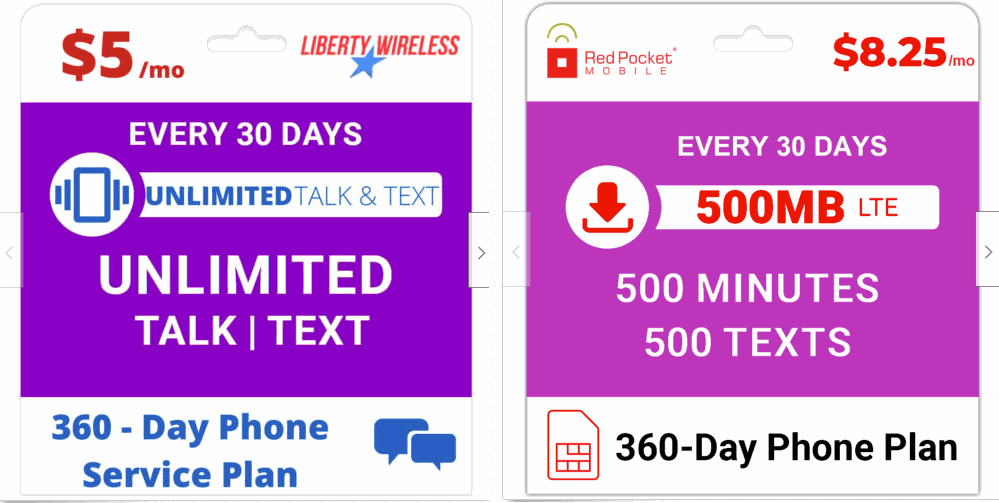 Liberty Wireless currently offers 3 annual phone plans via eBay and they are as follows:
$60 Annual Plan
This plan works out to an average cost of $5/month for unlimited talk and text.  Plan details state this it is available for use on T-Mobile's network.  SIM Kit ships free.
Subscribe to BestMVNO and always be informed of the latest deals, plans and carrier promotions!
$100 Annual Plan
This plan works out to an average cost of $8.33/month, and includes unlimited talk, text, and data with the first 1GB of data each month at 4G LTE data speeds.  Plan details indicate that this plan is designed for use on the T-Mobile network.  SIM kit ships free.
$240 Annual Plan With Free Smartphone
This plan works out to an average cost of $20/month for unlimited talk, text, and data with the first 3GB of data each month at 4G LTE data speeds.  Included in the price is a free 6.3" UMIDIGI A5 Pro smartphone.  There is a $10 shipping charge to buy this phone and SIM kit.  The item listing says that this is a sale that ends in 3 days which would put the end date on 2/13/2020.  It's quite possible the listing gets extended though.
Liberty Wireless states that this plan ships with a GSMA SIM card which to me indicates that it will work on the AT&T network.  The plan details give customers the option to choose a plan that is "loaded for T-Mobile," or "loaded for Cingular" (AT&T) or "unlocked for any GSM carrier."  I'm not quite sure what Liberty Wireless means by this, because no matter what option gets chosen, plan details still say that it ships with a GSMA SIM card.  I have contacted the company for clarification and will update the post when I receive a response.
UPDATE: Liberty Mobile has responded to my inquiry and said those extra links for "loaded for Cingular" etc are a mistake and is working with eBay to get them taken down.  The company also says that this $240 plan is for use on the T-Mobile network and NOT on the AT&T network.
Cancellation, Refund Policy, And Additional Plan Details
Liberty Wireless says that it will offer a full refund to customers who are dissatisfied with their service.  Refunds will not be issued to customers who have used the service for more than 14 days or customers that consume more than 30 minutes, 30 text messages or 30MB of data.
Liberty Wireless considers an annual plan to be equal to 360 days of service, and one month to be equal to 30 days.  Plans with data come with data top-up options.  Customers can add an additional 1GB of top-up data to their plan for $5.
Free UMIDIGI Phone Details
The free phone that comes with the $240 annual plan has all the same specifications as the UMIDIGI A5 Pro does, so it appears that is the phone that Liberty Wireless is offering with that plan.  Liberty Wireless does not state the phone model by name but does list all of its specifications which are detailed below:
6.3" FHD+ 2280 x 1080p LTPS display
4150 mAh battery
Dual SIM
Android 9.0
32GB of internal storage expandable with a microSD card
4GB RAM
Helio P23 octa-core processor featuring 4 2.0GHz Cortex A53 cores and 4 1.5GHz Cortex A53 cores
Triple camera, featuring 16MP primary camera with a Sony IMX398/Samsung S5K2P7, F/1.8, 6P lens, 8MP ultra-wide wide-angle lens, and a 5MP depth camera
16MP selfie camera
Support for the following 4G LTE bands:
1 /2 /3 /4 /5 /7 /8 /12 /13 /17 /18 /19 /20 /26 /28A /28B /66
Editor's Take
The eBay exclusive plans being offered by Liberty Wireless do appear to be competitively priced.  As far as I'm aware, the $60 annual plan is the cheapest unlimited talk and text plan on the market with service provided on the T-Mobile network.  The $240 annual plan that comes with 3GB of monthly 4G LTE data plus a free UMIDIGI phone seems like it could be a good bargain.  UMIDIGI lists the budget A5 Pro at a retail price of $153.83, however, direct from UMIDIGI it is on sale right now for $99.99.
Shop Liberty Wireless eBay Plans
---
Be sure to follow BestMVNO on Twitter for additional wireless coverage, deals, insights, and even debates!
Follow @BestMVNO Twitter
---
---