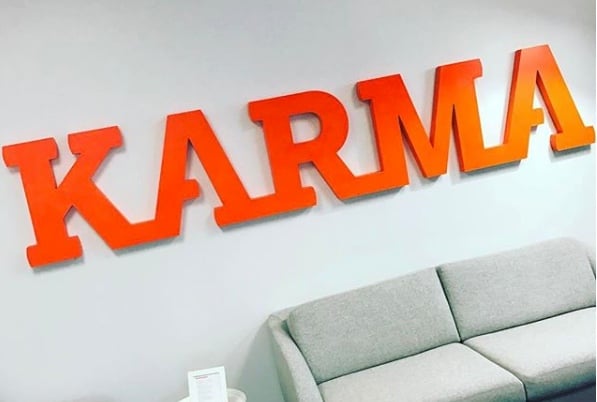 ---
Karma Mobility is a provider of wireless hotspot plans. Wireless hotspot plans are the only type of plan that this Sprint powered MVNO sells.
Service with Karma requires the purchase of a hotspot device called the Karma GO.   For a limited time Karma is packaging its GO device with 3 months of service on its 10GB Pulse 10 prepaid plan for $267.98.  The Karma GO normally retails for $199, while 3 months of service on the Pulse 10 plan is regularly priced at $239.97.  When purchased together, that's a savings of $171 compared to purchasing each item separately.
Other Karma Mobility Hotspot Plans
Karma sells 3 monthly data only plans called Pulse plans and a pay as you go plan called DRIFT.
The Pulse monthly plans are priced as follows:
5GB - $39.99/month
10GB - $79.99/month
20GB - $99.99/month
The Pulse plans do not come with unlimited 2G data.  Once you reach the plans data cap, Karma will prompt you to either upgrade to the next higher plan or to add more data at a cost of $15/GB.  If you add more data but don't use it all before the end of your billing cycle, Karma will refund you the difference.
As far as I can tell, taxes are included in the prices shown.  I did not get charged taxes myself when I went through a mock checkout process, and I live in an area that's typically subject to taxes.
The DRIFT pay as you go plan is priced at $3/month.  Data is billed at $10/GB used.
Karma Hotspot Devices
Karma sells two hotspot devices, the Karma Black and Karma GO.
The GO is advertised as being pocket sized and weighing 2.3 ounces. It is reported to have a battery life of 6-8 hours.
The Karma Go retails for $199.00.
The Black is advertised as being for privacy advocates. It can be used to obscure your location, encrypt your internet activity and protect your identity. It can even be used with your home WiFI network.
The Karma Black costs $249.
Earn Free Service
Karma allows its Pulse plan subscribers to earn free data, although I suspect the percentage of people that can take advantage of it is pretty low. The way subscribers can earn free data is by allowing others to connect to their hotspot device. Subscribers will earn a $1 account credit for every guest user that connects to their hotspot.  Guests will be responsible for creating or using their own Karma account and paying for their own data instead of using yours.
Analysis
I find Karma's plans to be particularly pricey.  Freedompop for instance recently offered a hotspot plan with 10GB of data for $39.99/month. That's half the cost of Karma's Pulse 10 plan and it comes with the same amount of data. You can compare Karma with other hotspot providers here.
---
---