i3 Mobile Has New Wireless Plans And 5G Is On The Way, Get 10GB 4G LTE Data For $39/Month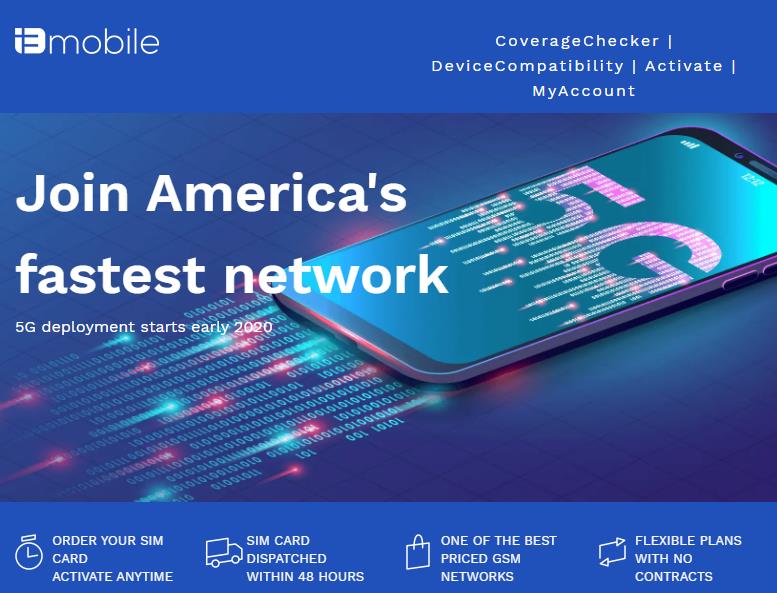 ---
Did you know BestMVNO is available to follow for free in Google News? Follow BestMVNO in your Google News app and keep up to date on wireless.
Follow BestMVNO In Google News
---
---
i3 Mobile launched just a few months ago with plans designated for both businesses and consumers.  The company operates as an MVNO on the AT&T network.
Although i3 Mobile has only been in the MVNO marketplace for a short while, the company is already adjusting its plans and rates.  One consumer plan has been removed and several new ones have been added including a plan with mobile hotspot.  The company's business-oriented plans have changed too.
i3 Mobile's Updated Wireless Plans Explained And Highlighted
i3 Mobile removed a consumer plan that cost $25/month for unlimited talk and text with 2GB of data.  A business plan with the same features but priced at $29/month was also removed.  The business plan was priced higher because as i3 Mobile put it to me "on personal plans we expect reasonable usage, whereas on the business plan we expect calls to be much more frequent and permit business use for these plans hence a higher fee."
Updated Consumer Plans
$19/month - 1GB 4G LTE data. New Plan.
$39/month - 10GB 4G LTE data. New Plan.
$49/month - unlimited LTE data, previously priced at $48/month.
$59/month - unlimited LTE data plus mobile hotspot. New Plan.
All the consumer plans come with unlimited talk and text that can be used domestically or while traveling in either Mexico or Canada.  Taxes and fees are included in the prices shown.  Except where specified otherwise, mobile hotspot is not included with the plans and data is hard-capped.
Customers that consume more than 22GB of data in a month on an unlimited data plan will have their data speeds temporarily slowed during times of heavy network congestion.  Video streaming on the unlimited plans is limited to a resolution of 480p.  Hotspot data at 4G LTE data speeds is also likely limited to a specified amount, but it is not currently advertised on the i3 Mobile website.  An online customer support representative was unable to confirm a limit at this time, but I expect to have an answer to this question early next week.
Data top-ups in the form of overage charges are now available on the plans that include a finite amount of data.  Customers can add a $10 or more cash balance to their account to draw from for overages.  Data overages are billed at a rate of $0.1 per MB or $10 per GB.
Customers who wish to subscribe to i3 Mobile's $19 plan will have to pay a one time $5 activation fee.  All other consumer plans including a data only plan described below have a $10 activation fee.
i3 Mobile's data only consumer plan costs $65/month and it includes the same data prioritization policies that are in place with the MVNO's unlimited phone plans.  The data only plan is not designed for use with smartphones and is only suitable for use with hotspots.
i3 Mobile's Business Plan Changes Highlighted
One change with the business plans has already been highlighted.  The $29 plan with 2GB of data has been discontinued.  The $69 data only business plan has also been discontinued.  i3 Mobile's unlimited data phone plan remains in place at the same $65/month price point as before and includes all the same features as the $59 consumer plan but adds the following benefits:
Unlimited high-speed data access in Mexico with speeds up to 4G LTE
Additional local or toll-free number
The business unlimited plan has a $15 activation fee attached to it.
i3 Mobile Website Update, 5G Is Coming
Besides the updated plans, i3 Mobile has also redesigned its website.  The most interesting thing to me about the redesign is that the company is touting that 5G deployment will start in early 2020.  As far as I know, i3 Mobile is the first AT&T MVNO to advertise and announce the availability of 5G.
---
Be sure to follow BestMVNO on Twitter for additional wireless coverage, deals, insights, and even debates!
Follow @BestMVNO Twitter
---
---