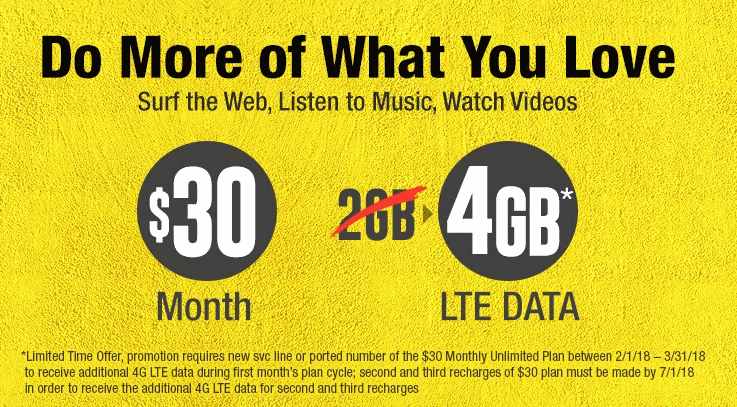 ---
H2O Wireless is currently offering several different promotions.  What is probably the most interesting is an offer that includes 3 months of unlimited talk, text and data with the first 4GB at high speeds for $30/month.  The plan normally includes just 2GB of high speed data.  The promotion is scheduled to last through 3/31/18 and requires either a new service line or number port in to get it.
H2O Wireless also has a few other ongoing promotions. The MVNO continues to offer double the amount of data included with its $20 plan for one month for new customers only.  With the bonus data, the plan includes 1GB of high speed data instead of its usual amount of 500MB.  Similarly, the company's $35/month plan includes 5GB of data for one month instead of 3GB, and the $40 plan comes with 8GB instead of 6GB.  Those who enable auto recharge on their accounts receive 10% off the plans regularly monthly rate.
All of H2O Wireless's phone plans include unlimited talk, text and data with the specified amount at high speed. H2O Wireless considers high speed 8 Mbps download for 4G LTE and 4 Mbps for 4G HSPA+.
The plans also include unlimited international calling and texting.
Bonus Promotions
Through February 14th, 2018 H2O Wireless is also giving away one free month of service to those who port in to either their $30/month or $40/month plans.  The offer is available exclusively online. It does look like this offer can be combined with the bonus data offers described above.  So if you are interested, you might want to act fast before this free month offer disappears in a little over a week.
Get A Free Month Of H2O Wireless!
Those who subscribe to the $30 plan can also elect to receive a free phone.  The Alcatel One Touch-990 is being given away.  The phone is particularly old as it runs on Android 2.2.
iPhone 7 Giveaway
Those who signup for auto recharge are automatically entered for a chance to win an iPhone 7.  One random winner will be announced every Monday through March 25th, 2018.  A black or silver iPhone 7 will be given away to the winner.
To be eligible, subscribers must be signing up for auto recharge for the first time.  Customers can signup for auto recharge online, through their local dealer or other third party.  Those who are already or have previously subscribed to auto recharge can enter by simply sending an email to [email protected] with the subject line "iPhone 7 Sweepstakes Entry." The email should also contain your name and of course email address.
Those living in Alaska, Hawaii and Rhode Island are excluded from this promotion as are those living in US and foreign territories.
The irony of this promotion is that if you win, you likely won't be able to use the iPhone on H2O Wireless with full functionality for reasons previously outlined.
H2O Wireless is owned by Locus Telecommunications and runs on the ATT network. Their plans and prices compare favorably to other AT&T MVNO's as long as you don't mind the data speed restrictions that H2O Wireless has in place.
---
---