H2O Wireless Adds Support For iOS Features Like Facetime, Trials Offer Of 2 Unlimited Lines For $75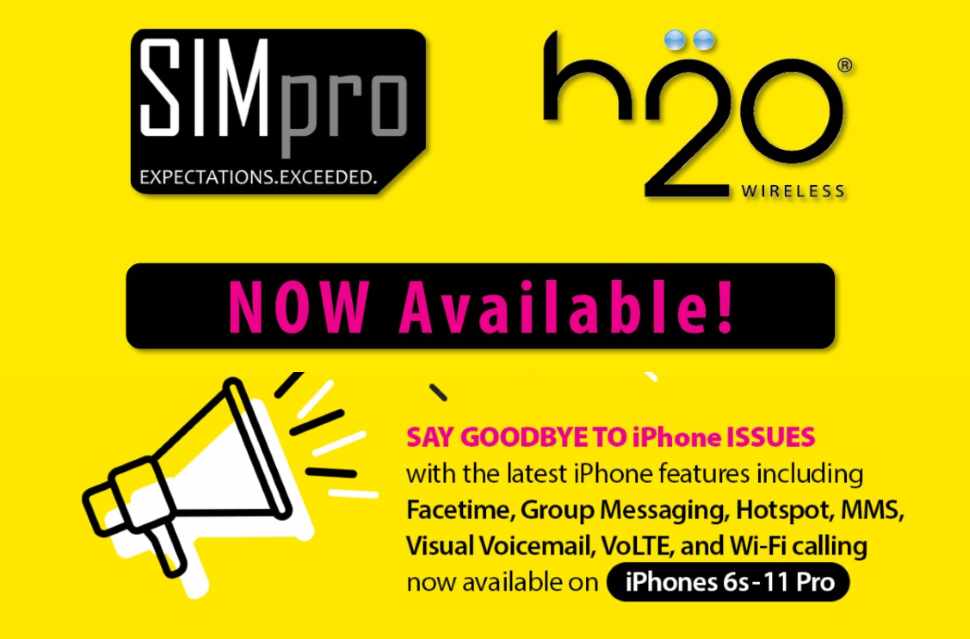 H2O Wireless is the latest AT&T powered MVNO to gain full support for MMS and group messaging on iPhones.  Two very basic features that everyone would expect to get with their phone service plan, but thanks to Apple policy is prohibited on some AT&T based providers.  Other features now supported on iOS devices include Facetime, Hotspot, Visual Voicemail, Wi-Fi calling and VoLTE.  According to a previous conversation that I had last year with a representative from Telrite, the company that owns H2O Wireless, support for those features was actually soft-launched back then. That is some new customers were able to gain access to those features but current ones could not.
Now the feature seems to be available for all customers as long as they have a supported device and the latest version of iOS version 13.3.1 or higher.  Supported devices include iPhone models 6s through the 11 Pro.  Customers must also update their carrier settings to get the features.  To update settings subscribers must pick up their iPhones and tap "settings" followed by "general" and then "about."  If an update is available, users will see an option to update their carrier settings.
2 Lines Of "Unlimited LTE Data" For $75 Offer Details
H2O Wireless is now running a pilot program through select dealerships.  Those who subscribe to H2O Wireless at an eligible dealership will be able to pick up two "unlimited LTE data" lines for $75/month.  H2O Wireless normally charges $60/month or $54 with autopay billing enabled for a single line on the plan.  This offer is not available everywhere or online, but one such dealership to offer the plan is Pioneer Mobile.
The plan is being advertised as coming with unlimited LTE data and hotspot, unlimited talk and text both domestically and to international numbers, and a $20 international talk credit to call countries not included in the 50+ countries that can be called at no extra charge.
Be informed of the latest deals, plans and promotions from AT&T and every one of its MVNO's when you subscribe to the AT&T weekly newsletter. No spam and you can unsubscribe at any time!
Is The Unlimited LTE Data Plan Really Unlimited?
H2O Wireless is advertising the plan as including unlimited LTE data, but the fine print says otherwise.  According to the plan's fine print, customers who use more than 30GB of data in a month will have their speeds throttled to 128Kbps (2G) for the remainder of their billing cycle. Furthermore, download speeds on the plan are limited to a maximum of 8Mbps, and video streams are limited to a resolution of 480p.
50% Off Promo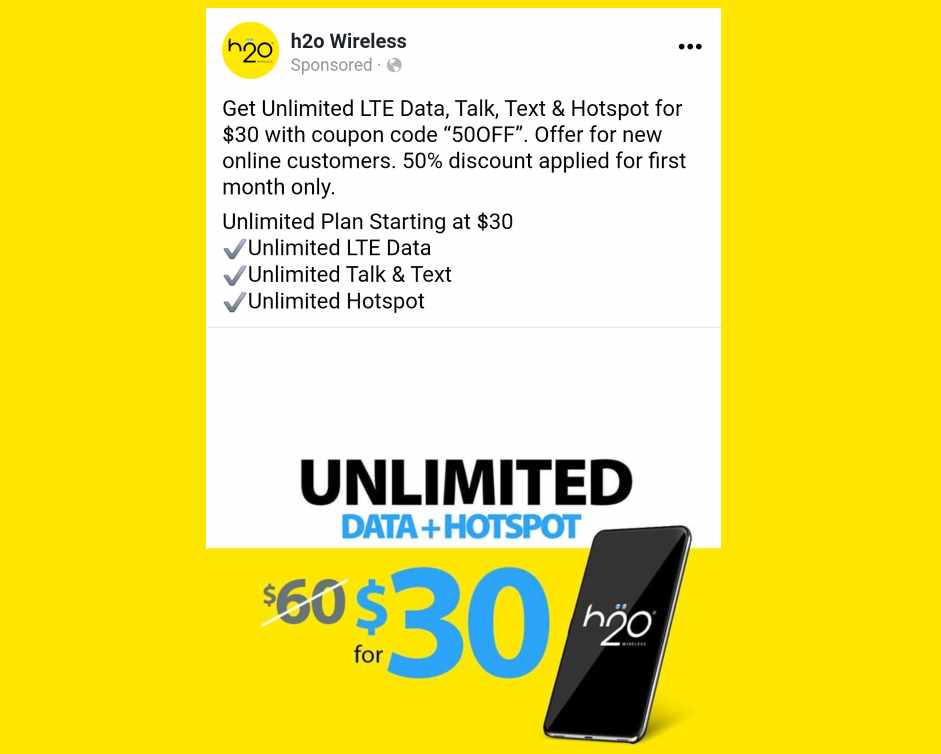 Through social media, H2O Wireless has been advertising a 50% off promo.  New customers are able to get 50% off their first month of service with the use of the coupon code 50OFF.  The company is showcasing the offer by highlighting the unlimited plan described above.  But it does appear to be good for use with all H2O Wireless plans.  It worked for me when I added the MVNO's $40 ($36 with autopay) plan with 10GB of high-speed data to my shopping cart. A brief summary of H2O's wireless plans with the promo code discounts highlighted is shown below.
$20/month ($10 with promo code) - 1GB data
$30/month ($15 with promo code) - 5GB data
$40/month ($20 with promo code) - 10GB data
$50/month ($25 with promo code) - 15GB data
$60/month ($30 with promo code) - *unlimited* LTE data (30GB)
All plans come with unlimited talk, text, and data with the specified amount of data at high-speed (8Mbps) before throttling to 2G data speeds.  All plans also include unlimited international calling and texting.  Taxes and fees are extra.
No word yet as to how long this promo will be available.
---
---