H2O Adds More Data To Plans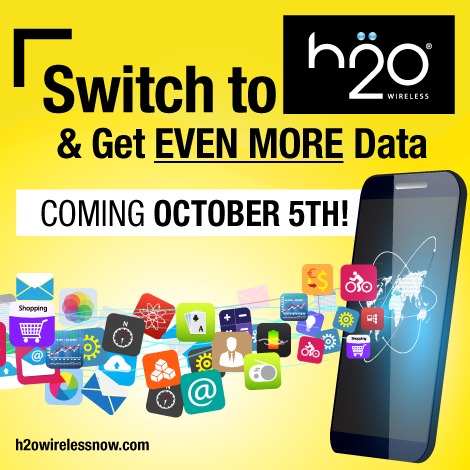 H2O Wireless, a wireless provider that uses AT&T's network, is about to update its cell phone plans to become more competitive in the marketplace.  The new plans are set to go live tomorrow, October 5th, 2016 and are as follows;
H2O Wireless Updated Phone Plans
All H2O plans include unlimited talk, text and international talk and text to over 50 countries.  The prices shown here list how much data you get per price point.  Data should be unlimited but throttled after the allotted high speed data is used up, as all but one of their current plans include unlimited data.  This should be confirmed or denied tomorrow when the plans go live. (Updated: 10/5/16 All plans include unlimited 2G data once high speed data for that plan is used up, except for the new $30 plan with 1 GB of data.  Data for that plan is hard capped).
New!

- $30 ($27 with autopay) - 1 GB of 4G LTE data, previously 500 MB
$35 ($31.50 with autopay) - 500 MB of 4G LTE data
$40 ($36 with autopay) - 3 GB of 4G LTE data

New!

- $50 ($45 with autopay) - 5 GB of 4G LTE data, previously 4 GB

New!

- $60 ($54 with autopay) - 6 GB of 4G LTE data, previously 4.5 GB
H2O's plan changes were likely influenced by Cricket Wireless's recent plan change in which the AT&T owned provider also added a new plan for $30 that includes 1 GB of 4 G LTE data. There is a difference however between H2O and Cricket in that H2O offers full speed 4G LTE data whereas Cricket limits its 4G LTE download speeds to 8 Mbps.  H2O's plans also include more international calling and texting countries at lower price points.  Cricket Wireless has the advantage of being a more well known network with better customer support in part thanks to the company being backed by AT&T.  It also has a large network of retail stores.
With the plan changes H2O Wireless may find itself being the best valued low cost AT&T MVNO as can be seen in the BestMVNO comparison chart of  the cheapest phone plans.
Shop for H2O SIMs and plans via Amazon.
---
---