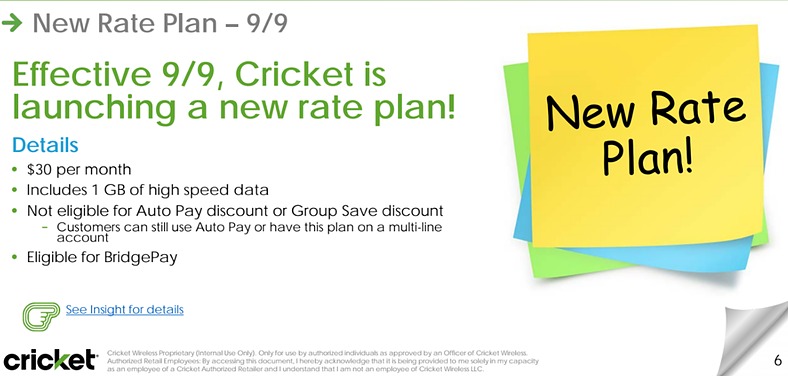 ---
According to a Cricket Wireless dealer, Cricket Wireless is set to launch a new cell phone plan on 9/9/2016.  The new plan will feature unlimited talk, text and data with the first 1 GB at high speed.  High speed for Cricket Wireless means 8 Mbps download and unthrottled upload.  Unlike Cricket Wireless's other data containing plans, this new one will not have the option for an autopay or group save discount.  Without an option for group save discounts, this plan seems squarely aimed at single line and at best dual line customers as you can see in the example below.
Cricket structures its "group save" or "family line" discounts on its other data containing plans such that line 1 pays full price, line 2 gets $10 off, line 3 $20 off, line 4 $30 off and line 5 is $40 off.  So if you had 3 lines on this new plan you'd pay $90/month for each line to have just 1 GB of data, with just a little bit of math we can see that 3 lines on Cricket's $40 "Basic Plan" would cost you $90/month as well ($40 line 1, $30 line 2, $20 line 3) except each line would come with 2.5 GB of data.
Cricket Wireless is owned by AT&T and is therefore an AT&T MVNO.  You can see how Cricket's new cell phone plan compares to its other plans in the table below.
Cricket's New Phone Plan Lineup
---
---