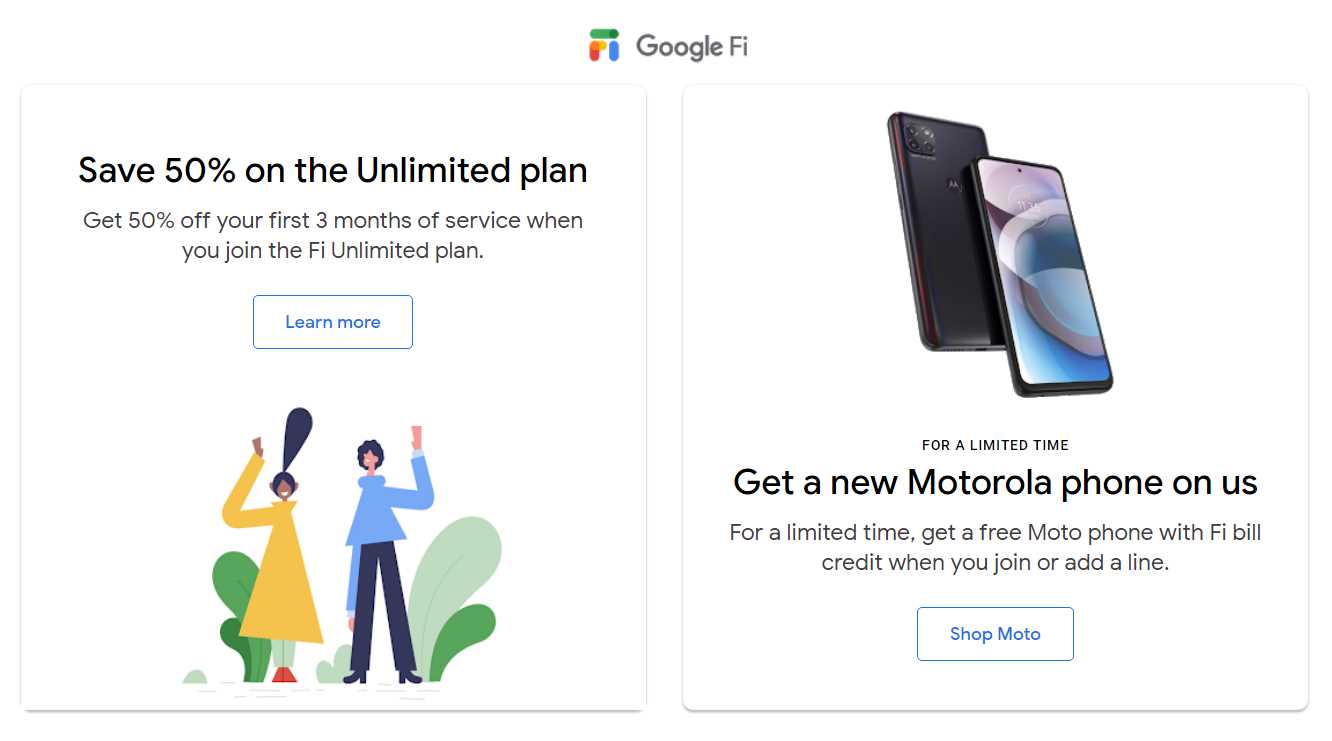 ---
Google Fi has launched some promotional offers. New customers on a Google Fi unlimited plan will get their first 3-months of service for 50% off. Google Fi's unlimited plan is regularly priced at $70/month but is $35 through the special offer. Google Fi also has a new free Motorola phone offer and an ongoing offer to save up to $600 on select Samsung Galaxy phones.
50% Off Plan Offer Fine Print And Details
Customers can claim the 50% off credit by either signing up for their own account or by joining an existing account. New lines of service must activate within 30-days of signing up for Fi on fi.google.com/signup. A new customer is explicitly defined as anyone who has NEVER previously opened a Fi account. For customers joining an existing account, the existing account will NOT receive the 50% off credit for their line, it will only be applied to the new line. Current customers will continue to pay their plan's regular rate. New customers receiving the credit must maintain their account and cannot switch to another account or they won't receive the entire credit.
Be informed of the latest deals, plans and promotions from T-Mobile and every one of its MVNO's when you subscribe to the T-Mobile weekly newsletter. No spam and you can unsubscribe at any time!
There is no time frame listed as to when the promotion will end. There may be a limited number of discount offers available, as Google does stipulate the deal will be available "while supplies last."
The Unlimited Plan
Google's unlimited plan is priced at $70/month and includes unlimited talk, text, and data. Only the first 22GB of data each month is available at high-speeds, after that data speeds get reduced to 256Kbps. Video streaming is limited to a resolution of 480p. Taxes and fees cost extra.
The plan also allows mobile hotspot usage. Free international calling to over 50 countries is included. Subscribers traveling internationally get free international data and free text messaging.
The plan comes with a Google One membership which gives subscribers 100GB of cloud storage. A VPN to encrypt your online internet connection is also included. The plan has spam protection to help block unwanted phone calls. All Google Fi plans include family management features and up to 6 people can be on a plan. With family management, account heads can create data budgets, block calls and texts from strangers, and create content filters. Multi-line discounts are available.
Regular multi-line pricing on the unlimited plan is as follows:
2-lines - $60/line
3-lines - $50/line
4-lines - $45/line
5-lines - $45/line
6-lines - $45/line
If you are a new customer bringing multiple lines to the unlimited plan, you are eligible to receive 50% off per line on the multi-line discount pricing shown above.
Phone Deals Include Free Motorola Phones
In addition to the 50% off a plan deal, Google Fi is also running several phone offers. The following Motorola devices are free with bill credits:
Motorola One 5G Ace - regular price is $299, sale for $279 or $11.62/month
Moto G Power 2021 - regular price is $249, sale price is $199 or $8.29/month
Moto G Play 2021 - regular price is $169, sale price is $99 or $4.12/month
Moto G Power 2020 - regular price is $249, sale price is $49 or $2.04/month
Moto G Stylus 2020 - regular price is $299, sale price is $99 or $4.12/month
In order the get a Motorola phone for free, you must join Google Fi as a NEW customer and must port your number in. Former customers rejoining are not eligible for the offer. Although Google is promoting the offer as a free phone offer, account credits actually get applied to your phone plan, not to pay for the phone itself. You can check out all the terms for the offer here. Google does not specify how long you must stay subscribed to claim the entire account credits. The phone promo can be combined with the 50% off the unlimited phone plan offer.
Get Up To $600 Off A Samsung Galaxy
Google is also offering up to $600 off select phones such as the Samsung Galaxy S20+ 5G. The Samsung Galaxy S20+ 5G is available now for $599.99 or $25/month with financing, down from its regular price of $1199.99. This offer is also stackable with the 50% off the unlimited phone plan deal. In order to get the discount on the phone, you must be a new customer porting in and you must keep your account and line active on Google Fi for at least 90 consecutive days. The discount on the phone will be applied at the time you purchase it. However, if you leave Google Fi before satisfying the 90 days of consecutive service requirement, your account will automatically be charged the difference between the sale price and the regular price of the phone. This offer is also scheduled to be available "while supplies last."
Google Fi provides wireless service through the T-Mobile, and US Cellular networks as well as over WiFi. Subscriber phones will automatically switch to whatever network provides the best service at a particular point in time.
---
---