FreedomPop Promotional Offer Includes Unlimited Talk, And Text With 7GB Of Data For $29.99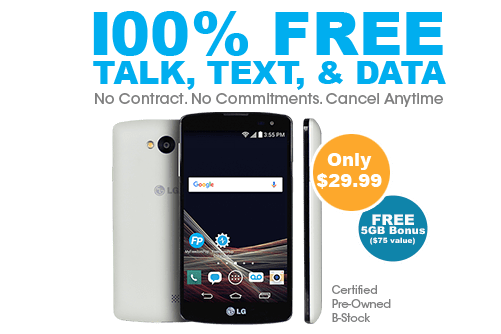 FreedomPop just launched a limited time promotion.  The offer is for a plan that includes unlimited talk, text and 7GB of data for one month at a price of $29.99.  What I have to call a throwaway phone, the LG Tribute LS660 is also included in that price.
The LG Tribute that is included with the deal is a pretty old phone having been released in 2014, and it features the following:
1.2 GHz Quad- Core, Qualcomm® Snapdragon™ 400 Series MSM8926
Android 4.4 KitKat
800 x 480 pixels resolution, 4.5" touchscreen display
5 MP rear camera, VGA front-facing camera
4GB of Internal Memory (ROM) and 1GB of RAM
4.0 LE Bluetooth
Expandable memory to 32GB via microSDHC memory slot (not included)
Up to 15 hours of battery life
The phone is also certified pre-owned, which of course means that it is used but has been tested to be working and in good condition.
The phone plan that is a part of this deal is for FreedomPop's premium service that features unlimited talk, text and 2GB of 4G LTE data.  Freedompop normally prices this plan at $24.99/month.  Also included with the trial is an extra 5GB of 4G LTE data to use for one month, giving those that signup for the deal 7GB of 4G LTE data in a month.  A free trial of FreedomPop's premium plus service is also included (normally priced at $7.99/month), which gives subscribers the ability to place calls over a cellular network as opposed to using VoIP.
Being that the LG LS660 Tribute is the phone that is included with this offer, it means that service is for FreedomPop on the Sprint network, as opposed to their more recently announced offering on AT&T's network.
FreedomPop offers a few other features with their cell phone plans that they like to promote including the following:
A 100% Free Basic Plan - 500 texts, 200 minutes, and 500MB each month
Premium unlimited talk & text plan at up to 80% off other carriers
Unlimited Talk, Text, and 1GB Data - $24.99/mo
No contract. No commitment. Cancel anytime
WiFi calling and texting from anywhere
Free unlimited calling & texting between FreedomPop Phones
Free international calling from over 60 countries
Get a new phone number or keep your own
Earn additional free data every month by adding friends
Earn unlimited free data by completing partner offers
For those that are interested in this limited time promotion, you can go ahead and get it here.
---
---