FreedomPop Offering LG Nexus 5 For $149.99 Certified Pre-owned With 90 Day Warranty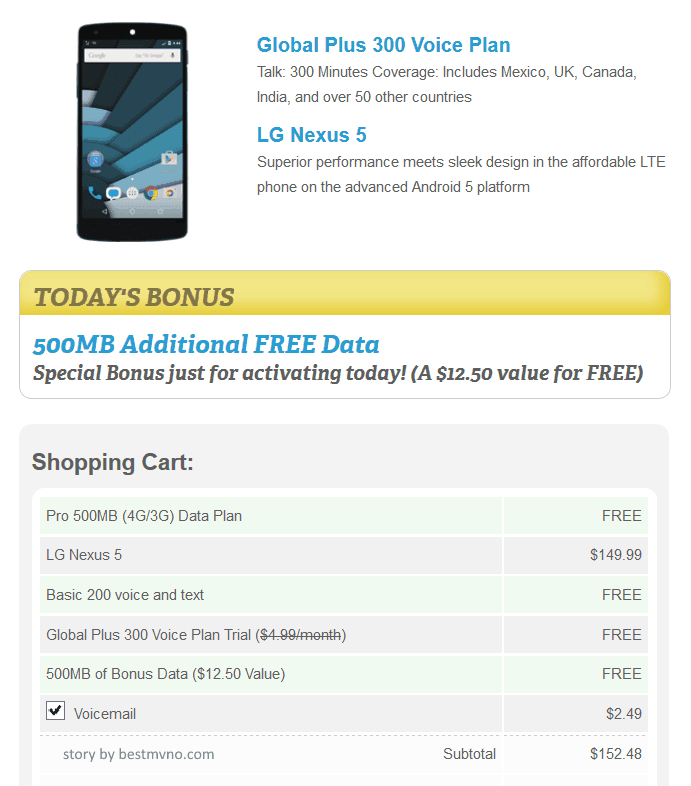 ---
Did you know BestMVNO is available to follow for free in Google News? Follow BestMVNO in your Google News app and keep up to date on wireless.
Follow BestMVNO In Google News
---
---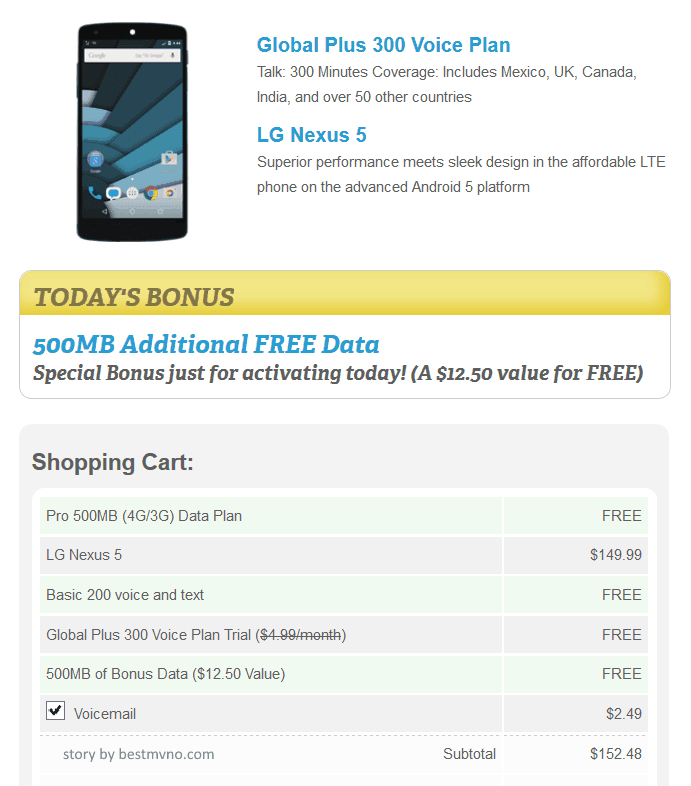 Updated: 6/3/2015
It seems that FreedomPop is running another Nexus 5 promo. The phone is again available for $150 with a one month trial of their $19.99/month plan which includes 1GB of LTE as well as unlimited talk and text.  The new offer is only available through the button below. The older links won't get you the offer.
Updated: 5/7/2015
It seems that 9to5Toys is now offering this deal with a year of service for $199.
Updated:5/1/2015
Unfortunately it seems that they've run out of stock of the phones, which is not surprising given the stellar pricing.  They seem to be selling new now for $299. If you're still interested in the deal, I suggest you keep an eye on things over the coming days and weeks to see if they get any more back in stock at that price.
4/27/2015
FreedomPop has a nice surprise in store for those of you interested in purchasing an LG Nexus 5.  Even though their product page is listing the device for $349.00 if you go through the checkout process, you'll see that they are actually offering the phone at a great price of $149.99.  The device is used, however, since it has been "certified pre-owned" it does in fact still come with a 90 day warranty and 30 day return policy.  This is the 16 GB version of the phone.  Regardless of the amount of internal storage that is included, this is still a great deal, as you'll be hard pressed to find a better deal for the Nexus 5 elsewhere.  The phone is currently selling used on eBay for well over the $149.99 that's listed here.
FreedomPop is throwing in a few perks if you go through the purchase as well.  An additional 500 MB of 4G LTE data is included with the first month of service as well as a 30 day trial of their "Global Plus" voice plan which includes 300 minutes of international talk to countries such as Mexico, U.K., Canada, and India as well as to 50 other countries.
In my screen grab you'll see that I've done a price check for service with their basic plan.  Their basic plan is completely free and includes 200 minutes of talk, 500 texts, and 500 MB of 4G LTE data per month.  Voicemail is extra at $2.49, so you basically get service for $2.49 a month unless you don't need voicemail, in which case you'll have the free service.
For those of you that require more talk, text and tethering, FreedomPop is selling the Nexus 5 with unlimited talk and text, and 500 MB 4G LTE data with tethering for $199.99.  That price gets you prepaid service with the provider for one year and also includes voicemail.
If you jump on this offer, a bit of advice for some of you that want to keep the service free, make sure your turn off auto top up in your account which may be enabled by default.  You don't want any surprises in your monthly bill!
---
Be sure to follow BestMVNO on Twitter for additional wireless coverage, deals, insights, and even debates!
Follow @BestMVNO Twitter
---
---