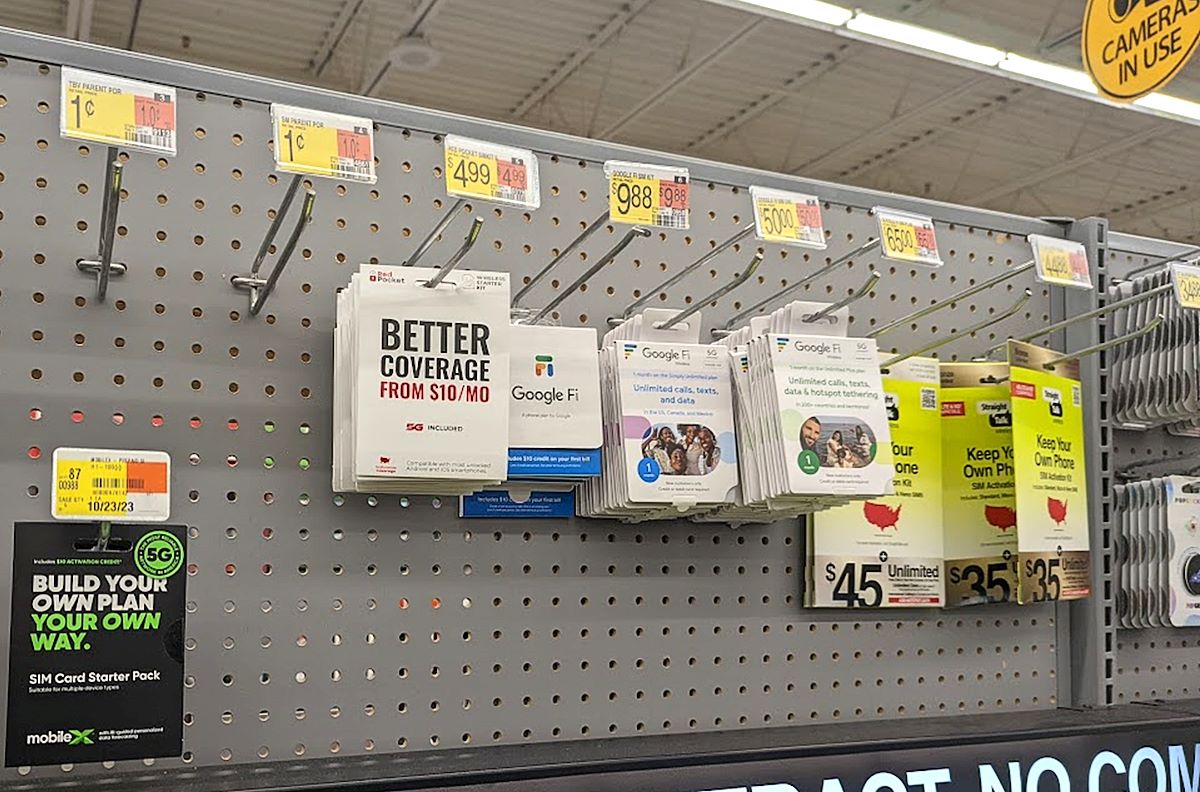 ---
Prepaid competition at Walmart intensified at the end of October with the introduction of three new to the store brands: MobileX, Google Fi, and Red Pocket Mobile
In September, MobileX announced it signed a multi-year exclusivity agreement with Walmart with availability in select stores planned for October. Towards the end of October, MobileX announced that it was available in nearly 1,000 Walmart stores across the USA. The firm Wave7 Research noted in a prepaid report recently sent to subscribers that it began seeing MobileX endcaps at Walmart's in Kansas and California on October 22, 2023. But it wasn't the only new to Walmart prepaid brand observed in stores. Wave7 Research spotted three different Google Fi SIMs at a rural Kansas Walmart visited on 10/30. The firm said it had never seen Fi SIMs at any Walmart's prior to that date. Red Pocket Mobile SIMs were also spotted in stores that same day. A source confirmed to Wave7 Research that Red Pocket SIMs are indeed rolling out to some Walmart's and a help page on the Red Pocket website confirms store availability.
MobileX Store Display Endcaps Help It To Standout
The MobileX Walmart launch could be the most impactful between the three brands, at least from a visibility standpoint, if for no other reason. It is the only brand to have a big standalone display through an endcap, as seen in the picture below in an X post from MobileX founder Peter Adderton. The endcap showcases several price points and plans available through MobileX with the tagline "You're In Control," and also highlights to customers that they get a $10 account credit with activation. The display also mentions MobileX's brand differentiator: using AI to learn subscribers' data usage habits and offer personalized plans.
Stay tuned...😀 will have more to say about this soon. pic.twitter.com/9DkLlK5wY8

— Peter Adderton (@peter_adderton) October 23, 2023

The other two brands, Google Fi, and Red Pocket Mobile are solely in a rack filled with a few SIMs from other wireless brands.
Google Fi is investing in its visibility online at Walmart.com and has been spotted advertising on the Walmart website as seen in the screenshot below. BestMVNO has not yet observed any online Walmart.com website advertising by either Red Pocket Mobile or MobileX.
MobileX still has a bump in online visibility over Red Pocket Mobile. MobileX SIM activation kits are available bundled with a few unlocked Samsung Galaxy phones including the Samsung Galaxy S23 5G ($799.99), Samsung Galaxy S23 Ultra ($1199.99), and the more affordable Samsung Galaxy A14 5G ($199.99). The bundles are readily apparent when visiting Walmart's unlocked Samsung phones offerings page. (Update: The bundle offerings were short lived and ended 11/9. In their place, Walmart has placed some of the phones on sale instead of offering a bundle with a MobileX SIM.)
More Than A Dozen Prepaid Wireless Brands Now In Walmart Stores
The launch of MobileX, Red Pocket Mobile, and Google Fi in Walmart adds to many other prepaid and MVNO brands already carried in the store. Other brands include Boost Mobile, Cricket Wireless, Metro by T-Mobile, Consumer Cellular, Total by Verizon, Walmart Family Mobile, AT&T Prepaid, Tracfone, Verizon Prepaid, Straight Talk, Simple Mobile, and Ultra Mobile. Of course, half are Verizon owned brands. Still, Walmart if it wasn't already before, appears to now be the go to place for the largest selection of MVNO and prepaid SIMs and phones sold in stores by a national retailer.
"Wave7 Research has started seeing SIMs from Red Pocket Mobile and from Google Fi at Walmart. In the case of MobileX, we seeing SIMs as well as endcap displays. All Walmart shoppers need wireless service, but not all need a new phone, so this makes sense both for shoppers and for Walmart."
---
---