DataPass Is A Multi-Network MVNO With Unlimited LTE Data On Sprint For $39/Month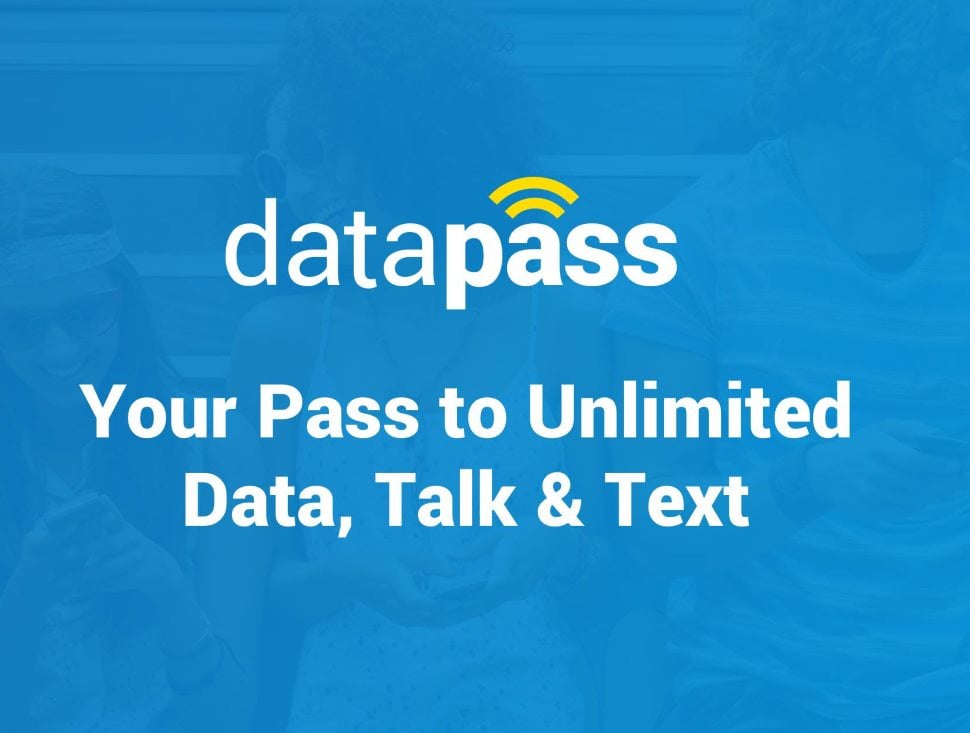 The list of MVNO and prepaid wireless providers has been expanding over the past couple of months.  DataPass is another new comer that soft launched just a few months ago.  It is run by young entrepreneur Jordan Kennedy.  Jordan wants to apply his experiences in graphic design and marketing to the MVNO industry.  With DataPass, he promises transparent pricing on the Sprint, T-Mobile and Verizon networks.
DataPass Phone Plan Offerings
DataPass runs on three networks, and the plans offered are different for each network.
Sprint Based Plan
For the time being, DataPass offers just one plan on the Sprint network.  The plan includes unlimited talk, text and LTE data for just $39/month with taxes and fees included.  Mobile hotspot is not supported or allowed.
DataPass's FAQ's state that there is no video or data throttling on the plan.  However, the company's terms and conditions state that video streaming optimization may be applied to manage data usage on the network.  This likely means that video resolution will be reduced.  Typically carriers and MVNO's offering unlimited data plans limit video streaming to a resolution of 480p.
Most unlimited plan providers operate with a data prioritization policy.  In most cases it gets applied once a user consumes more than a certain amount of high speed data in a month.  When the threshold gets crossed, users typically experience temporarily slower data speeds during times of heavy network traffic.  DataPass has not stated what it's prioritization threshold is, other than "we may take measures including temporarily reducing data throughput for a subset of customers who use a disproportionate amount of bandwidth."  The MVNO also states " We also manage our network to facilitate the proper functioning of services that require consistent high speeds, such as video calling, which may, particularly at times and in areas of network congestion, result in reduced speeds for other services."
T-Mobile Based Plans
All plans include unlimited talk and text with data being hard capped unless otherwise specified.  Except where noted, plans also include mobile hotspot.
$24/month - 1GB data
$29/month - 3GB data
$39/month - 5GB data
$49/month - 8GB data
$54/month - unlimited LTE data, no mobile hotspot allowed
The same network prioritization policies apply to the T-Mobile based unlimited plan as described for the Sprint based unlimited plan. Taxes and fees are included with all prices shown.
Verizon Based Plans
$29/month - 1GB data
$34/month - 3GB data
$44/month - 5GB data
$54/month - 8GB data
$64/month - unlimited LTE data
Unlimited talk and text is included with all plans.  Data is hard capped, there is no data throttling once you use up all of the plans allotted high speed data. Mobile hotspot is included with all plans except for the unlimited plan. General data prioritization policies apply.  Taxes and fees are included with all prices shown.
Editor's Take
DataPass's Sprint based plan is now the cheapest Sprint based monthly unlimited LTE data plan on the market.  It just edges out a new annual plan offering from Red Pocket Mobile. Overall, it's priced just a tiny bit higher than T-Mobile based Ultra Mobile and LycaMobile plans where buy 3 months get the 4 month free is offered.  I surmise that DataPass is still a bit cheaper than the other two given that it includes all taxes and fees in the price. Although DataPass's terms of service (TOS) state that subscribers are responsible for paying fees such as the USF, Jordan tells me that the TOS are in the process of being updated to reflect that pricing shown on the website is in fact all inclusive.
DataPass's other network based plans seem to be priced more middle of the road.
Those that are considering making the switch to DataPass should use caution.  It is a new provider on the market and making the switch may not be without risk.  I'm sure the company will have some hiccups along the way.
Shop DataPass
---
---