Red Pocket Mobile's Annual Plan With 10GB Of Monthly LTE Data Now $23.25/Month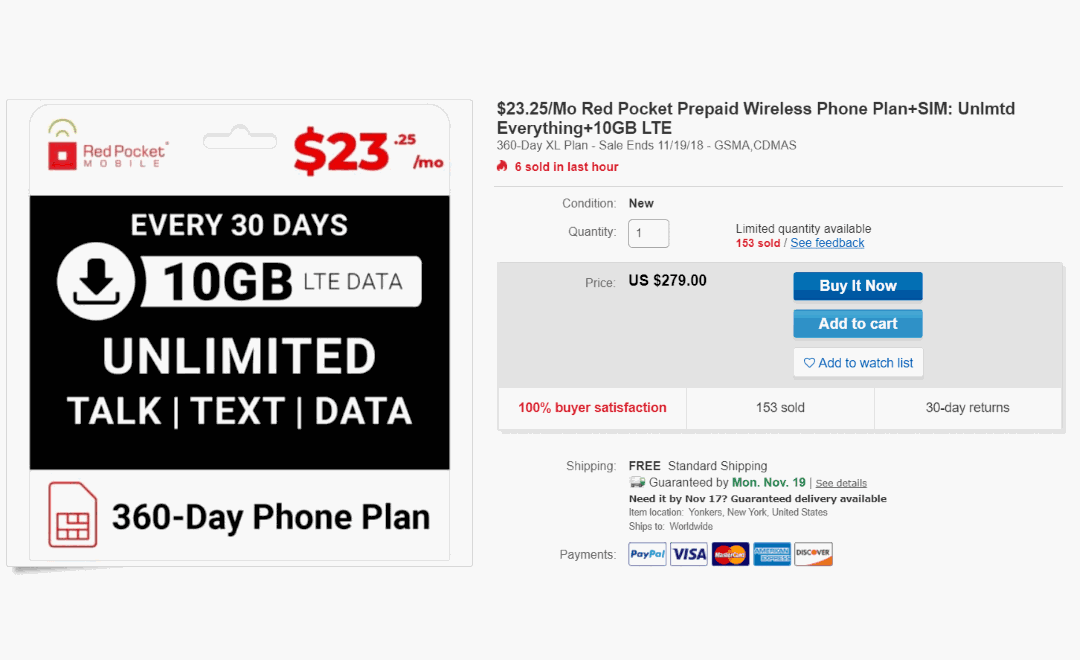 Red Pocket Mobile's XL plan that includes unlimited everything with the first 10GB of data at 4G LTE data speeds is now marked down to $279.  That works out to an average cost of just $23.25/month.  The plan is normally priced at $399 or an average cost of $33.25/month.
This Red Pocket Mobile plan is sold exclusively through eBay and is available in Red Pocket Mobile's eBay store.  It is for service on the customer's choice of either the AT&T or Sprint network.  Customers will have to bring their own phone over to the network.  Phones that are compatible with the Sprint network and out of contract can be switched over to this plan.  Universally unlocked phones, unlocked phones compatible with T-Mobile, and out of contract phones compatible with the AT&T network can also be used with the plan.
The plan is scheduled to be on sale until 11/19/18 or while supplies last.  Hopefully eBay puts out a flash sale coupon during this time period which would lower the price even further.
Red Pocket's eBay plan was already one of the best values around on compared to other providers that operate on either the Sprint or AT&T networks.  Now with pricing below $25/month, there isn't a cheaper plan on the market on any network that I'm aware of to offer at least 10GB of 4G LTE data per month.  Of course you can screen for plans on your own using the BestMVNO phone plan finder.
Don't Miss Out On More Deals Like This!
Get the next deal delivered to your inbox as soon as it's announced!
Update: 11/12/18
A representative from Red Pocket Mobile has notified me that two other eBay exclusive plans are also on sale.  The wireless provider's annual plan with unlimited everything and the first 5GB of data at 4G LTE data speeds is now available for $219 or $18.25/month.  The plan is normally priced at $240/year or $20/month and also only operates on the AT&T and Sprint networks.  You can get it here.
An annual plan with 2GB of monthly LTE data is also available priced at $199 or $16.58/month.  This plan works on all 4 major networks in the USA, which include AT&T, Sprint, T-Mobile and Verizon.  The plan has historically been priced at $249 or $20.75/month.  You can find it here.
---
---