Motorola Phones Deeply Discounted Around The Web, Get A 32GB Z3 Play And Speaker Mod For $149.99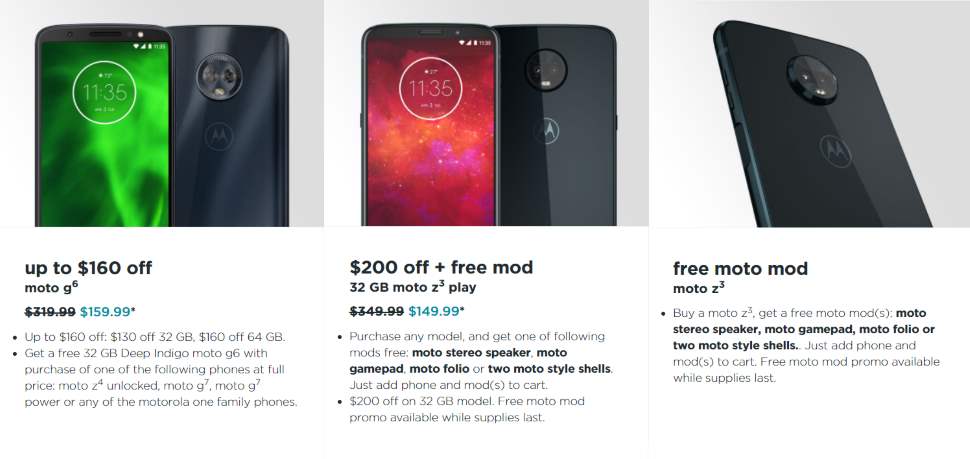 ---
Did you know BestMVNO is available to follow for free in Google News? Follow BestMVNO in your Google News app and keep up to date on wireless.
Follow BestMVNO In Google News
---
---
Did Black Friday come early?  Several Motorola phones are currently on sale and deeply discounted.  The phones are on sale through various retailers both online and in stores.  Some retailers are even offering free add-ons with a phone purchase.  Perhaps the best offer comes directly from Motorola.  Now through 11/10/19 or while supplies last, customers can pick up a brand new 32GB Motorola Z3 Play with select Moto Mods free of charge for just $149.99.  Students who have a UNIDAYS account can save an additional 10% on their purchase.
Moto Offers From Around The Web Highlighted
The Moto Z3 Play direct from Motorola can be purchased in either a 32GB or 64GB storage configuration.  Bonus offers vary based on which configuration is chosen.  Both configurations come with the customer's choice of either a free Moto stereo speaker, Moto gamepad, Moto Folio, or two Moto style shells.  The "mods' as they are called will be available for free while supplies last.  At the time of this writing, the Moto gamepad, and folio are out of stock.  Most likely they will not become available again until after the sale ends.  In order to claim the bonus items, customers must add the mod of their choosing to their shopping cart after they add the Z3 Play to their shopping cart.  Motorola does not automatically give you the mods for free when you elect to buy the Z3 Play, they must be manually chosen.
The offers that vary based on storage configuration revolve around a power pack extended battery mod and a smart speaker with Amazon Alexa.  Customers who choose the 64GB configuration can choose to receive one of those two additional mods free of charge.  The offer is not available to those who elect to buy the Z3 Play in the 32GB configuration.
As an alternative to purchasing the Z3 Play directly from Motorola, customers can elect to pick one up from Best Buy, Amazon, BH Photo or any other authorized distributor at the same price as Motorola has it available for.
BH Photo has it available with some different free bonus add-ons.  It does not come with the option to add most Moto mods.  Customers who purchase the device from BH Photo will, however, get a free 3-month subscription to Mint Mobile that includes unlimited talk, text, and data with the first 8GB of data each month at 4G LTE data speeds.  It will also come with a free Moto style shell.  The 64GB variant is in stock, but the 32GB is on backorder.  According to BH Photo's product page FAQs the 64GB variant also comes with a Moto mod battery pack extender.  One user also said it came with an Alexa Smart Speaker as well.  BH Photo says its sale is scheduled to end on November 8th, but I suspect it may get extended to match Motorola's sale dates.
Amazon also has the 64GB Z3 Play on sale for $229 with a free battery pack extender, but strangely the 32GB version does not seem to be on sale.  The 64GB Z3 Play is also on sale for the same price with the same mod through Best Buy.  The 32GB version is also on sale there.
128GB Moto Z4 regularly priced at $499.99, on sale for $399.99
64GB Moto G7 regularly priced at $299.99, on sale for $199.99
64GB Moto One regularly priced at $399.99, on sale for $249.99
128GB Moto One Action regularly priced at $349.99, on sale for $249.99
128GB Moto One Zoom regularly priced at $449.99, on sale for $349.99
As an alternative to getting the phones at the sale prices just described, customers can elect to get a 32GB Moto G6 for free instead. The sale prices should also be available through most national retailers.
These aren't the only Motorola offers that are currently available.  Here are the rest.
Moto E6 16GB for $99.99, regularly priced at $149.99
Moto G7 Play 32GB for $149.99, regularly priced at $199.99
Buy one 32GB Moto G6 for $249.99 get one free
If you are a student with a .edu email address you can save an additional 10% off your order with a UNiDAYS account.
---
Be sure to follow BestMVNO on Twitter for additional wireless coverage, deals, insights, and even debates!
Follow @BestMVNO Twitter
---
---