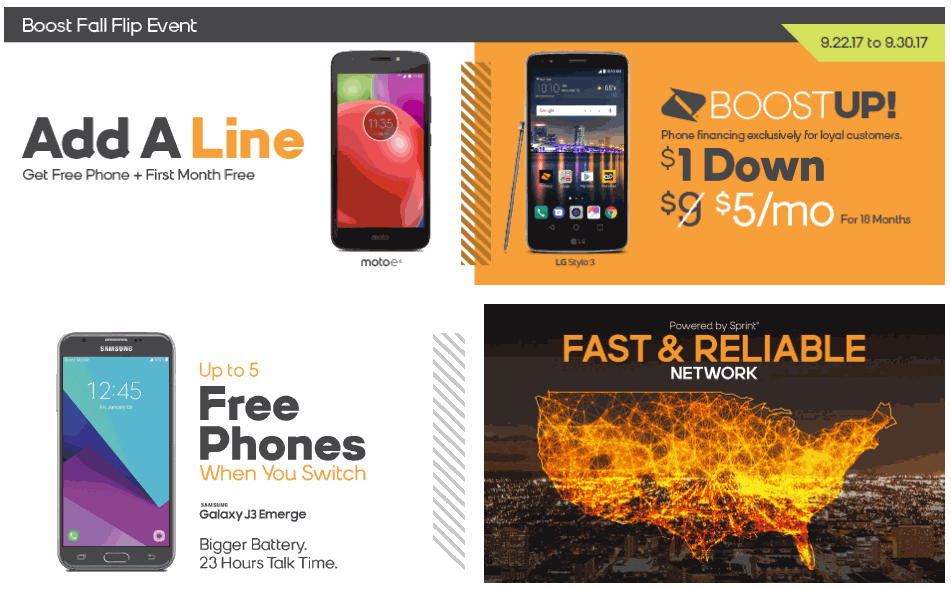 ---
From today through September 30th, customers who add a line to an existing Boost Mobile unlimited LTE data plan account, will get a free Motorola E4 as well as a free month of service.  The offer is only available at participating Boost Mobile dealers, and cannot be obtained online.  After the free month, subscribers will have to pay $25/month to maintain the second line on Boost Mobile's unlimited LTE data plan.
Boost Mobile is calling this promotion, the "Fall Flip Event."
Boost Mobile's unlimited data plan, includes unlimited talk, text and data with the first 23 GB at full speed before data prioritization policies may get applied and it is priced at $50/month for a single line with taxes and fees included.
Under Boost's data prioritization policy, those who consume more than 23 GB of data in a month may see their speeds temporarily slowed down if and only if the network is busy, otherwise they remain at full speeds.
The unlimited data plan also has video streaming resolution limited to 480p, music streaming limited to 500 kbps, gaming streams at 2 Mbps, and mobile hotspot is limited to 8 GB of data.
In addition to that promotion, Boost Mobile is also offering free and discounted phones to those who make the switch.
The Moto E4 and ZTE Max XL will be free for those who switch over from a non Sprint based provider or MVNO, while the Samsung Galaxy J7 Perx and LG Stylo 3 are discounted to $49.99.
The  Alcatel Dawn, Samsung Galaxy J3 Emerge, LG Tribute HD, Kyocera Hydro Reach, LG K3, ZTE Warp 7 and ZTE Prestige 2 will continue to be free for port ins as long as the port isn't coming from a number that has been active on the Sprint network in the past 90 days.
| See also: How Boost's unlimited plan compares to other unlimited data plan providers
---
---