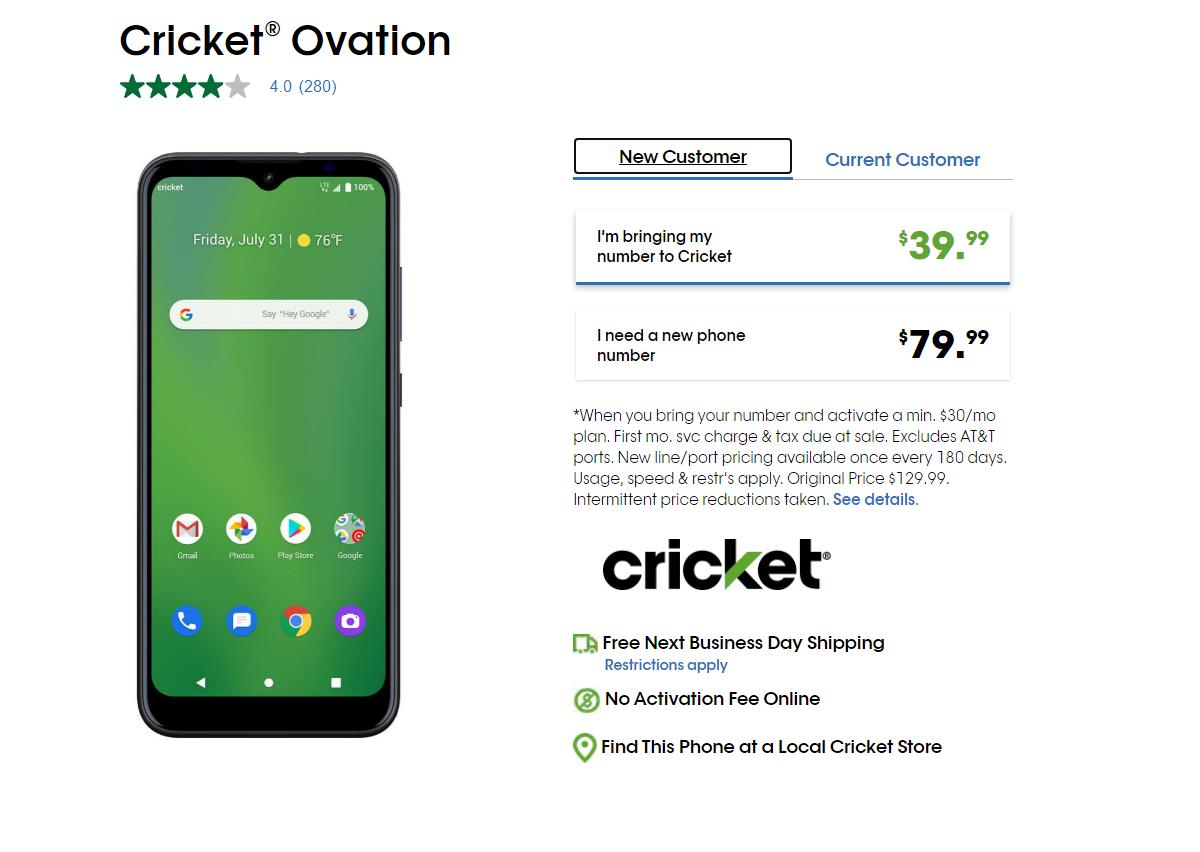 ---
Lady Red's Tech Reviews, a Cricket Wireless vlogger recently detailed some of Cricket's best and worst-performing phones. What's particularly interesting is that Lady Red's Tech Reviews (LRTR) is also Cricket Wireless store manager. So that really puts a different perspective on things.
Before going over the phones she detailed, it's important to note that her findings are from a specific geographic area and location. However, I dug through online reviews on the Cricket Wireless website for the devices she talked about. And those reviews do seem to back up her findings. So let's take a look at the bad and the good.
Cricket Phones That Seem To Have Issues Include The Cricket Icon 2 And LG K92 5G
According to LRTR, the phone causing the most problems for customers at her location is the Cricket Icon 2. One of the most common complaints she's received is that its microphone produces a lot of static. She said she's been cussed out many times over it. Indeed, you'll find similar complaints on Cricket's website. One phone owner with the online name "Frank 58" complained:
"I bought this phone and almost immediatly had trouble a crackling noise so loud most people couldnt hear me. Sent it back and recieved a new one. its not bad but there is still a slight crackling noise. There is just something wrong with the design. If you are looking for a new phone, look elsewhere!"
Needless to say, Frank gave it a 1-star review. While user "Esbrawler9" echoed a similar sentiment: "Done took phone back 3 times for crackling and it's still does it."
Looking through the reviews there are other complaints of apps freezing up and the phone just being slow. The phone has been reviewed 71 times online by customers with 27 of the reviews being 1-star and an overall rating of 2.9 out of 5. There were 40 four and five-star reviews but none of those reviewers left any comments outside of one 4-star review from a Cricket Sales rep.
The Cricket Icon 2 is usually available for free to switchers and for $29.99 for upgrades.
LG K92 5G
The LG K92 5G phone wasn't released too long ago, but LRTR said customers have been reporting problems with it. The main problem seems to be with the phone completely locking up requiring a full and forced restart. She did say some other managers were reporting similar issues. Looking online on Cricket's website though, sentiment about the phone does seem to be mostly positive. The phone currently has a rating of 3.9 with a total of 176 reviews. Of the 176 reviews thus far, 122 are either 4 or 5-star while 26 are 1-star reviews. But there are still reviewers online reporting the same problems as LRTR customers have.
Reviewer "Octavia" just left a review 2 days ago exclaiming "Not happy at all!!!" The reviewer went on to say "I've had this phone less than 2 weeks and it's freezes and at any time will black out and not come on until its ready...This is nonsense for a new phone." And just days earlier reviewer "Fran08" echoed a similar sentiment:
"I bought this phone and was shocked when my screen froze and didn't turn back on. I thought maybe it was because it needed to be charged, but it did not turn back on even after doing so for a good 2 hours. Brand new phone and on the same day it arrived the phone stopped working. I did not drop it; I did not do anything at all to cause this phone to break and I absolutely do not recommend buying this phone. All the trouble and effort I have to go through just to return it is an absolute hassle. DO NOT BUY THIS PHONE YOU WILL REGRET IT!"
The LG K92 is currently priced at $199.99 for switchers and it's the same for current customers looking to upgrade and new lines of service.
Cricket Ovation Has Been Meeting And Surpassing Customer Expectations
On the flip-side, the Cricket Ovation is a budget device that isn't receiving many complaints in the store. When there are complaints, the most common one is in regards to the bloatware the phone comes preinstalled with. The Cricket Ovation currently has a 4-star rating on Cricket's website having been reviewed a total of 280 times. Of the 280 total reviews, 211 of them are either 4 or 5 stars while 35 are 1-star reviews.
One 5-star review from user "Snusink" exclaimed it's a "great phone for the price" and it has a "large screen and fairly quick running multiple apps, easy to use and feels good in your hand."
User "John C" who reviewed it at 4-stars said:
"Great phone overall. Doesn't feel like an inexpensive phone and it's loaded with a multitude of features, but the reason for 4 stars is the battery. My last 2 phone was the LG X Charge and while it wasn't as nice, the battery life was exceptional."
Of course, not everyone has the same experience. User "Jazz" gave it 1-star stating: "After my several days to return, the cricket ovation started freezing while trying to open certain apps on the phone. I am unable to make videos or take pictures due to camera and apps not responding. This phone will download my files, but will not let me preview them. The only two features I use daily. I am very disappointed."
LRTR did say in her vlog she has a hard time keeping the phone stocked due to its popularity and performance. Currently, the phone is available for switchers for $39.99 and to current customers looking to upgrade and new lines for $79.99.
She did go on to talk about some other phones too, you can watch her previously recorded live stream below or head on over to her Youtube channel for even more videos about Cricket Wireless.
---
---