Boost Mobile Introduces "Todo Mexico Plus," Unlimited Calling to Mexico and Canada on Select Plans for $5
Boost Mobile is now offering unlimited calling to Mexico and Canada as well as unlimited international text messaging for an additional $5/month to those subscribed to either their $45 or $55 plans.   Both of those plans included unlimited talk, text and data, although the $45 plan includes 5 GB of 4G LTE data while the $55 plan includes 10 GB.  After your data allotment is up you get throttled to what Boost calls 2G speeds or about 128 Kbps.  Also, an important note to those of you planning to hook onto Boost Mobile is that they also throttle video streaming to 3G speeds regardless of how much LTE data you have.  Boost also has an option available on any plan it offers for an additional $10 a month you can subscribe to "International Connect" which gets you unlimited calls to landlines in over 70 countries as well as a combination of 1000 minutes to be used to call mobile phones in Mexico or to landlines in the Dominican Republic.
Overall, Boost Mobiles plans are highly competitive in the market given the amount of data you get per dollar, however, if you are mostly concerned with international calling there are many other providers who can get you that feature for less money than here such as Ultra Mobile, and Lycamobile to name a few.
 Summary Of Boost Mobile's International Calling Plans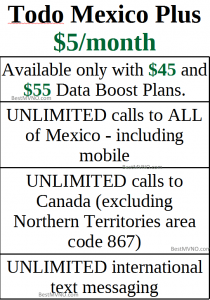 Subscribe to Boost Mobile or Add an International Plan Now
---
---