As Holidays Approach, Boost Mobile Continues To Push iPhone 7 For $49 Offer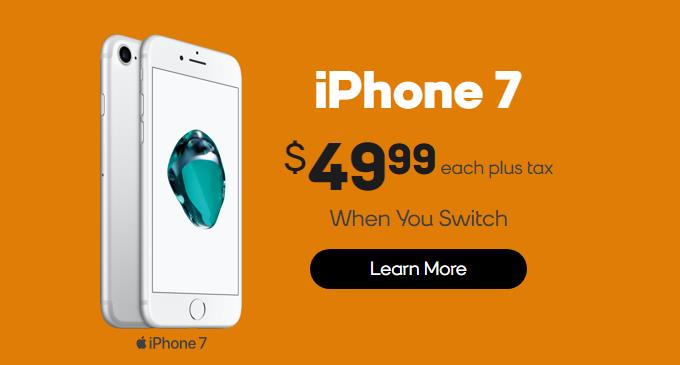 ---
Did you know BestMVNO is available to follow for free in Google News? Follow BestMVNO in your Google News app and keep up to date on wireless.
Follow BestMVNO In Google News
---
---
Sprint is continuing to roll out the red carpet for current and prospective prepaid customers through its Boost Mobile brand. New customers can still pick up the iPhone 7 for $49, or an iPhone 6s for $24.99, when they port-in an eligible number from a provider other than Sprint or a Sprint MVNO. The new customer offers are in-store only.
Current customers can get $100 off on the iPhone 7, which will put the total price at $299 when bought online.
There are several other deals also available and they are as follows:
In-Store Only Offers Highlighted
Samsung A20 is free with port-in, up to four lines. Originally $189.
LG Stylo 5 is $19.98 originally from $169
iPhone 7 $49 from $299
iPhone 6s $24.99 from $179
Samsung A10e, free, originally $89.99
Coolpad Legacy, free, originally $99
Moto G7 Play, free, originally $109
Side Note: The Stylo 5 is limited to 2 per customer according to the fine print at BoostMobile.com. Your dealer may be able to override that or ask you to choose 2 different devices if bringing more than 2 lines of service.
The Fine Print
All offers shown require you to sign up for an unlimited data plan priced $50 plan or higher.
Porting (or switching) to Boost Mobile to qualify for these offers requires a number from a non-Sprint MVNO (a carrier not using Sprint Towers)
Boost Mobile will charge sales tax on the devices and a possible activation fee of up to $30 that some dealers may waive for you
These offers end 1/6/2020
Plans Required To Get One Of Those Phone Deals
The $50 unlimited plan offers unlimited talk, text, data, as well as 12 GB of Hotspot per line. Video streams at 480p, music up to 500 kbps, & gaming up to 2 MBPS.
The $60 Unlimited Plus plan includes unlimited talk, text, data, 30 GB of Hotspot per line, as well as TIDAL Music for 6 months. Video streams at 1080p, music up to 1.2 MBPS, & gaming up to 8MBPS.
The $80 Ultimate unlimited plan will include unlimited talk, text, data, 50 GB of Hotspot per line, as well as TIDAL Music Premium. Priority customer care and International Connect PLUS are also part of this package.
Boost continues to promote its 4 lines for $100 offer which can also be used to claim a phone deal. All 4 lines on the plan get unlimited talk, text, and data at 4G LTE speeds, with video streaming at 480p (DVD quality), gaming at 2 MBPS, and music at 500 kbps. 1GB of mobile hotspot is also included for each line.
On all unlimited plans, Boost may temporarily slow data speeds during times of network congestion once a subscriber consumes more than 35GB of data in a month.
My thoughts
$49 in particular for an iPhone 7 is an excellent price for new Boost Mobile customers and so is the 6s for $24.99, but keep in mind the iPhone 6s days of getting iOS updates are numbered, due to the fact the device is almost 5 years old.
Boost Mobile has been ever so aggressive with their deals these days, which comes at no surprise. With competition being more fierce than ever in the prepaid universe, Boost is pulling out all the stops, to get new business. That's always good!
---
Be sure to follow BestMVNO on Twitter for additional wireless coverage, deals, insights, and even debates!
Follow @BestMVNO Twitter
---
---