Black Wireless Updates Plans To Be Much More Competitive, Giving Away One Free Month Of Service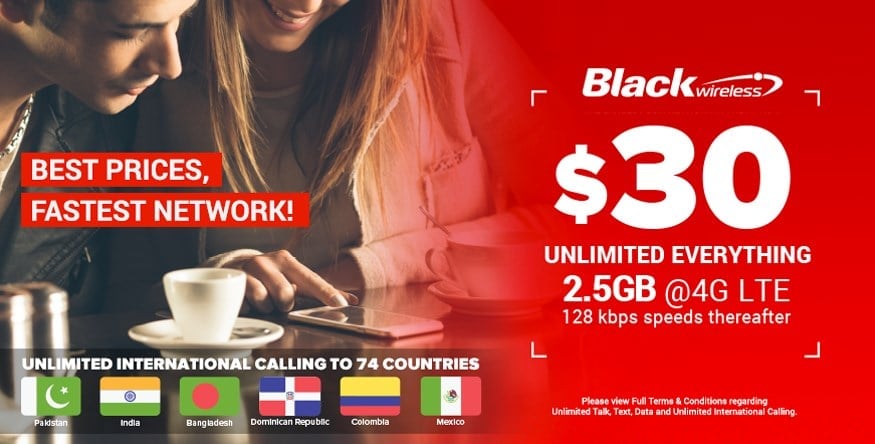 You can now add seldom talked about Black Wireless to the list of MVNO's that have recently updated their cell phone plans to include more data at no extra cost to the consumer.
Black Wireless is an AT&T MVNO, that is owned by Red Pocket Mobile and like it's sister brand it specializes in offering plans that include international talk and text.  A summary of Black Wireless's updated phone plans with the changes highlighted are as follows:
Black Wireless Phone Plans Updated July 2017
New Plan!

$10/month - 500 global talk or texts plus 100 MB of hard capped 4G LTE data

New Plan!

$15/month - 200 global talk or texts plus 500 MB of 4G LTE data throttled to 128 Kbps once the LTE data gets used up
The following plans all include unlimited talk, text, international talk and text and data at the specified amounts before throttling to 128 kbps.
$20/month (previously $25) - 100 MB of 4G LTE data
$25/month (previously $30) - 1 GB of 4G LTE data

New Plan!

$30/month - 2.5 GB of 4G LTE data

New Plan!

$40/month - 4 GB of 4G LTE data

New Plan!

$60/month - 6 GB of 4G LTE data
In addition to the new and updated plan changes, Black Wireless is also running a special promotion.  Those that sign up with the MVNO will get their second month of service free of charge.
Black Wireless's updated phone plans are much improved.  The plans priced at $30 and below are fairly competitive and in line with some of the recent changes we've seen from other AT&T MVNO's such as H2O Wireless, it's sister brand Red Pocket Mobile, and Pure TalkUSA.  Above the $30 price point however, things are a completely different story.
H2O Wireless offers unlimited talk, text and data with the first 6 GB at LTE speeds for $36/month, which is a far better buy compared to Black Wireless's new $40 plan with 4 GB of data and $60 plan with 6 GB of data.  In fact, as Kevin O'leary would say, Black Wireless's $60 plan is a big "nothing burger" and they should just "take it behind the barn and shoot it".
---
---